Take your chocolate smoothie to the next level with this Creamy Chocolate Mint Shake! Full of protein, healthy fats, and fiber, this recipe is both nourishing and full of flavor for a quick and easy meal.
Creamy Chocolate Mint Shake Recipe
A chocolate shake is a classic treat, but switch things up and take it to the next level with this Creamy Chocolate Mint Shake, when you're feeling a bit extra! This indulgent and silky smooth shake has a rich cocoa flavor with just the right amount of refreshing mint, perfect if you love this flavor combination. Made in five minutes or less with whole food ingredients, you can quickly blend this up whenever your sweet tooth or chocolate cravings hit for a yummy snack, dessert, or even breakfast!
This impressive shake is not only balanced in terms of flavor, but nutrition as well. I use a few of my personal favorite shake ingredients to ensure that there's a good mix of complex carbs, healthy fats, and quality protein from ingredients including Greek yogurt and avocado. I even throw in some spinach for a serving of leafy greens for antioxidants and fiber! Don't worry, you won't even notice it's in there with all the other yummy ingredients in the recipe!
What You Need to Make this Shake
First, let's talk about the ingredients that are in this shake. I used 310 Organic Chocolate Mint, unsweetened coconut milk, banana, avocado, plain Greek yogurt, spinach, and ice. Feel free to add a few drops of mint extract or mint leaves for a stronger mint flavor, if desired.
310 Organic Chocolate Mint
If you're looking for a fun shake flavor to add to your pantry, 310 Organic Chocolate Mint is my top recommendation! You can recreate your favorite chocolate mint recipes with this versatile protein powder while supporting your wellness goals. Made with completely vegan and organic ingredients, you can enjoy shakes, hot chocolates, mochas, or even cookies in a nourishing way without any artificial additives or sugars. I use 310 Shakes just about daily and below are a few reasons why…
15g of plant-based proteins from pumpkin, brown rice, and pea
5g of dietary fiber
Keto, vegan, and paleo-friendly
Sugar-free, sweetened solely with Stevia and monk fruit
Ways to "Shake Up" this Recipe
I always make my shakes with whatever I currently have available, so it's okay if you're missing a couple of ingredients. See below if you have any of these alternative ingredients to include before you make another grocery trip…
Swap banana with frozen cauliflower rice to lower the carbs
Almond milk instead of coconut milk
Kale instead of spinach
310 Collagen for more protein
Add cacao powder or cacao nibs for more chocolate flavor
Coconut yogurt instead of Greek yogurt for a fully vegan version
How to Make this Shake
At last, it's time to put this shake together! Combine all your ingredients in a blender and gradually blend on a medium-to-high setting until you reach a creamy consistency, which takes around 30 to 40 seconds. When there are no clumps remaining, serve your finished drink into a glass or shaker cup and savor your refreshing, healthy sweet treat!
Ingredients:
1 scoop 310 Organic Chocolate Mint
1 cup unsweetened coconut milk
1/2 frozen banana
1/4 avocado
1/4 plain Greek yogurt
1 cup spinach
1/2 cup ice
Directions:
Combine ingredients in a blender and blend until completely smooth.
Serve and enjoy!
Nutrition:
320 calories
27g carbs
18g net carbs
9g fiber
16g fat
20g protein
What's your favorite shake recipe using 310 Organic Chocolate Mint? Let us know in the comments below for a chance to be featured on our blog!
Like this recipe? Check out other delicious, nutritionist-approved 310 Nutrition recipes here!
In This Recipe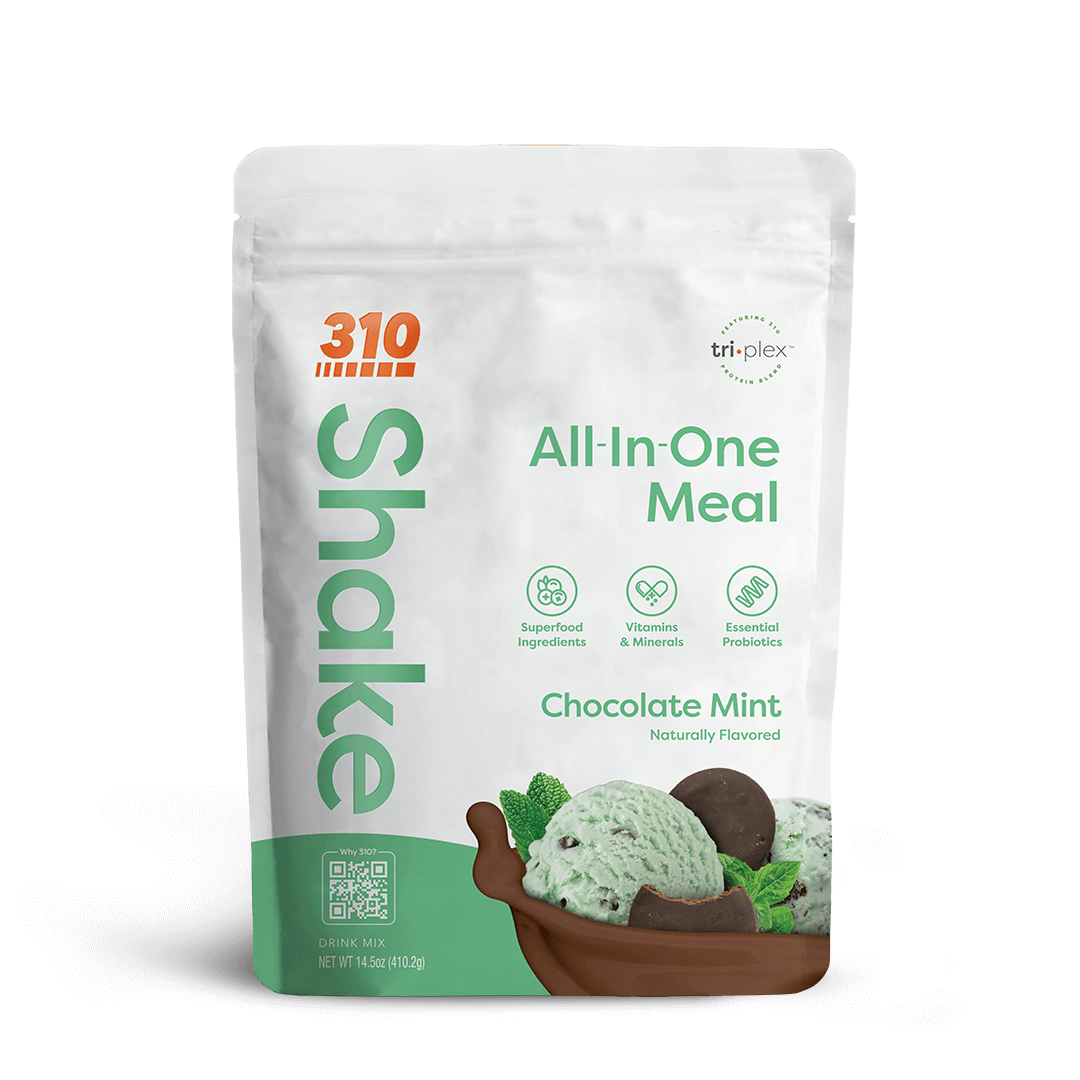 310 Chocolate Mint Shake
Indulge in an insanely delicious, complete superfood meal, providing well-balanced nutrition and targeted ingredients for total immune, digestive, and full-body health. View Shake »