As we come to the close of the winter season – with the welcome arrival of spring in just one week – you're most likely excited about the warmer weather on its way. If the lingering remaining chilly days have you dreaming of an island getaway, we've got the perfect solution for you in the form of an incredibly-delicious "beachside" beverage.
No matter where you reside, get ready to be whisked away to a tropical oasis with this Bahama Mama Shake Recipe! Made with 310 Toasted Coconut shake powder, peaches, strawberries, pineapple, chia seeds, and unsweetened coconut milk, each sip of this naturally-sweet, coconutty shake will have you envisioning palm trees and turquoise waters.
Not to mention that while you indulge in the tropical flavors, you'll also be feeding your body with 18g of high-quality plant proteins and 10g of healthy fats. So, go ahead… Treat your taste buds while supporting your optimal wellness with this tasty, highly-nutritious shake!
Read on to learn more and get the full recipe…
Intense Coconutty Flavor: 310 Toasted Coconut Shake
The first ingredient in this Bahama Mama Shake gives it some truly tropical flair: 310 Toasted Coconut meal replacement shake powder! While it provides big, coconutty flavor, it isn't full of the sugar, artificial sweeteners, or ultra-processed ingredients that many other meal replacement shakes contain. Instead, it supports your ultimate well being, while being an incredibly tasty, protein-packed drink to satisfy your sweet tooth.
While you're indulging in the delicious, coconutty taste of this shake powder, you may just forget how many additional, nourishing ingredients it actually contains! Each shake serving features a triple-blend of plant-based proteins, (pea, brown rice, and hemp); 20 essential vitamins and minerals; gut-healthy probiotics; and superfood organic greens to fuel your body and mind!
This shake will not only keep you full and increase the fat-burning potential in your body, but it's also an incredible powerhouse of antioxidants and nutrients to boost your immune system and keep you feeling your best. Along with 15g of protein and 5g of dietary fiber, each shake also contains 1 billion CFU of probiotics – or healthy bacteria needed to fight off the "bad guys" or bad bacteria in your body that can leave you vulnerable to sickness and disease.
In addition, the proprietary superfood blend in each shake includes some of the best health-promoting foods, like organic kale, spinach, broccoli, and even cracked cell chlorella, (a totally nutrient-dense fresh water algae), to keep your digestive and immune systems strong and healthy.
The bottom line is, this tropical protein powder includes all the elements of a well-balanced meal – so you can enjoy it in place of a regular meal any time of day, as a pre- or post-workout drink, or as a sweet treat for when you're having serious sugar cravings.
Immune-Boosting Delight: Pineapple
The next superfood ingredient in this tropical island recipe is of course, pineapple! This incredibly well-loved fruit is not only bursting with amazing natural sweetness, but it also has tremendous amounts of certain nutrients including vitamins A and K, and minerals phosphorous, zinc, and calcium.
In addition, pineapples are particularly rich in vitamin C and manganese, which are essential nutrients for supporting a healthy immune system, along with bone health. Not to mention, this superfruit is packed with powerful antioxidants that help fight free radicals, which may help reduce the risk of chronic diseases and illnesses.
Plus, when combined with the strawberries and peaches in this recipe – which are also great sources of vitamin C – all three fruits result in a true immune-boosting beverage with amazing taste.
Fiber-Packed Healthy Fat: Chia Seeds
Finally, though chia seeds may be tiny in size, they pack a mighty punch when it comes to the immense health benefits they provide. Loaded with fiber, protein, omega-3 fatty acids, and antioxidants, they can help keep you satiated for longer time periods, and provide your stomach with the good gut bacteria it needs, daily.
In addition, chia seeds, along with the unsweetened coconut milk in this recipe, are excellent sources of calcium and phosphorous, two essential minerals that promote strong, healthy bones. If you do not eat dairy, these incredible seeds are the perfect alternative for supporting great bone health!
Ready to indulge in a truly tropical adventure of a smoothie?! Read on to learn how to make this Bahama Mama Shake and get your 310 Shake protein powder now!
Bahama Mama Shake
Serves 1
Ingredients:
1 scoop 310 Toasted Coconut
1/2 cup frozen peaches
1/2 cup frozen strawberries
1/4 cup frozen pineapple
1 tbsp chia seeds
1 cup unsweetened coconut milk
Directions:
Combine ingredients in a blender and blend until completely smooth.
Serve and enjoy!
Nutrition:
256 calories
31g carbs
18g net carbs
10g fat
18g protein
What's your favorite shake recipe using 310 Toasted Coconut? Let us know in the comments below for a chance to be featured on our blog! 
Like this recipe? Check out other delicious, nutritionist-approved 310 Nutrition recipes here! 
In This Recipe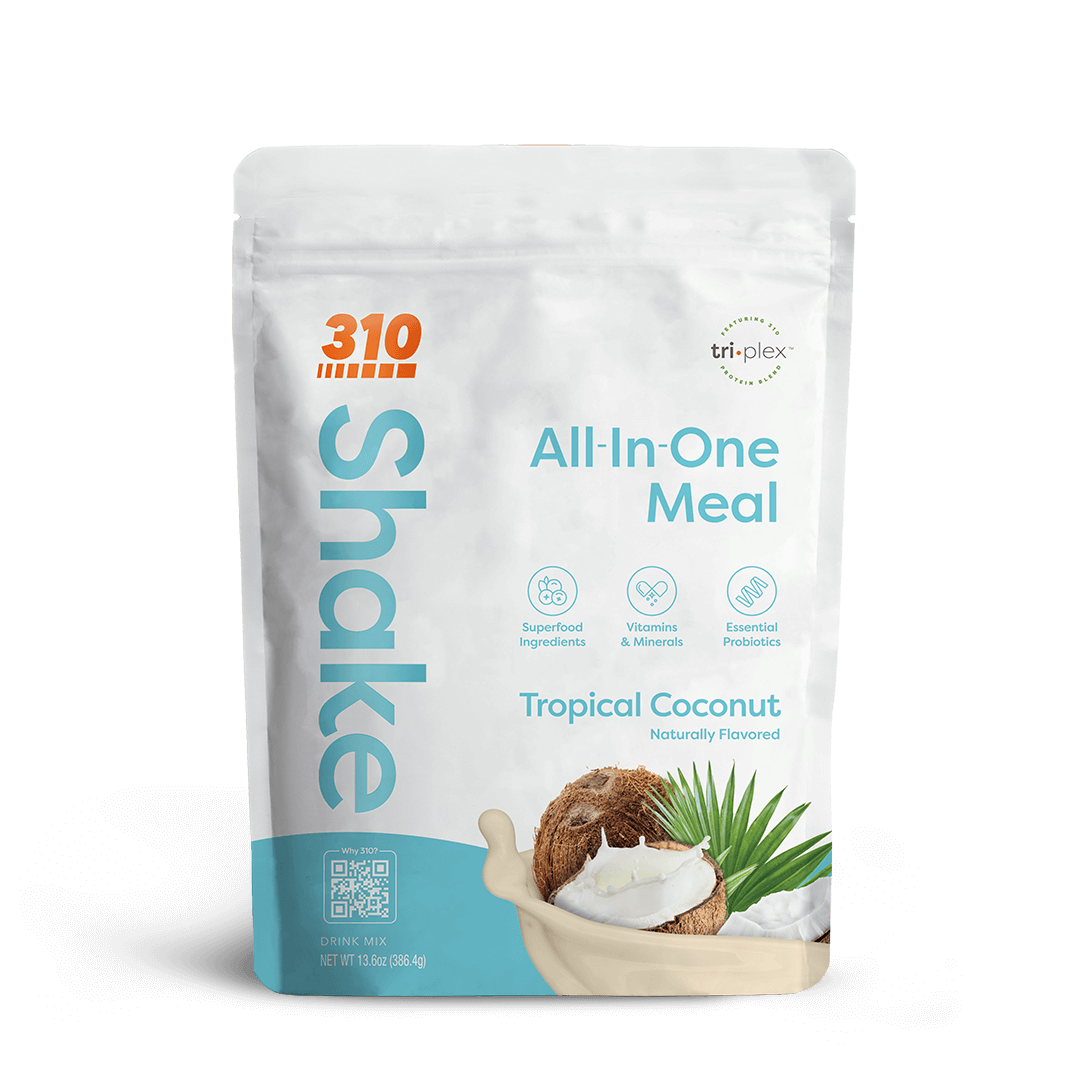 310 Tropical Coconut Shake
Indulge in an insanely delicious, complete superfood meal, providing well-balanced nutrition and targeted ingredients for total immune, digestive, and full-body health. View Shake »