March has is now upon us, which means St. Patrick's Day is right around the corner, bringing with it tons of delicious minty-chocolate shake recipes in celebration! Though you may have a recipe favorite in mind, (or maybe you're obsessed with a particular sugary green shake from a popular fast food chain), we have good news for you. Now you can get your fix with this nutritious and delicious Mint Chip Shake!
In this refreshing Mint Chip Shake Recipe, we're tossing the ice cream, sugar, artificial sweeteners, artificial flavorings, and overly-processed ingredients to bring you a real food shake with amazing taste! Blended with plant-based 310 Chocolate Mint Protein Powder, unsweetened almond milk, banana, cacao powder, cacao nibs, and MCT Oil, this mouthwatering yet nourishing shake is naturally sweet and totally indulgent.
With 20g of plant-based protein, 15.5g of nutritious fats, you can feel confident you're fueling your body with the right ingredients for optimal health. 
Refreshing, Chocolaty Taste: 310 Chocolate Mint
Starting with the star ingredient, this recipe gets it's incredible minty-cocoa flavor from 310 Chocolate Mint Meal Replacement Shake – which is also what makes the smoothie well-balanced and perfect as a meal replacement. In general, this shake recipe is incredibly versatile. You can enjoy it as a quick meal, a snack while on the-go, a pre- or post-workout drink, or a healthy dessert. However you choose to savor your shake, you can be sure that you're feeding your body with high-quality nutrients that sustain, satisfy and promote health.
Made with a unique blend of three different plant-based proteins (pea, brown rice, and hemp), this shake is perfect for helping to build or maintain lean muscle, keep you satisfied until your next mean, and support optimal wellness. Sweetened naturally with plant-based Stevia, it also offers 15g of protein and 5g of dietary fiber in one serving – to nourish your body while also satisfying your cravings for sweets.
To ensure you're obtaining necessary nutrients for optimal health, essential vitamins and minerals, organic superfood greens, and gut-healthy probiotics are incorporated into this minty chocolate shake! There's also vitamin E and A included in the shake, and essential minerals such as magnesium, calcium and potassium to further support your body's immune system, bone health and more. 
Antioxidant-Packed: Cacao Nibs & Cacao Powder
Next, to further enhance the chocolate-y flavor of this shake, cacao nibs and cacao powder are added to give it an extra punch of chocolate flavor! Cacao nibs and cacao powder have no sugar, so are a great alternative for chocolate lovers.
Not only are these two ingredients major flavor boosters, but they also offer impressive health benefits. Cacao nibs and cacao powder are rich in flavanols – which are powerful antioxidants that help reduce inflammation, promote a healthy immune system, and fight free radicals to support greater health and vitality. This recipe is therefore perfect for satisfying your chocolate cravings, while giving you a nourishing boost!
Energy & Mood-Boosting Supplement: MCT Oil
To add even more richness and creaminess to this Mint Chip Shake, a popular supplement called MCT oil is incorporated into the recipe. Not only will this coconut-derived, nutrient-dense oil bring a silkiness to the drink, but it will also provide you with energy, as it's a great form of healthy fats!
MCT oil is quickly absorbed by your body to be used for energy, rather than being stored. So this particular ingredient makes this shake perfect for when your feeling those mid-day blues, or just need an extra bit of energy throughout your day. Research shows that MCT oil might also be beneficial for supporting optimal brain and heart health, so try out this shake to see how it supports you! 
Ready to toss out the sugary mint-chocolate smoothies this season and give this healthy Mint Chip Shake a try instead?! You won't be disappointed! Check out the full recipe, below...
Mint Chip Shake Recipe
Ingredients:
Serves 1
1 scoop 310 Chocolate Mint
1 cup unsweetened almond milk
1 frozen banana
1 tbsp cacao powder
1 tbsp cacao nibs  
1 tbsp MCT oil
Directions:
Combine ingredients in a blender and blend until completely smooth.
Serve and enjoy!
Nutrition:
354 calories
40 g carbs
30 g net carbs
15.5 g fat
20 g protein
What's your favorite shake recipe using 310 Chocolate Mint? Let us know in the comments below for a chance to be featured on our blog! 
Like this recipe? Check out other delicious, nutritionist-approved 310 Nutrition recipes here! 
In This Recipe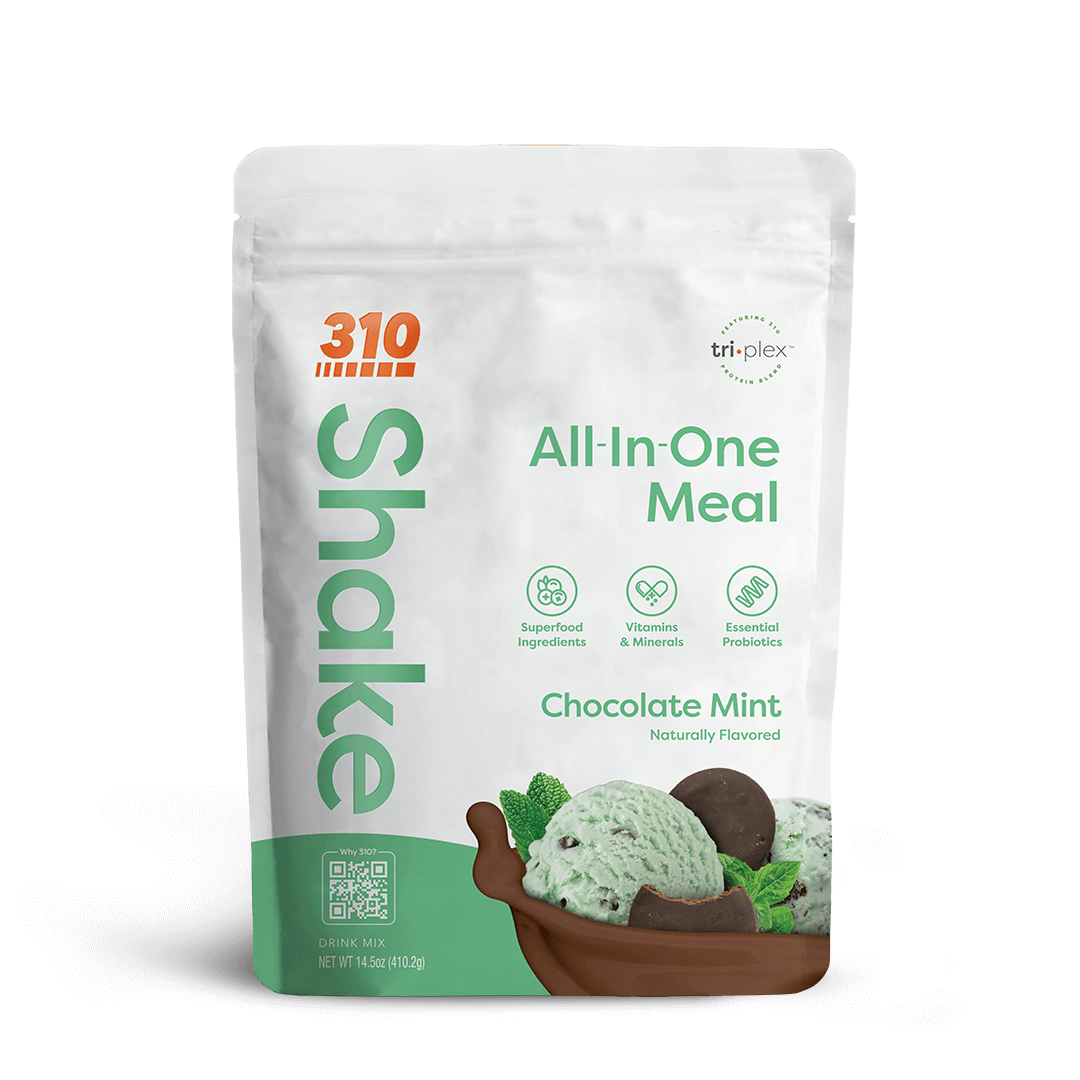 310 Chocolate Mint Shake
Indulge in an insanely delicious, complete superfood meal, providing well-balanced nutrition and targeted ingredients for total immune, digestive, and full-body health. View Shake »