How to Make this CoCo-Nutty Shake Recipe
Are you missing the long, sunny days of summer now that fall is in full force? Take your taste buds on a tropical vacation with this yummy CoCo-Nutty Shake Recipe!
Toasted Coconut is a very underappreciated fall flavor in my opinion. While it definitely has that carefree, beachy summer flavor, it's also warm and toasty and perfect for cool fall days.
In this yummy recipe, the flavors of creamy coconut, indulgent cashew, vanilla and banana combine to give you a treat worthy of pure bliss.
Plus, for only 341 calories per serving, this is a tropical treat that nourishes, with 20g of protein, 9g of fiber, 15g of healthy fat, and just 20g of net carbs. Support a balanced mood, cravings control, and boundless energy with this yummy shake packed with body-boosting fats and superfoods.
Read on to learn how to make this yummy shake to bring back summer…
Ingredients
1 scoop 310 Organic Toasted Coconut
1 cup unsweetened almond milk
1/2 frozen banana
1 tbsp. cashew butter
1 tbsp. unsweetened shredded coconut
1 tsp. vanilla extract
1/2 cup ice
Nutrition
Calories: 341
Carbs: 29g
Net Carbs: 20g
Fiber: 9g
Fat: 15g
Protein: 20g
Directions:
Combine ingredients in a blender and blend until completely smooth.
Serve and enjoy!
What You Need to Make this Shake
Let's look at what you need to make this creamy, coconutty shake that's exciting and satisfying. The star ingredient in this recipe is definitely 310 Organic Toasted Coconut. I also used almond milk, frozen banana, cashew butter, unsweetened shredded coconut, vanilla extract, and ice.  
This shake makes an energizing breakfast or lunch, or a healthy dessert-replacement with indulgent taste.
If you're a coconut fan, you're going to love the rich and creamy, slightly nutty taste of 310 Organic Toasted Coconut. Like a party for your taste buds, this flavor goes perfectly in just about everything, from tropical smoothies, to cookies, to oatmeal, pancakes and more.
While the shake has undertones of rich and creamy vanilla, it also has a distinctly-nutty, warm and toasty coconut taste that's tropical and delicious.
While many other flavored meal replacement shakes contain lots of added sugar or artificial sweeteners, 310 Organic Toasted Coconut gets its amazingly-yummy taste from plant and fruit-based sweeteners only. So, it's awesome for your health, featuring whole ingredients.
Plus, like all other 310 Shakes, 310 Organic Toasted Coconut…
Offers 15g protein, 5g fiber, and only 2g net carbs
Contains all organic, plant-based superfoods
Is just 110 calories per serving
Is sugar, dairy, gluten, soy, and GMO-free 
Recipe Variations
Want to switch up this recipe slightly based on what you have on hand? Or, what flavors you're in the mood for? Here are some suggestions for creative ways you can mix it up..
Add in oats for a denser shake
Replace cashew butter with your choice of nut butter (almond, peanut, macadamia, etc.)
Replace almond milk with coconut, oat, or cashew milk
Add a scoop of PB Powder for more protein and a peanut butter cookie taste
How to Make this Recipe
Learn how to make this recipe with the full recipe card up top!
What's your favorite shake recipe using 310 Toasted Coconut? Let us know in the comments below for a chance to be featured on our blog! 
Like this recipe? Check out other delicious, nutritionist-approved 310 Nutrition recipes here! 
In This Recipe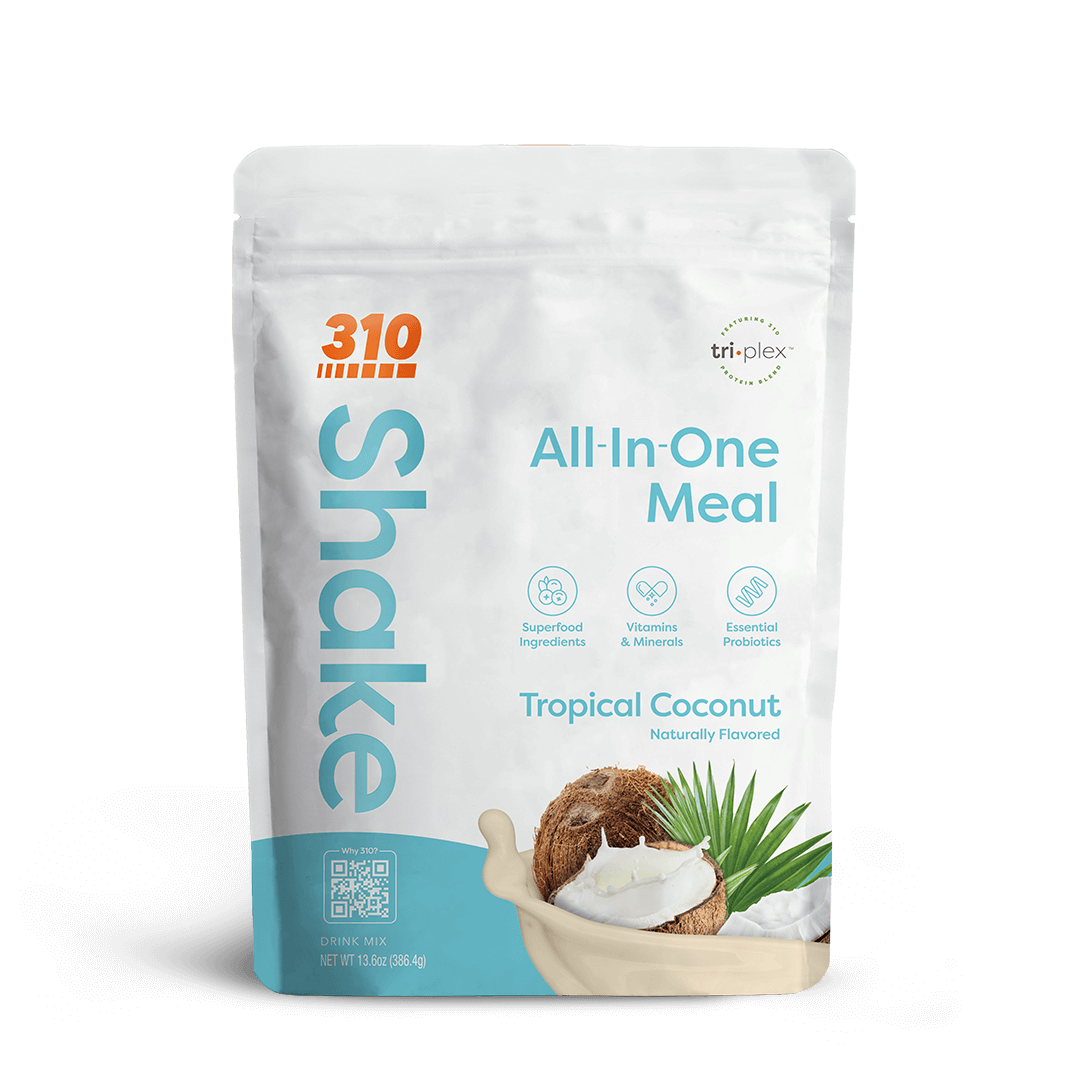 310 Tropical Coconut Shake
Indulge in an insanely delicious, complete superfood meal, providing well-balanced nutrition and targeted ingredients for total immune, digestive, and full-body health. View Shake »