How to Make this Blueberry Coconut Power Shake
Provide your body with all the nutrients you'd obtain from a well-balanced meal in this Blueberry Coconut Power Shake! This impressive drink offers high-quality protein, healthy fats, fiber, and even leafy greens to fuel your body and mind. Plus, this recipe takes just minutes to prepare to fit into the busiest schedules! See below to learn how to blend it up...
Ingredients:
Directions:
Combine ingredients in a blender and blend until completely smooth.
Serve and enjoy!
Nutrition:
355 calories
37g carbs
26g net carbs
11g fiber
9g fat
32g protein
What You Need to Make this Recipe
Let's quickly review the ingredients in this recipe! I used 310 Organic Toasted Coconut, unsweetened almond milk, frozen blueberries, banana, 310 Collagen, chia seeds, plain Greek yogurt, spinach, and ice. Don't worry if you don't have the exact items, I'll go over some alternative ingredients later!
310 Organic Toasted Coconut
Although you can use any 310 Shake in this recipe, I personally enjoy adding Organic Toasted Coconut for a sweet, nutty taste that pairs well with all the other ingredients. It's free from sugar and artificial additives to keep you aligned with your health and wellness goals, while satisfying your sweet tooth!
Along with impressive flavor, 310 Organic Toasted Coconut also includes a blend of organic superfoods including ginger, beet, turmeric and more, making it a standout meal replacement shake for health and wellness. Below are some additional reasons why I'm such a huge fan of these shakes!
Gluten, dairy, soy, nut, and GMO-free
15g of protein from a blend of pumpkin, pea, and brown rice
Vegan, keto, and paleo-friendly
Use in oatmeal, energy balls, healthy baked goods, and more!
310 Collagen
One of my favorite shake boosters is 310 Collagen because it easily adds 11g of additional protein into my drink while supporting strong hair, skin, nails, and joints! The extra protein promotes fullness and is completely flavorless, so it won't affect the taste of your shake!
Recipe Variations
As promised, here are some alternative ways you can make this shake if you don't have all the exact ingredients!
Organic Vanilla instead of Organic Toasted Coconut
Your favorite berry or a mix
Frozen cauliflower rice instead of banana to lower carbs
Hemp or flax seed instead of chia
Coconut yogurt for a dairy-free version
Kale instead of spinach
Swap out the almond milk for coconut milk or coconut water
How to Make this Shake
To make this shake, I first like to blend the spinach with the almond milk to create a smooth puree. This extra step just ensures an ultra creamy texture at the end with no leafy bits remaining!
Once you have the spinach and almond milk blended, add the rest of the ingredients into the blender and blend again for 30-40 seconds until well-combined. Serve your finished creation in a glass or shaker cup and enjoy your super-scrumptious, indulgent shake!
Looking for More Recipes?
Check out other delicious, nutritionist-approved 310 Nutrition recipes here!
What's your favorite recipe using 310 Organic Toasted Coconut?! Let us know in the comments below for a chance to be featured on our blog!
In This Recipe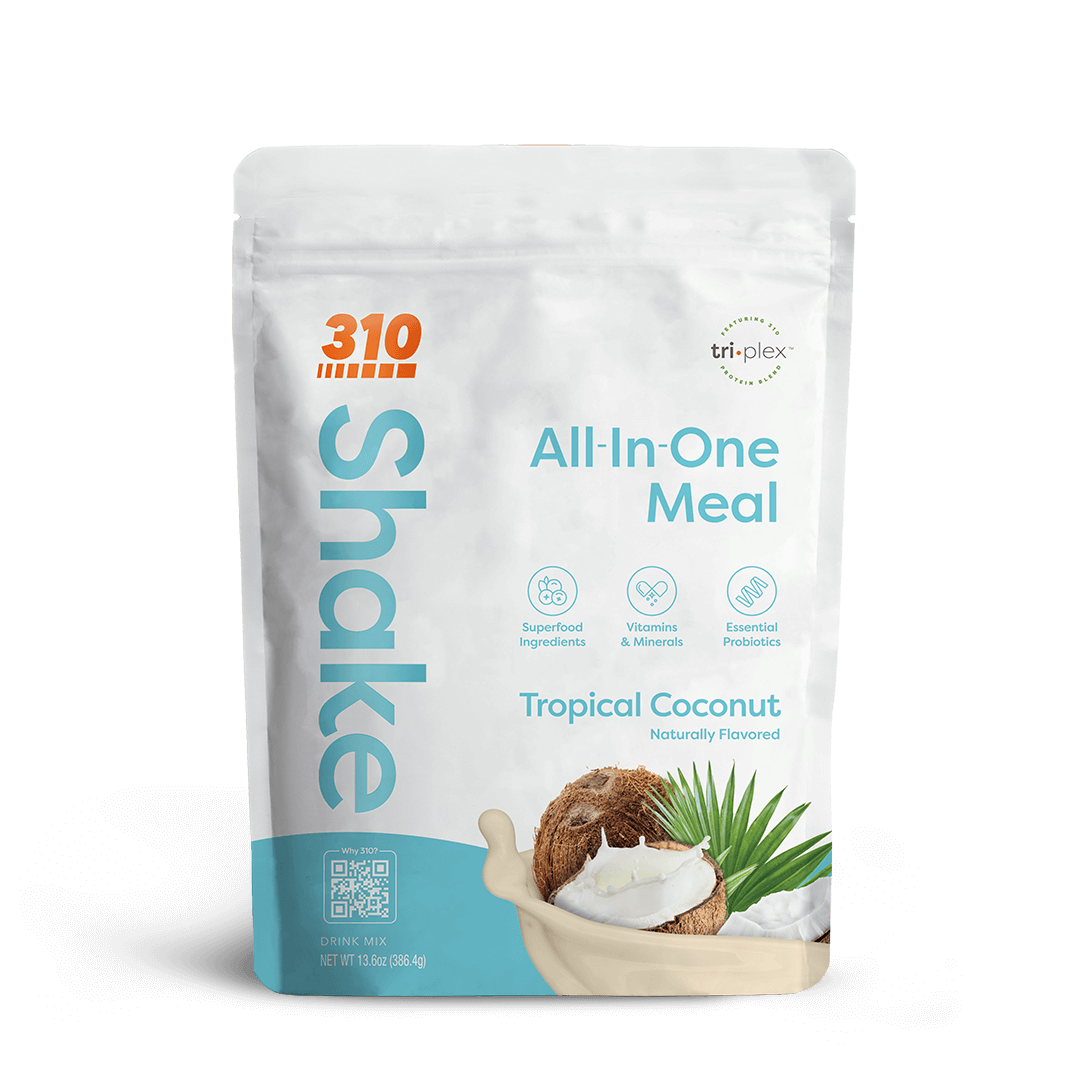 310 Tropical Coconut Shake
Indulge in an insanely delicious, complete superfood meal, providing well-balanced nutrition and targeted ingredients for total immune, digestive, and full-body health. View Shake »