"Thin Mint" Keto Shake Recipe
Who doesn't love the delicious minty taste of the classic Thin Mint Girl Scout cookie!? It's one of my favorite Girl Scout cookie flavors... I always order at least two boxes. But you don't need to flag down a Girl Scout to experience that minty and chocolaty taste.
With this "Thin Mint" Keto Shake recipe you can whip up a tasty and mouthwatering snack in minutes, while also staying within your Keto guidelines. This recipe features cauliflower rice and MCT oil to keep your fat count high and your calorie count low. Plus coconut milk, fresh mint, cocoa powder, and our delicious new 310 All-In-One shake flavor: Chocolate Mint!
The combination of these nutritious ingredients creates a healthy, keto-friendly treat that's perfect for when you need a quick meal fix or snack to power through your busy day.
Ready to get started? Here's how to make it...
What You Need to Make This Shake
Let's review what you need to make this shake! The ingredients I used are 310 All-In-One Chocolate Mint, unsweetened coconut milk, frozen cauliflower rice, MCT oil, and cocoa powder. You can also use a few fresh mint leaves, if desired.
NEW 310 All-In-One Chocolate Mint
Have you given our latest shake flavor a try?! 310 All-In-One Chocolate Mint has the same intense cocoa flavor you know and love from our Chocolate Bliss shake, but with a subtle pop of sweet mint that isn't too overpowering.
It's a fun flavor to add to your pantry for when you want something different. Sugar-free and sweetened solely with Stevia, this delicious and refreshing shake is great for those of you following low-carb or keto guidelines that still want to enjoy a dessert-like treat!
If all of that wasn't impressive enough, here are a few more additional qualities that 310 All-In-One Chocolate Mint possesses...
26 essential vitamins and minerals to help bolster your health, help avoid nutrient deficiencies, and support energy and vitality
100 billion CFU of probiotics to support gut health and weight loss
Digestive enzymes for proper nutrient absorption
A blend of plant-based superfoods including a fiber-blend
Even creamier texture and more mouthwatering taste
An exciting array of flavors, good enough to be dessert
Adaptogen blend featuring key mushrooms & herbs for mind & body wellness
310 MCT Oil
MCT (medium chain triglycerides) oil is one of the easiest ways to incorporate healthy fats into your day! Unlike other fats, MCTs are converted into energy or ketones and gives both your brain and body a boost. 
310 MCT Oil is a high quality oil that's purely extracted from coconut oil and is free of sugar and additives. You can use it in shakes, coffees, teas, lemonades, and more!
How to Make This Keto Shake
Ingredients
Directions:
Combine ingredients in a blender and blend until completely smooth.
Serve and enjoy!
Nutrition:
Calories: 336

Carbs: 15g

Net Carbs: 2g

Fiber: 13g

Fat: 22g

Protein: 19g
Ways to "Shake Up" this Recipe
Make this recipe your own creation and experiment with different ingredients! You can always omit or swap out any ingredients with what you have available. Check out some of these variations below…
Use unsweetened almond milk instead of coconut milk 
Mint extract instead of mint leaves
Add in hemp seeds or almond or cashew butter for a smoother texture
If you're not following the Keto diet you can skip the cauliflower rice and add in a banana instead
What's your favorite shake recipe using 310 All-In-One Chocolate Mint? Let us know in the comments below for a chance to be featured on our blog! And if you need help keeping track of your calories and macros make sure to check out our keto calculator.
Like this recipe? Check out other delicious, nutritionist-approved 310 Nutrition recipes here! 
In This Recipe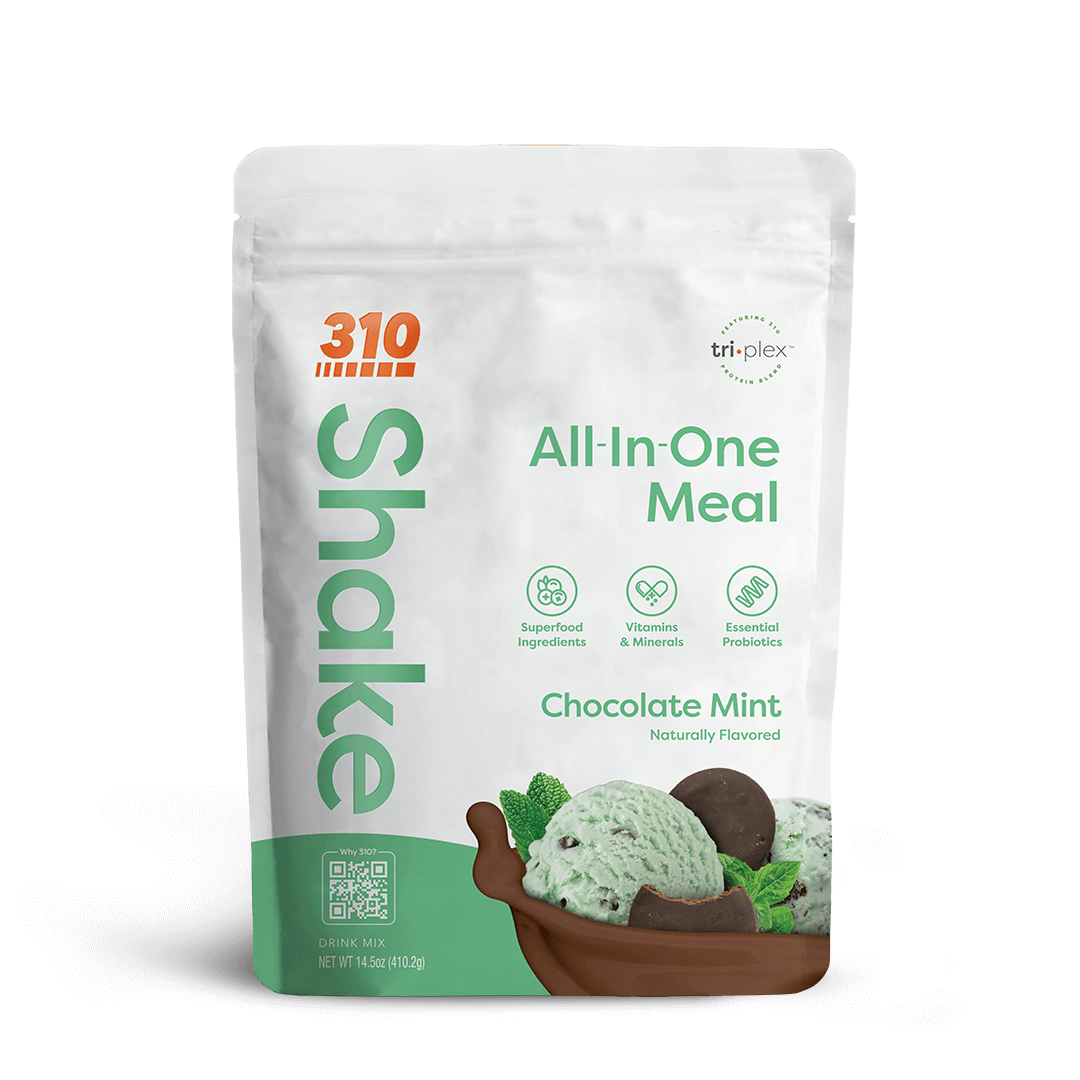 310 Chocolate Mint Shake
Indulge in an insanely delicious, complete superfood meal, providing well-balanced nutrition and targeted ingredients for total immune, digestive, and full-body health. View Shake »