Get in the holiday spirit with this creamy and delicious Chocolate Chip Peppermint Swirl Shake, that offers a whopping 20g of protein! Blend it up in just a few minutes for a healthy holiday smoothie!
Chocolate Chip Peppermint Swirl Shake Recipe
It's the most wonderful time of the year and it wouldn't be complete without a proper Chocolate Chip Peppermint Swirl Shake! With a chocolaty crunch, this recipe is a fun twist on the classic peppermint shake. I use nutritious ingredients to achieve a rich and indulgent taste for a festive drink that's both satisfying to your tastebuds and your body! If you're looking for a quick snack, dessert, or breakfast, this shake can do it all while putting a smile on your face.
In This Recipe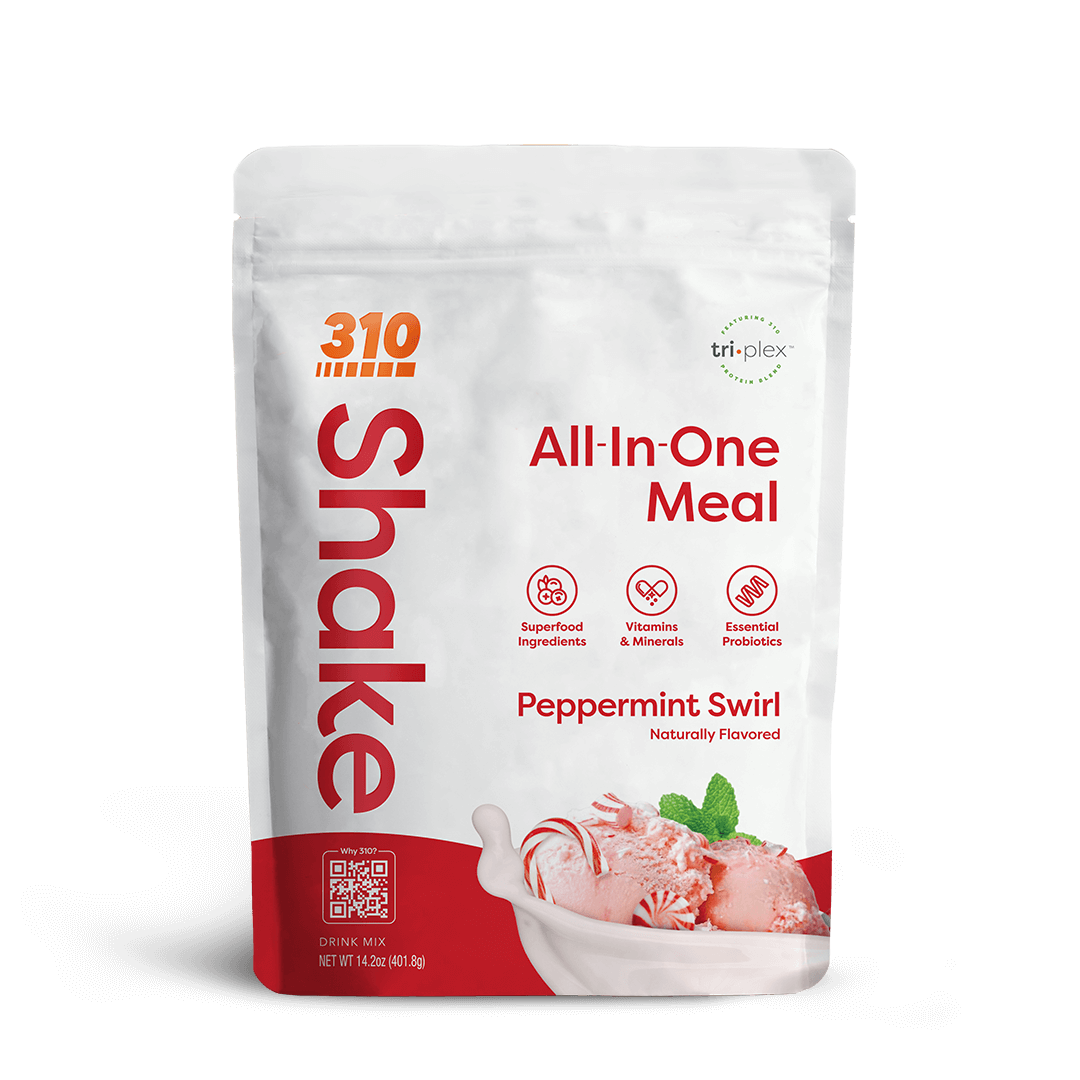 310 Peppermint Swirl Shake
Indulge in an insanely delicious, complete superfood meal, providing well-balanced nutrition and targeted ingredients for total immune, digestive, and full-body health. View Shake »
My secret to achieving an ultra-creamy base is with some plain yogurt! Not only does it provide extra silkiness, but it's also a simple way to incorporate even more protein into the shake, in addition to 310 Organic Peppermint Swirl. It can be hard to add variety to your sources of protein, which is why I am a big fan of blending up a shake to easily increase my intake of this essential macronutrient. In fact, this Chocolate Chip Peppermint Swirl offers 20g of protein in just one serving! Keep reading to learn how to make this at home…
What You Need to Make this Shake
Let's first review the ingredients that are in this recipe! I used 310 Organic Peppermint Swirl, unsweetened almond milk, frozen banana, plain yogurt, cacao nibs, ice, and peppermint extract (optional).
310 Organic Peppermint Swirl
Peppermint can be overpowering, but rest assured, 310 Organic Peppermint Swirl is beautifully-balanced with a sweet vanilla bean flavor and just a touch of mint for a fresh flavor. You can enhance the peppermint flavor by adding a couple drops of extract (like in this recipe), or a few mint leaves.
Along with incredible taste, 310 Organic Peppermint Swirl is also packed with nutrients your body needs to function optimally. Free from sugar and common allergens including soy, dairy, gluten, and nuts, this shake is suitable for a variety of lifestyles, making it my top recommendation for friends and family.
That's not all…here are some additional reasons why I'm such a big fan of this shake!
Formulated with natural, vegan, and organic ingredients
Keto and paleo-friendly
15g of plant-based proteins
Contains a blend of organic superfoods including beet, ginger, kale, broccoli, spinach, and more
Ways to "Shake Up" this Recipe
As always, you can adjust this recipe to suit your own dietary needs and taste preferences! Below are a few of my favorite alternative ingredients that work great in this recipe as well…
Frozen cauliflower rice instead of banana to lower carbs
Coconut milk instead of almond
Use coconut yogurt instead of regular yogurt for a vegan shake
Cacao powder for stronger chocolate flavor
Rolled oats for a cookie-like texture and taste
How to Make this Shake
Let's get to blending! Combine your ingredients into a blender and blend on a medium-to-high setting until there are no chunks remaining. Once everything is completely smooth, serve your finished shake in a glass, garnish with cacao nibs or powder, and enjoy. Cheers!
Ingredients:
1 scoop 310 Organic Peppermint Swirl
1 cup unsweetened almond milk
1 frozen banana
1/4 cup plain yogurt
1 tbsp cacao nibs
1/2 cup ice
Optional: 1-2 drops peppermint extract
Directions:
Combine ingredients in a blender and blend until completely smooth.
Serve and enjoy!
Nutrition:
320 calories
38g carbs
28g net carbs
10g fiber
10g fat
20g protein
What's your favorite shake recipe using 310 Organic Peppermint Swirl? Let us know in the comments below for a chance to be featured on our blog!
Like this recipe? Check out other delicious, nutritionist-approved 310 Nutrition recipes here!
In This Recipe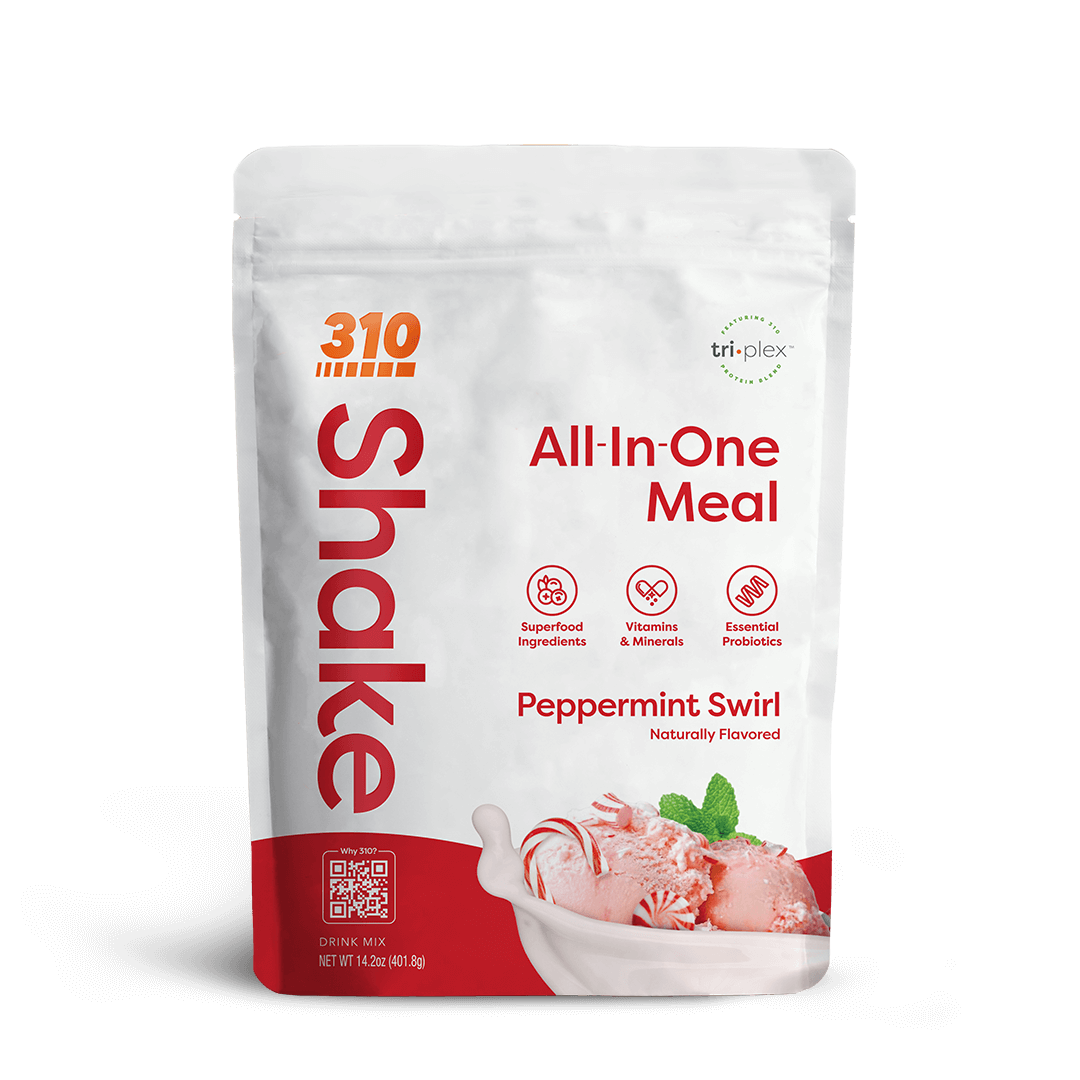 310 Peppermint Swirl Shake
Indulge in an insanely delicious, complete superfood meal, providing well-balanced nutrition and targeted ingredients for total immune, digestive, and full-body health. View Shake »