Boost your mood and satisfy your sweet tooth with this Chocolate Mint Mocha Shake! Made with nourishing, whole food ingredients, it's perfect for a healthy breakfast or afternoon pick-me-up! 
Chocolate Mint Mocha Shake Recipe
If you're trying to be more of a morning person, having something positive to look forward to will encourage you to get out of bed! It can be trying a new coffee shop, cooking up a delicious breakfast, or any activity that you genuinely enjoy. For me, it's been this Chocolate Mint Mocha Shake that brightens up my early mornings! This yummy shake combines my breakfast and morning coffee into one convenient smoothie, so I have more time to prep for the day. It's full of nutrition and flavor to give me a boost of energy while keeping me satisfied. Not to mention, who doesn't want to start the day off with some chocolate?!
In This Recipe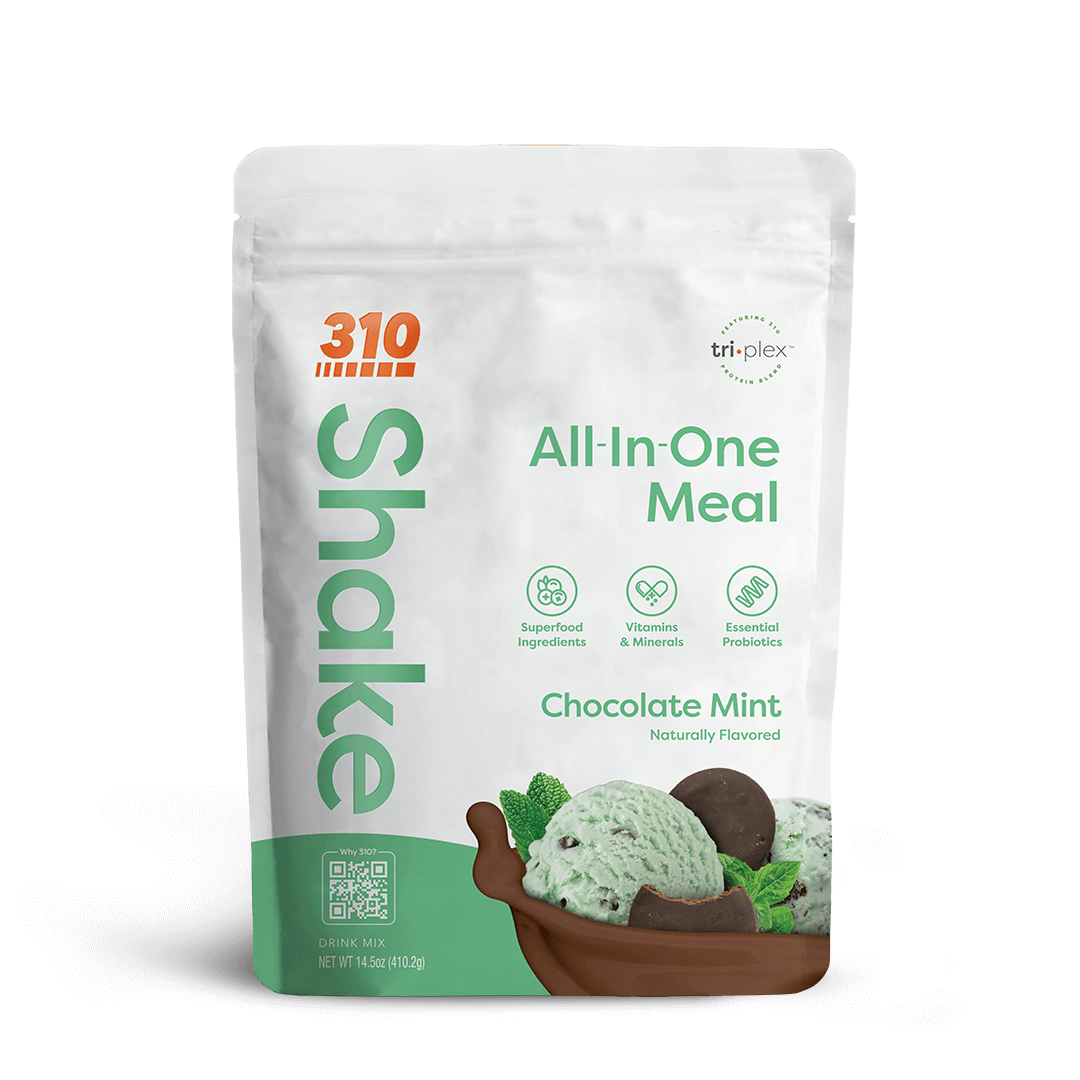 310 Chocolate Mint Shake
Indulge in an insanely delicious, complete superfood meal, providing well-balanced nutrition and targeted ingredients for total immune, digestive, and full-body health. View Shake »
With an impressive 23g of plant-based proteins and 13g of fiber from 310 Shake and hemp seeds, this shake has all the key components that promote satiety, making it an ideal breakfast, snack, meal, or pick-me-up. This recipe is quick and easy to make, so you can blend it up in minutes and pour it into a shaker cup to take with you wherever you go. If you want a new, exciting way to stay caffeinated, keep reading for the full recipe!
What You Need to Make this Shake
To make this recipe, you will need 310 Organic Chocolate Mint, cold brew, frozen banana, hemp seeds, cacao powder, and ice. You can also brew your own cup of coffee and let it chill instead of using cold brew.
310 Organic Chocolate Mint
A regular mint mocha from a coffee shop typically uses a combination of chocolate and mint syrups that are full of artificial flavorings and added sugars. I often feel heavy and sluggish afterwards, which is why I prefer making my own mochas with 310 Organic Chocolate Mint! This impressive meal replacement shake is formulated using quality organic ingredients and is completely sugar-free, using Stevia as the sweetener. It's truly a great addition to any pantry and my favorite way to incorporate a boost of nutrition into the day.
I'm a huge advocate for 310 Shakes and below are just a few reasons why!
Contains a blend of plant-based proteins including pumpkin, brown rice, and pea
Free from sugar, gluten, dairy, soy, nuts, and GMOs
Vegan, keto, and paleo-friendly
Use in coffee, oatmeal, energy balls, healthy baked goods, and more
Ways to "Shake Up" this Recipe
Missing some ingredients? Don't worry, I've got you covered! See if you have any of these alternative ingredients that also work well in this recipe…
Frozen cauliflower rice instead of frozen banana
Flax or chia seed instead of hemp
Organic Mocha instead of Organic Chocolate Mint
Add cacao nibs for texture
How to Make this Shake
Finally, it's time to put this shake together! Combine all your ingredients into a blender and gradually blend on a medium-to-high setting until you reach a creamy consistency, which takes around 30 to 40 seconds. Once there are no clumps remaining, serve your finished drink into a glass or shaker cup and enjoy your indulgent yet nourishing coffee smoothie!
Ingredients:
1 scoop 310 Organic Chocolate Mint
1 cup cold brew or brewed coffee, chilled
1 small frozen banana
1 tbsp hemp seeds
1 tbsp cacao powder
1/2 cup ice
Directions:
Combine ingredients in a blender and blend until completely smooth.
Serve and enjoy!
Nutrition:
300 calories
38g carbs
25g net carbs
13g fiber
8g fat
23g protein
What are your favorite recipes using 310 Organic Chocolate Mint? Let us know in the comments below for a chance to be featured on our blog! 
Like this recipe? Check out other delicious, nutritionist-approved 310 Nutrition recipes here! 
In This Recipe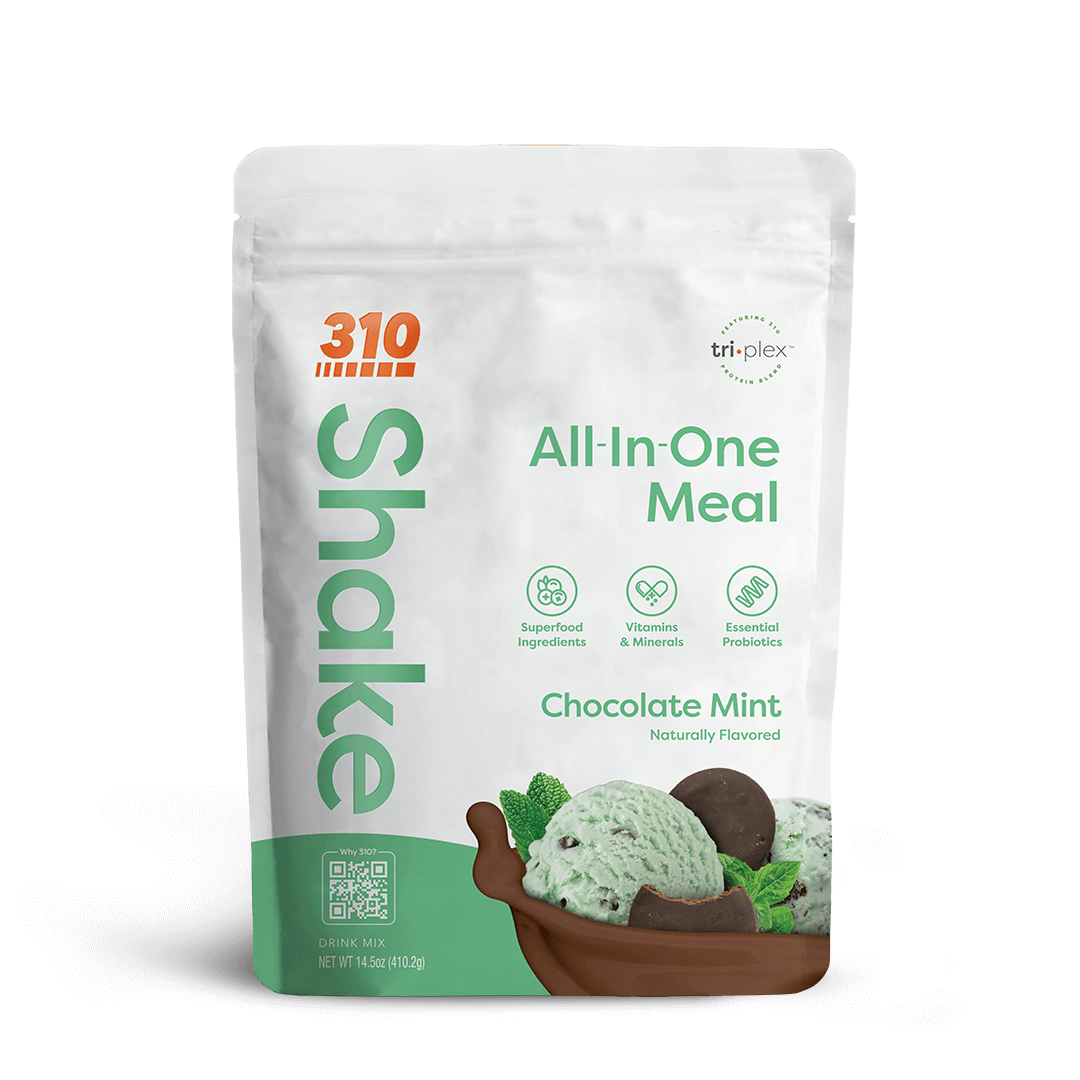 310 Chocolate Mint Shake
Indulge in an insanely delicious, complete superfood meal, providing well-balanced nutrition and targeted ingredients for total immune, digestive, and full-body health. View Shake »