Can't decide whether you want a sweet or salty snack? Get the best of both worlds with this Coconut PB Chip Protein Shake for a nutritious drink that's packed with immense flavor!
Coconut PB Chip Protein Shake Recipe
Coconut and peanut butter may not be a common pairing, but the sweet nutty flavors work great together in this Coconut PB Chip Protein Shake! I'm a big fan of this unique combo and think you will be too. It's easy to get stuck making the same recipes, so step out of your comfort zone and excite your taste buds with this yummy shake that can be enjoyed as a dessert, snack, or post-workout drink!
In this recipe, I use both 310 PB Powder and peanut butter for maximum flavor, healthy fats, and a boost of protein. I also include other nutrient-dense ingredients to provide this shake with 27g of protein and 12g of dietary fiber, which are key components to promoting satiety. Rather than reaching for processed store-bought snacks, quickly blend this protein shake in just minutes for a health-boosting drink that is both sweet and savory to nourish your body.
What You Need to Make this Shake
The ingredients that are used in this shake include 310 Organic Toasted Coconut, unsweetened coconut milk, frozen cauliflower rice, peanut butter, 310 PB Powder, cacao nibs, and ice.
310 Organic Toasted Coconut
I use a scoop of the newly-released 310 Organic Toasted Coconut to add a creamy consistency and touch of sweetness to this shake! A lot of coconut flavored drinks are often too sweet and full of artificial flavors and sugar, but 310 Organic Toasted Coconut uses plant-based ingredients, including Stevia, for a coco-nutty flavor that's perfectly balanced. Made with quality vegan and organic ingredients, this meal replacement shake is loaded with essential nutrients to support your wellness goals and weight loss journey. It even contains a blend of powerful superfoods for a boost of antioxidants! I use 310 Shakes just about daily and here's a few reasons why…
Vegan, keto, and paleo-friendly
15g of plant-based proteins from pumpkin, brown rice, and pea
Free from sugar, nuts, soy, dairy, gluten, and GMOs
Mix into coffee, oatmeal, chia seed puddings, healthy baked goods, and more
Ways to "Shake Up" this Recipe
This shake is quite indulgent as-is, but below are some ingredients that you can use to take it to the next level for even more nutrition and flavor!
Add cacao powder for chocolate flavor
Greek yogurt instead of or in addition to peanut butter
Frozen banana instead of frozen cauliflower rice
310 Collagen for 11g of additional protein
Dash of sea salt or dash of vanilla extract
How to Make this Shake
It's time to put this recipe together and it couldn't be easier! Just combine all your ingredients into a blender and blend on a medium setting for 30 to 40 seconds until everything is completely smooth. Once you reach a creamy consistency with no clumps remaining, serve your shake in a glass or shaker cup and sip away!
Ingredients:
Directions:
Combine ingredients in a blender and blend until completely smooth.
Serve and enjoy!
Nutrition:
320 calories
21g carbs
9g net carbs
12g fiber
15g fat
27g protein
What's your favorite shake recipe using 310 Organic Coconut? Post a picture on Instagram and tag us @310nutrition for a feature!
Like this recipe? Check out other delicious, nutritionist-approved 310 Nutrition recipes here!
In This Recipe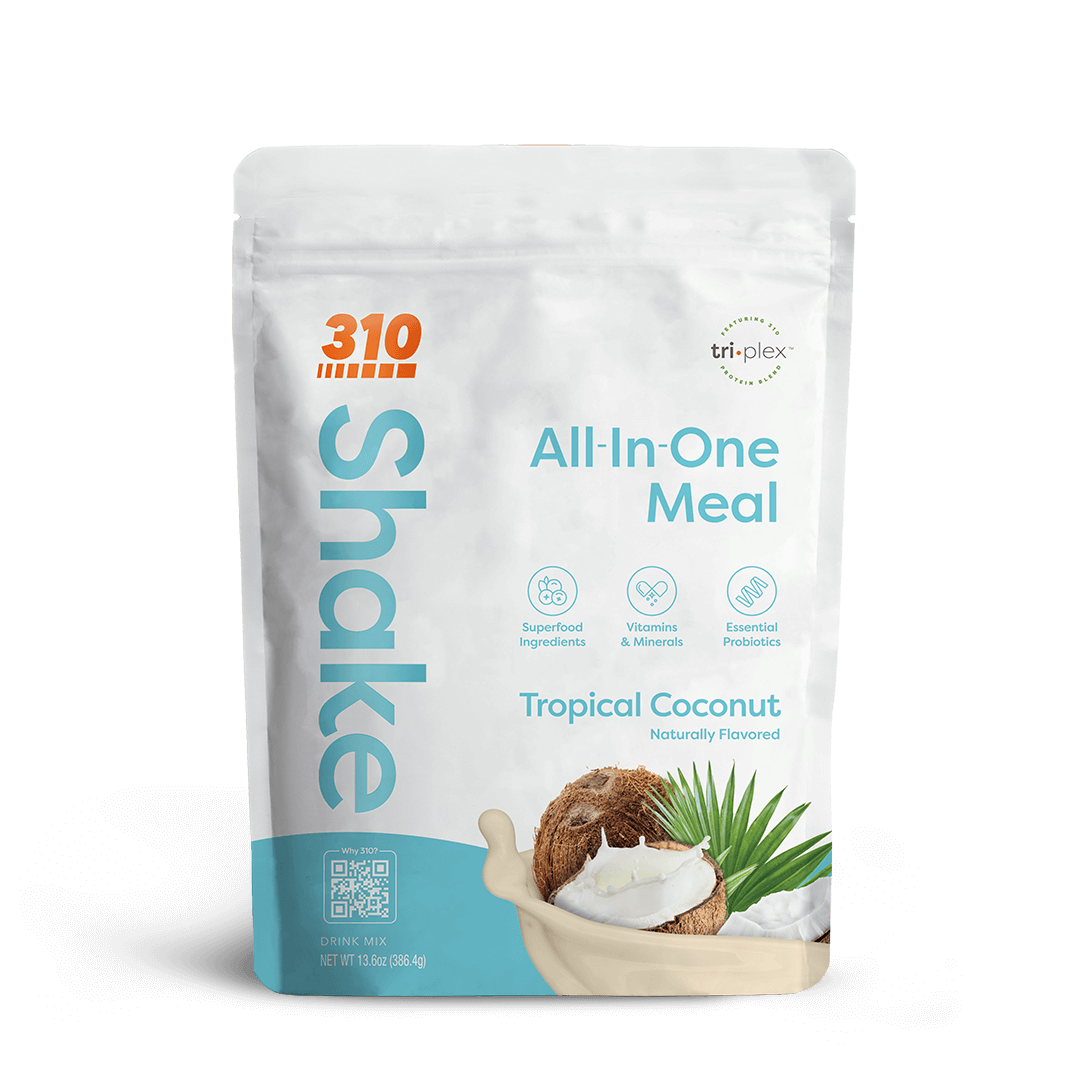 310 Tropical Coconut Shake
Indulge in an insanely delicious, complete superfood meal, providing well-balanced nutrition and targeted ingredients for total immune, digestive, and full-body health. View Shake »