Pack major nutrition and amazing taste into your meals with this Green Superfood Coconut Smoothie! Blend it up in just minutes for a healthy, flavor-filled drink. 
Green Superfood Coconut Smoothie Recipe
It's recommended to consume at least five servings of veggies per day, which is not an easy task when you don't always have the time to wash, prep, and cook them. That's why I try to snack on carrots, celery, or some sort of vegetable throughout the day to incorporate more nutrition into my diet. Another favorite method is to add leafy greens into a smoothie for a quick and easy way to pack in veggies! This Green Superfood Coconut Smoothie is a great recipe to try for a creamy, sweet, and delicious drink that can be enjoyed at any time of day to balance and support your health.
I chose spinach as my leafy green of choice because it's mild in taste while packing a punch in fiber and antioxidants. Combined with the other ingredients in this recipe, you can't taste it at all! For even more superfoods, I included a scoop of 310 Greens Juice for a yummy way to add extra fruits and vegetables, (spinach, kale, acai, blueberry, strawberries, and more) into this drink. Although you can mix 310 Greens Juice with just water, I love mixing this berry flavored superfood blend into my smoothies to further boost the nutritional value. This is a great recipe to make as a snack or meal, so don't forget to bookmark this page to save it!
What You Need to Make this Smoothie
First, let's review the ingredients that you'll need for this recipe. I used 310 Organic Toasted Coconut, unsweetened coconut milk, banana, avocado, 310 Greens Juice, spinach, and ice.
310 Organic Toasted Coconut
To complement the creamy flavors of banana and avocado, I used a scoop of 310 Organic Toasted Coconut for a touch of nuttiness and sweetness. This meal replacement shake has subtle notes of coconut that's perfect for both fruity and dessert-like smoothies. With a plethora of nutrients, you can add 310 Organic Toasted Coconut to oatmeal, coffee, or healthy baked goods for a simple and scrumptious way to support your health and weight loss goals.
This unique flavor is a pantry essential for all coconut lovers... Just check out some additional, truly impressive qualities of it, along with all 310 Shakes, below!
15g of plant-based proteins from a blend of pumpkin, brown rice, and pea
Formulated with quality vegan and organic ingredients
Free from sugar, soy, artificial flavors, dairy, gluten, and GMOs
Vegan, paleo, and keto-friendly
Ways to "Shake Up" this Smoothie
These recipes are just guidelines but can always be adjusted to meet your personal tastes and preferences! When I create them, I use what I currently have in my fridge or pantry, and the following variations also came out quite well…
Kale instead of spinach
Spirulina in addition to Greens Juice
Almond milk instead of coconut
Unsweetened coconut flakes for extra flavor
Keto friendly version: Use frozen cauliflower rice instead of banana
How to Make this Smoothie
At last, it's time to make this recipe! Add all your ingredients into a blender and blend on a medium setting for 30 to 40 seconds until there are no clumps remaining. Once you reach a completely smooth consistency, pour your drink into a glass or shaker cup and enjoy your nutrient-dense and delicious smoothie!
Ingredients:
Directions:
Combine ingredients in a blender and blend until completely smooth.
Serve and enjoy!
Nutrition:
320 calories
38g carbs
25g net carbs
13g fiber
12g fat
18g protein
What's your favorite shake recipe using 310 Organic Toasted Coconut? Let us know in the comments below for a chance to be featured on our blog! 
Like this recipe? Check out other delicious, nutritionist-approved 310 Nutrition recipes here! 
In This Recipe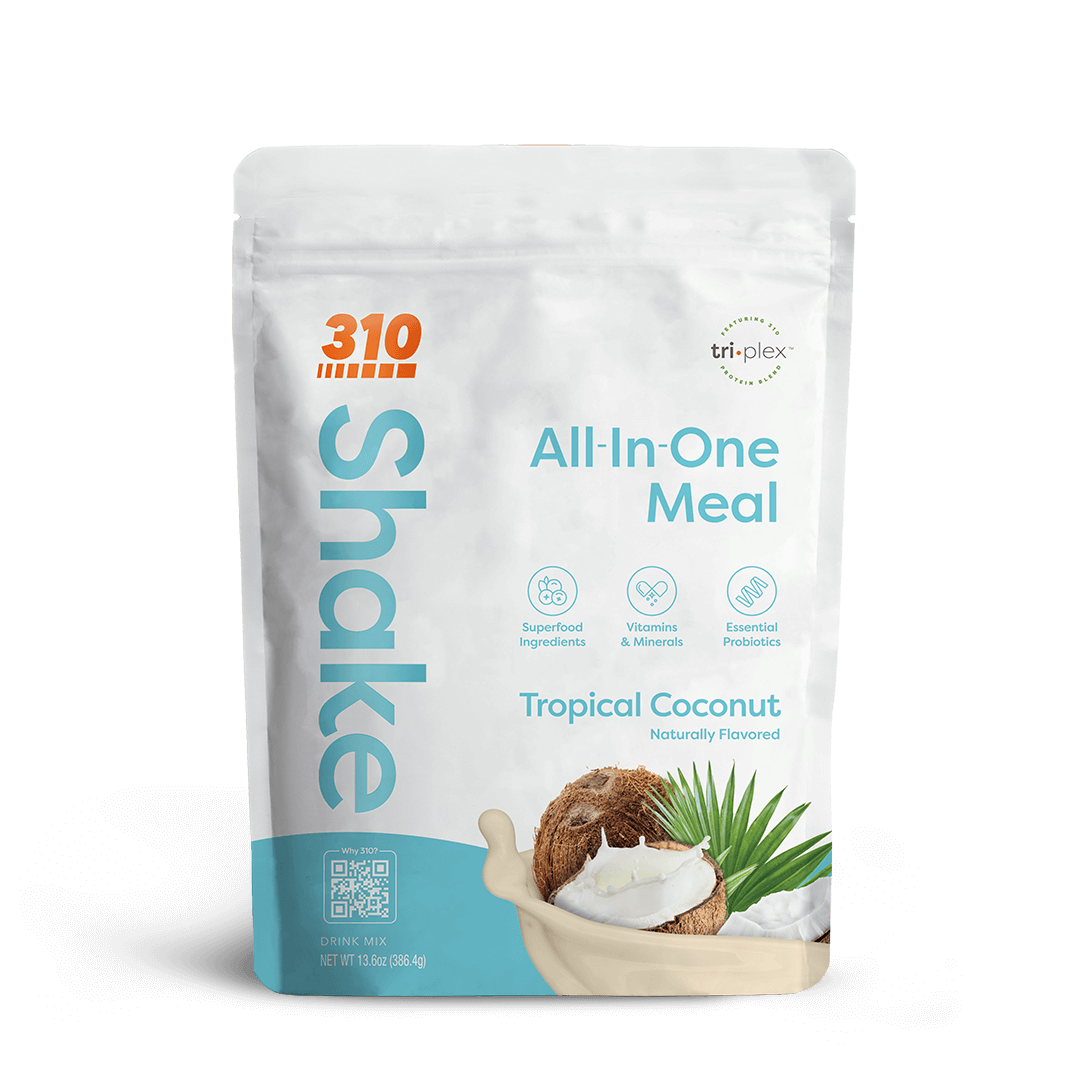 310 Tropical Coconut Shake
Indulge in an insanely delicious, complete superfood meal, providing well-balanced nutrition and targeted ingredients for total immune, digestive, and full-body health. View Shake »