Healthy Homemade Pumpkin Spice Latte Recipe
Love a pumpkin spice latte, but want to swap it out for something higher on the health scale? Ditch the sugar, fake syrup, extra calories, and try out our homemade pumpkin spice latte. Made with freshly brewed coffee, pumpkin, and all your favorite fall spices, this is the perfect sweet and healthy fall treat!
Plus, it might help you save a few bucks if you're someone like me who usually likes to treat yourself to several pricey Pumpkin Spiced Lattes throughout the fall season! Save yourself the trip and the extra calories by whipping up this delicious homemade version instead.
And to make matters more delicious, this recipe features our brand-new 310 All-In-One Pumpkin Spice! Get ready to indulge in the flavor of fall and satisfy all your pumpkin spice needs with this irresistibly creamy shake flavor.
Let's get started...
Ingredients:
1 scoop

310 All-In-One Pumpkin Spice

2 espresso shots or ½ cup brewed coffee

½ cup almond milk (or milk of choice)

1 tbsp pumpkin puree

1 single serve stevia packet

1 dash ginger

1 dash cinnamon

1 dash nutmeg
Nutrition:
Calories: 163
Carbs: 9.5g
Net Carbs: 4.3g
Fiber: 5.2g
Fat: 6.2g
Protein: 16.6g
Directions:
Combine milk, 310 All-In-One Pumpkin Spice, pumpkin, stevia, ginger, cinnamon, and nutmeg in a small pot and bring to a simmer on medium heat, stirring occasionally.

U

sing a

frother

, froth the milk

until it becomes slightly foamy.

Alternatively, you can use a blender to froth the milk.

Combine coffee and milk in a mug. Top with a dash of cinnamon and enjoy!
What You Need to Make this Shake
Alright, let's get our pumpkin spice on! I love how easy it is to make your own version of this at home. Plus, it'll save you from all that added sugar they pile on!
I used 310 All-In-One Pumpkin Spice, ½ cup brewed coffee, almond milk, pumpkin puree, one stevia packet, and a dash of ginger, cinnamon, and nutmeg.
Lots of times when you think you're buying regular PURE canned pumpkin, it can actually be pumpkin pie filling, so be careful. There's a big difference between the two. While pure pumpkin is really healthy, full of fiber, vitamins, and minerals, and low in calories, pumpkin pie filling contains sugar and other additives. So, make sure you grab the right one for this recipe!
NEW 310 All-In-One Pumpkin Spice
It's the time to indulge in all things pumpkin! And just in time for pumpkin season is the launch of our latest 310 All-In-One Shake flavor: Pumpkin Spice. This seasonal shake favorite is a must for deliciously-tantalizing smoothies, smoothie bowls, and pumpkin-flavored baked treats, all season long!
It offers an intriguing mix of flavors – like cinnamon, nutmeg, and clove – along with creamy pumpkin in every sip. Although we've launched Pumpkin Spice shake flavors in the past, this is a special blend because it's the latest flavor in our new and improved all-in-one shake formulas.
All our brand-new 310 All-In-One Shakes contain…
26 essential vitamins and minerals to help bolster your health, help avoid nutrient deficiencies, and support energy and vitality
100 billion CFU of probiotics to support gut health and weight loss
Digestive enzymes for proper nutrient absorption
A blend of plant-based superfoods including a fiber-blend
Even creamier texture and more mouthwatering taste
An exciting array of flavors, good enough to be dessert
Adaptogen blend featuring key mushrooms & herbs for mind & body wellness
Pumpkin Spice is an extra special flavor to celebrate the fall season. So stock up on yours before it disappears. It goes so well in many different types of smoothie recipes – making it as versatile as it is yummy.
Ways to "Shake Up" this Recipe
Want to alter this recipe slightly to create a different taste or use up other ingredients? You can switch it up in different ways and it will still taste wonderfully fall-flavored and delicious.
Although it tastes SO GOOD with the pumpkin, I know that not everyone is as obsessed with pumpkin as I am! So here are a few variations to this recipe to get that perfect shake for your unique taste bud needs:
Try ½

310 All-In-One Pumpkin Spice

and

½ 310 All-In-One Vanilla Creme for a burst of vanilla bean (or just totally swap for 100% vanilla if you want to tone down the pumpkin!)
Swap out pure pumpkin with frozen banana if you're in a pinch
Add in walnuts, pecans, or almonds for more healthy fat & crunch
Add in cacao nibs for more of a chocolate chip texture and taste

Sprinkle some coconut flakes on top for an extra boost of flavor
How to Make this Recipe
Learn how to make this recipe with the full recipe card up top!
Loving our brand-new 310 All-In-One Pumpkin Spice Shake? Let us know your go-to shake recipe with this new flavor in the comments below for a chance to be featured on our blog!
Like this recipe? Check out other delicious, nutritionist-approved 310 Nutrition recipes here!
In This Recipe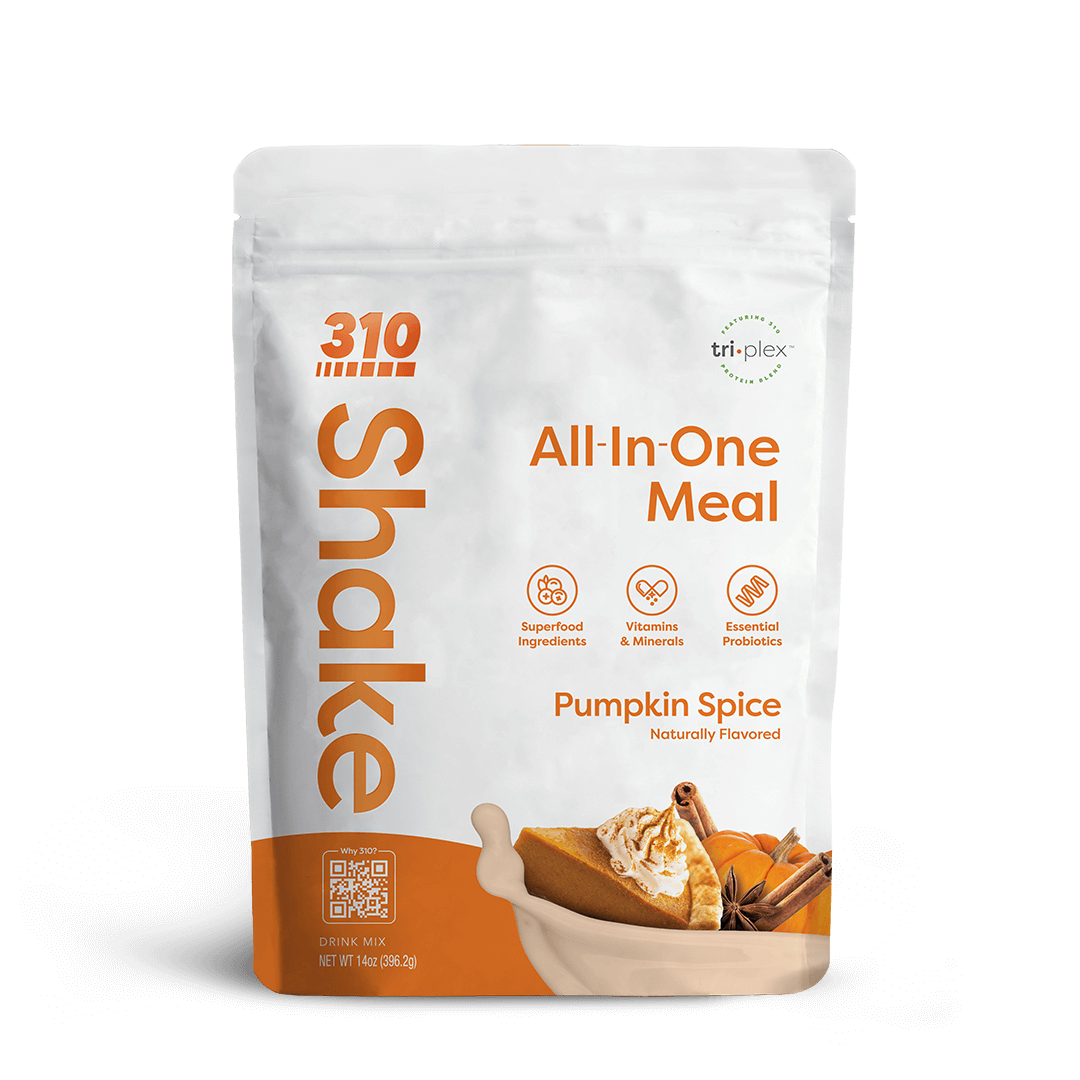 310 Pumpkin Spice Shake
Indulge in an insanely delicious, complete superfood meal, providing well-balanced nutrition and targeted ingredients for total immune, digestive, and full-body health. View Shake »