Looking for a sumptuous low-carb smoothie that can help you crush sugar cravings? This Coconut Chocolate Mint Shake is full of rich flavor and nutrition for the perfect keto-friendly meal, snack, or dessert!
Keto Coconut Chocolate Mint Shake Recipe
I know it sounds like there's a lot going on in this shake, but I assure you this Keto Coconut Chocolate Mint Shake is an absolute treat, especially for those of you following keto and low-carb guidelines! If you've been craving your favorite mint chocolate dessert, this indulgent shake is here to satisfy your sweet tooth while supporting your wellness and weight loss goals. It's even completely vegan to suit a variety of lifestyles so you can share this recipe with all your friends and family.
In This Recipe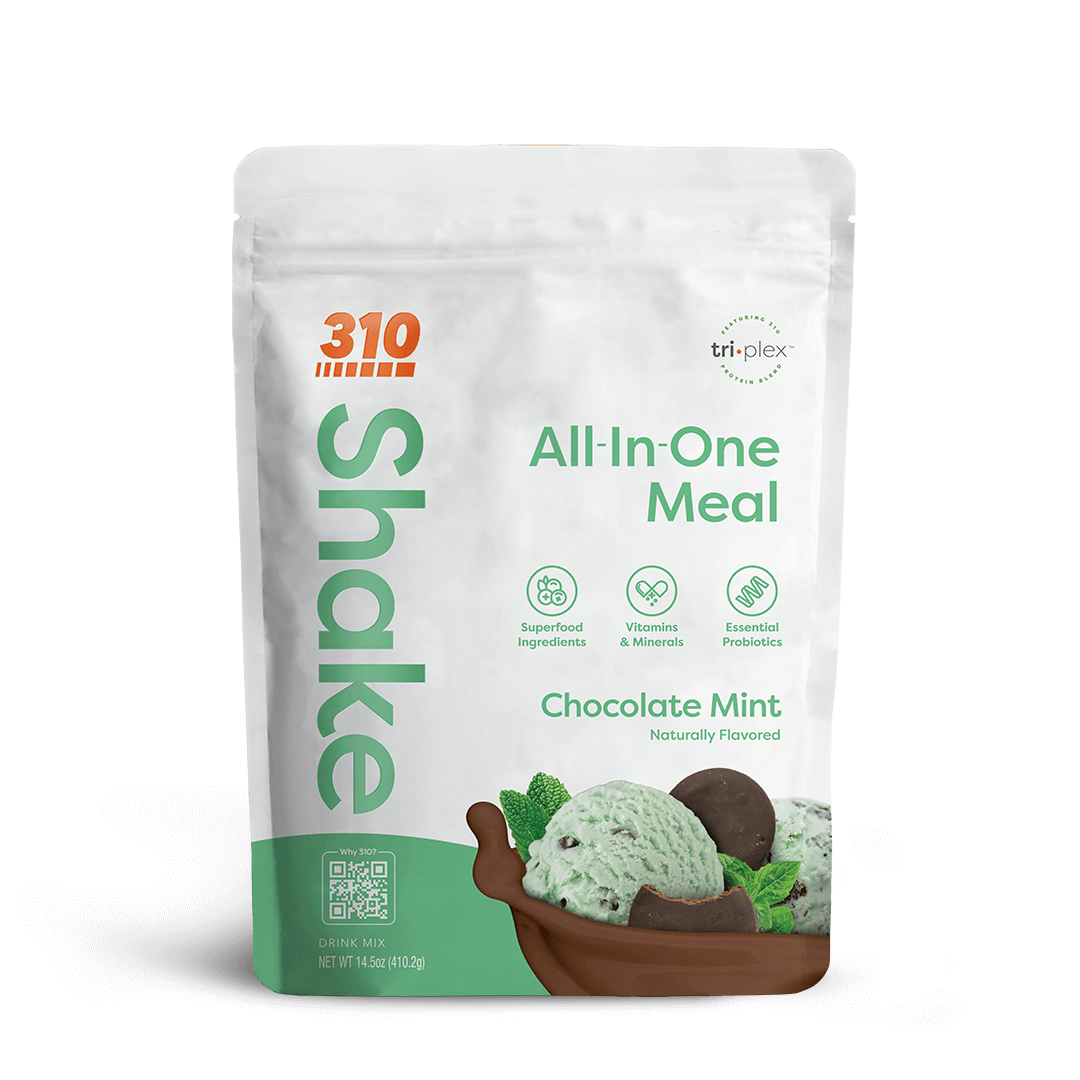 310 Chocolate Mint Shake
Indulge in an insanely delicious, complete superfood meal, providing well-balanced nutrition and targeted ingredients for total immune, digestive, and full-body health. View Shake »
Personally, I love supplementing my diet with delicious shakes like these, to help me get enough nutrients into every day. With this smoothie, not only do I get my "fix" of chocolate, but it helps add variety to my usual foods and diversify my sources of lean proteins. With whole food ingredients including 310 Organic Chocolate Mint and unsweetened coconut flakes, I'm nourishing my body with 19g of protein and 17g of healthy fats - and you can do the same!
What You Need to Make this Shake
This recipe is super straightforward and simple to make. All you need is 310 Organic Chocolate Mint, frozen cauliflower rice, unsweetened coconut milk, unsweetened coconut flakes, 310 MCT oil, cacao powder, and ice. That's it!
310 Organic Chocolate Mint
A regular mint chip shake typically uses chocolate and mint syrups that are made with artificial flavorings and added sugars... which taste great in the moment, but can make you feel sluggish, tired, and heavy afterwards. With 310 Organic Chocolate Mint, you get incredible, dessert-like flavor that is also aligned with your health goals! This impressive meal replacement shake is formulated using quality organic ingredients, including plant-based Stevia as the sweetener. It's truly a great addition to any pantry!
Below are just a few more qualities that make 310 Shakes so special!
Contain a blend of plant-based proteins including pumpkin, brown rice, and pea
5g of dietary fiber per serving
Free from sugar, gluten, dairy, soy, nuts, and GMOs
Vegan, keto, and paleo-friendly
Ways to "Shake Up' this Recipe
Looking to add more flavor or texture to this shake in a keto-friendly way? I've got you covered with these alternative ingredients, below!
Add coconut cream for more healthy fats
Cacao nibs for crunchy texture
Swap MCT oil for coconut oil
Add cacao powder and/or fresh mint leaves for a burst of flavor
How to Make this Shake
It's time to assemble this shake! Simply add all your ingredients into a blender and blend for 30 to 40 seconds until you reach a smooth and creamy consistency. Once everything is well incorporated, just pour your shake into a glass and enjoy your health-boosting, yummy beverage!
Ingredients:
Directions:
Combine ingredients in a blender and blend until completely smooth.
Serve and enjoy!
Nutrition:
290 calories
16g carbs
6g net carbs
10g fiber
17g fat
19g protein
What's your favorite shake recipe using 310 Organic Chocolate Mint? Let us know in the comments below for a chance to be featured on our blog!
Like this recipe? Check out other delicious, nutritionist-approved 310 Nutrition recipes here!
In This Recipe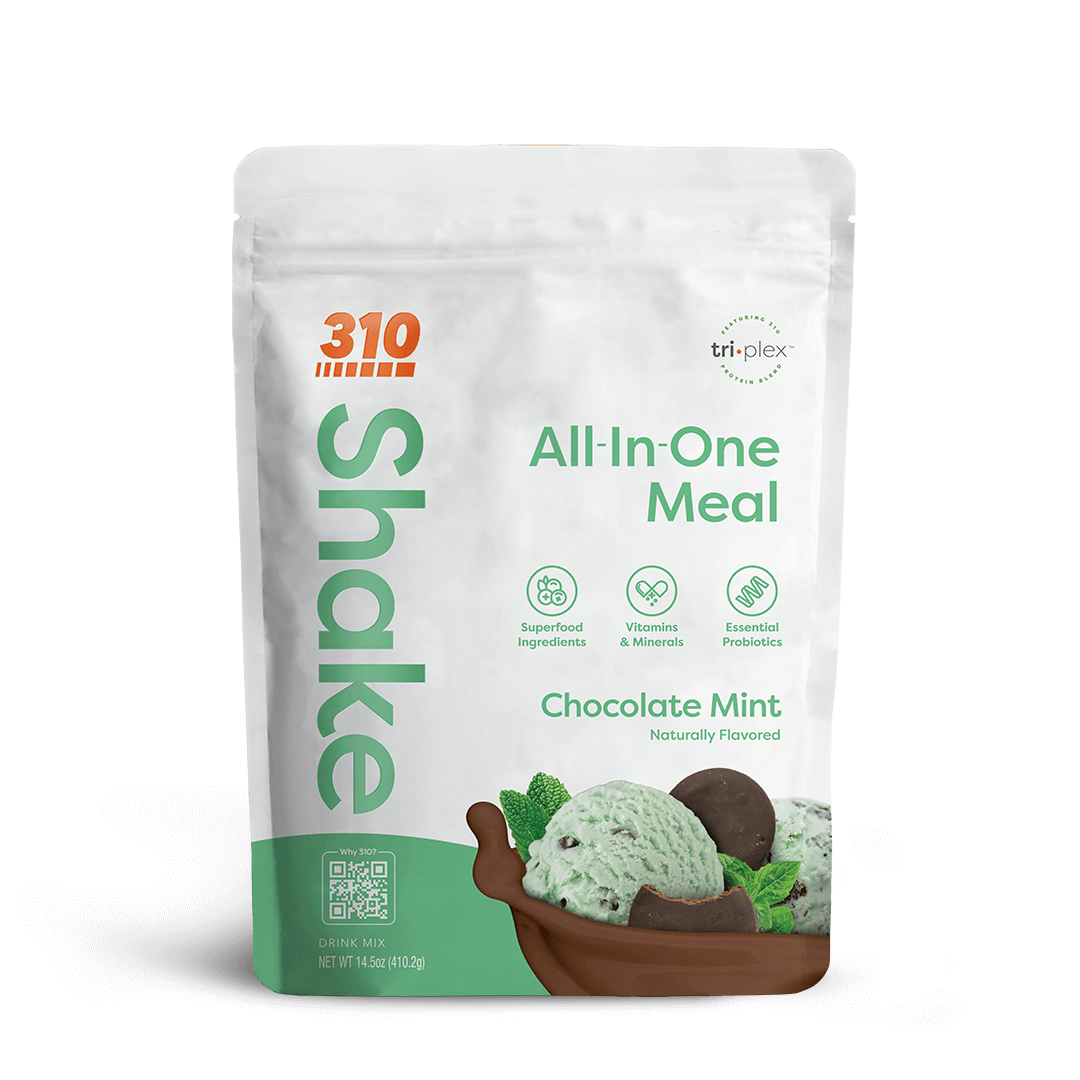 310 Chocolate Mint Shake
Indulge in an insanely delicious, complete superfood meal, providing well-balanced nutrition and targeted ingredients for total immune, digestive, and full-body health. View Shake »