Looking for a delicious chocolaty treat that's also vegan-friendly? This Mint Chocolate Chip Cookie Shake is just what you need. Made with clean, plant-based ingredients, it will fuel you up and satisfy your cravings for sweets!
Mint Chocolate Chip Cookie Shake Recipe
There are few flavor combos as beloved and iconic as chocolate mint! This classic duo has been around for decades and is still a popular flavor for ice cream, shakes, brownies, cakes, and just about every dessert.
One of my personal favorites is a mint chocolate chip cookie, so I had to recreate it using the new 310 Organic Chocolate Mint! This Mint Chocolate Chip Cookie Shake has just the right amount of chocolate and refreshing mint with a nice crunch. Made with whole foods and sinfully delicious, it's hard to believe this yummy shake is actually full of nutrition!
In This Recipe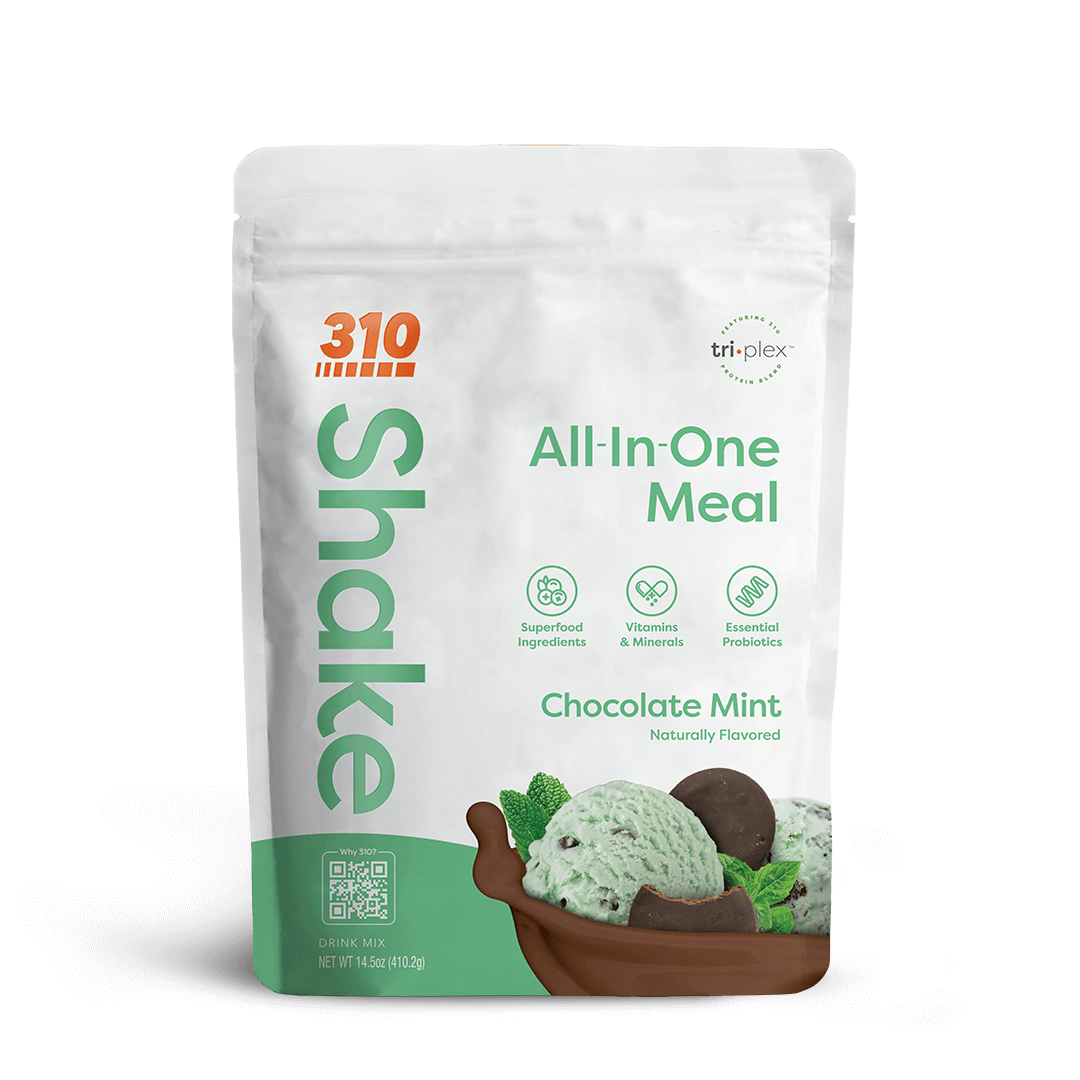 310 Chocolate Mint Shake
Indulge in an insanely delicious, complete superfood meal, providing well-balanced nutrition and targeted ingredients for total immune, digestive, and full-body health. View Shake »
For me, finding healthy snacks can be a struggle because they often contain added sugars, excessive sodium, or loads of preservatives that still leave me feeling hungry. With that in mind, I wanted this shake to be nicely-balanced with essential macronutrients (protein, complex carbs, nutritious fats). Plant-based proteins from 310 Organic Chocolate Mint and soluble fiber from rolled oats help promote satiety to provide you with the perfect breakfast, snack, meal, or dessert!
What You Need to Make this Shake
Let's first review the ingredients that are in this recipe! I use 310 Organic Chocolate Mint, unsweetened almond milk, frozen cauliflower rice, rolled oats, cacao nibs, cashew butter, vanilla extract, and ice. If you're looking for an extra burst of minty freshness, feel free to add mint extract or a few mint leaves.
310 Organic Chocolate Mint
Creating chocolate mint flavored desserts has never been easier with 310 Organic Chocolate Mint! You just need one scoop of this impressive meal replacement shake for 15g of plant-based proteins, 5g of dietary fiber, and incredible taste. Like all other 310 Shakes, 310 Organic Chocolate Mint has a rich and creamy texture with no sugar, soy, dairy, gluten or GMOs. It's a fun addition to your pantry when you want a refreshing twist on the classic chocolate flavor!
I recommend 310 Shakes to all my friends and family and here's a few reasons why...
Keto, vegan, and paleo-friendly
Formulated with organic ingredients
Can be used in shakes, smoothies, oatmeal, healthy baked goods, or no-bake protein balls
Contains a blend of powerful superfoods including spinach, kale, broccoli, spirulina, beet, and more
Ways to "Shake Up" this Recipe
If you find yourself missing an ingredient or two, take a look at these alternative ways you can make this recipe before you take another trip to the store!
Frozen banana instead of frozen cauliflower rice
Coconut, oat, or cashew milk instead of almond
Add cacao powder for stronger chocolate flavor
Almond butter in place of cashew
Dark chocolate chips instead of cacao nibs
How to Make this Shake
At last, it's time to put this shake together! Add all your ingredients into the blender and blend gradually on a medium-to-high setting until a creamy and smooth consistency is reached. Once all the ingredients are thoroughly blended, pour your shake into a glass or Shaker Cup and satisfy your sweet tooth, guilt-free!
Ingredients:
1 scoop 310 Organic Chocolate Mint
1 cup unsweetened almond milk
1/2 cup frozen cauliflower rice
2 tbsp rolled oats
2 tbsp cacao nibs
1/2 tbsp cashew butter
1 tsp vanilla extract
1/2 cup ice
Directions:
Combine ingredients in a blender and blend until completely smooth.
Serve and enjoy!
Nutrition:
305 calories
25g carbs
16g net carbs
10g fiber
12g fat
21g protein
What's your favorite shake recipe using 310 Organic Chocolate Mint? Let us know in the comments below for a chance to be featured on our blog! 
Like this recipe? Check out other delicious, nutritionist-approved 310 Nutrition recipes here! 
In This Recipe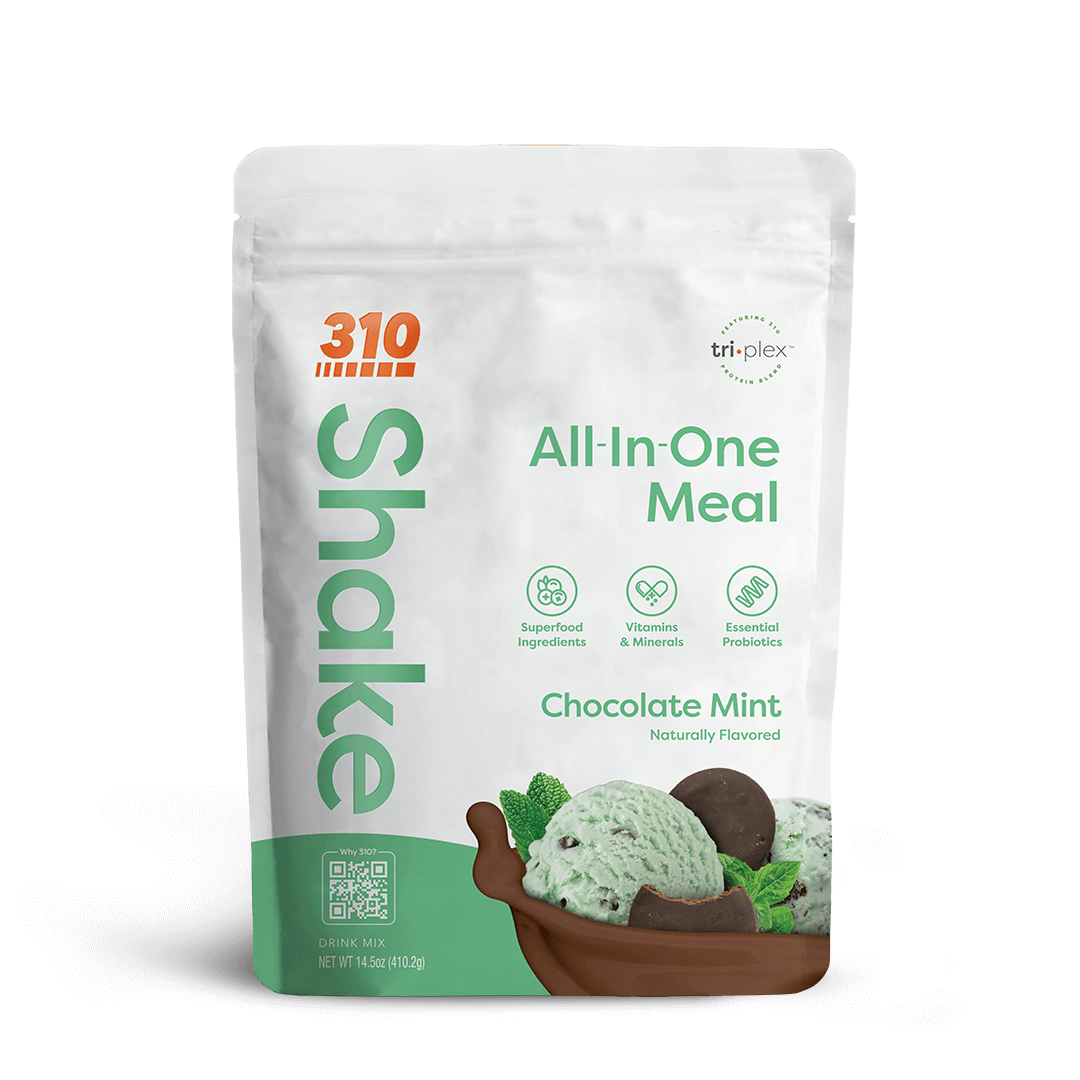 310 Chocolate Mint Shake
Indulge in an insanely delicious, complete superfood meal, providing well-balanced nutrition and targeted ingredients for total immune, digestive, and full-body health. View Shake »