Transform your regular fruit smoothie into a tropical treat by adding a touch of coconut! This Strawberry Coconut Smoothie is refreshing, fruity, and full of flavor for a nutrition-packed meal that can be enjoyed by everyone!
Strawberry Coconut Smoothie Recipe
I love classic strawberry smoothies, but the addition of coconut in this Strawberry Coconut Smoothie recipe is a great way to add variety to excite your taste buds. This smoothie is easy to make and is full of flavor, using nourishing, whole food ingredients to support your health and weight loss goals.
I used frozen strawberries in this recipe, so don't worry if you can't find fresh strawberries at the store! I always keep frozen strawberries in my freezer because they pair well with so many different ingredients and are full of vitamin C, fiber, and antioxidants.
To make this smoothie a balanced snack or meal, I also included 310 Organic Toasted Coconut for added plant-based proteins and flavor. It can get tiresome eating the same types of lean protein, so give this smoothie a try for a tasty and easy way to incorporate more nutrients into your day!
What You Need to Make this Smoothie
You only need five ingredients to create this smoothie: 310 Organic Toasted Coconut, frozen strawberries, unsweetened coconut milk, chia seeds, and ice. That's it!
310 Organic Toasted Coconut
Sugary syrups or sweetened coconut flakes are often used in drinks to achieve the desired nutty flavor, but with 310 Organic Toasted Coconut, you can skip the processed sweeteners! Formulated and flavored with plant-based ingredients, including Stevia, this shake is sugar-free and full of nutrition to help keep you full.
It contains a blend of pumpkin, brown rice, and pea protein to promote satiety, offering 15g of protein and 5g of fiber per serving. Although most commonly used in smoothies, 310 Organic Toasted Coconut also tastes phenomenal in coffee, oatmeal, and even healthy baked goods for a boost of nutrition. If you're looking for a unique shake flavor, I can't recommend this enough and here's a few reasons why!
Made with quality vegan and organic ingredients
Free from sugar, artificial flavors, soy, dairy, gluten, and GMOs
Vegan, keto, and paleo-friendly
Contains a blend of antioxidant-rich superfoods including turmeric, ginger, beet, kale, broccoli, and more
Ways to "Shake Up" this Smoothie
This is a refreshing and simple smoothie, but you can always boost the flavor with your favorite additional add-ins. Below are just a few alternative ingredients that also work well in this recipe!
Mixed berries or your favorite berry instead of strawberry
Coconut water instead of coconut milk
Add dried unsweetened coconut flakes for extra flavor
Hemp or flax seeds in place of chia
How to Make this Smoothie
It's time to put this drink together! Add all your ingredients into a blender and blend until well combined, which takes around 30 to 40 seconds. After ensuring there are no clumps remaining, pour your smoothie into a glass or shaker cup and enjoy your fruity and coco-nutty sweet treat!
Ingredients:
Directions:
Combine ingredients in a blender and blend until completely smooth.
Serve and enjoy!
Nutrition:
260 calories
27g carbs
15g net carbs
12g fiber
10g fat
18g protein
What's your favorite shake recipe using 310 Organic Toasted Coconut? Let us know in the comments below for a chance to be featured on our blog!
Like this recipe? Check out other delicious, nutritionist-approved 310 Nutrition recipes here!
In This Recipe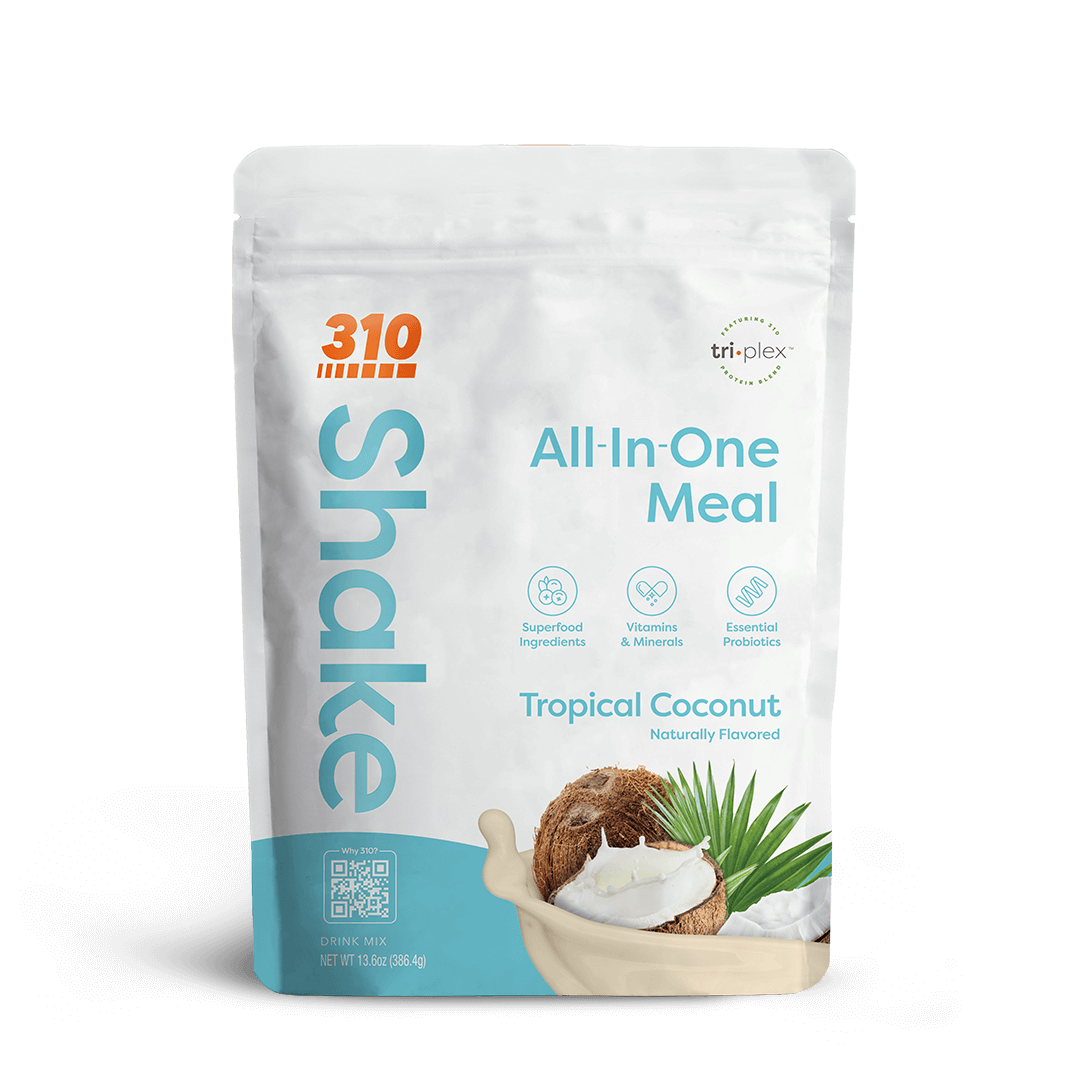 310 Tropical Coconut Shake
Indulge in an insanely delicious, complete superfood meal, providing well-balanced nutrition and targeted ingredients for total immune, digestive, and full-body health. View Shake »