How to Make this Tropical Berry Hibiscus Smoothie
With the influx of cold weather lately, including the barrage of snowstorms over many parts of the country, you may have warmer weather on your mind!
This Tropical Berry Hibiscus Smoothie will give you that yummy piece of summer that you need to get through these cold spells. It will also help nourish your body and reinvigorate and heal you – since the cold can make your skin and hair dry, dehydrate you, and make you more fatigued.
Featuring 310 Organic Toasted Coconut and 310 Berry Hibiscus Collagen, this shake is ultra-nourishing and body-balancing. It also serves as a complete full-meal to fit into any busy schedule.
Packed with nutrient-rich superfoods, plant-based protein and bountiful fiber, it will ignite your taste buds and help you get on the fast track with your goals!
Read on to learn how to make it...
Ingredients:
Directions:
Combine all the ingredients into a blender and blend until icy and delicious. Pour into a glass and enjoy with a straw!
Nutrition:
307 calories
25g carbs
10g net carbs
11g fat
28g protein
What You Need to Make this Shake
Let's look at what you need to make this creamy, coconutty shake that's equally exciting and satisfying. One of the key ingredients in this recipe is 310 Organic Toasted Coconut – which gives this smoothie delightful tropical appeal, even in the midst of winter.
I also used unsweetened coconut milk, 310 Berry Hibiscus Collagen, frozen mixed berries, spinach, chia seeds, and ice.
For only 307 calories per serving, this shake makes a totally scrumptious meal replacement that's extremely filling and energizing. It's great for a midday meal or late-day snack to help you power through the rest of your day feeling your best.
310 Organic Toasted Coconut
If you're a coconut fan, you're going to love the rich and creamy, exciting taste of 310 Organic Toasted Coconut. With undernotes of luxurious vanilla, it also has a distinctly-nutty, warm and toasty coconut taste that's tropical and delicious.
While many other flavored meal replacement shakes contain lots of added sugar or artificial sweeteners, 310 Organic Toasted Coconut gets its amazingly-yummy taste from plant and fruit-based sweeteners only. So, it's awesome for your health but also for your waistline, and it features real whole food ingredients.
Plus, like all other 310 Shakes, 310 Organic Toasted Coconut…
Offers 15g protein, 5g fiber, and only 2g net carbs
Contains all organic, plant-based superfoods
Is just 110 calories per serving
Is sugar, dairy, gluten, soy, and GMO-free
NEW 310 Berry Hibiscus Collagen
Next, let's talk about NEW 310 Berry Hibiscus Collagen Powder. This bright and bold tropical treat is a true explosion of flavor for your taste buds. In addition, it truly helps replenish your body of essential collagen – assisting with overall joint and gut health, soft and radiant skin, better digestion and more.
All of our collagen powders are made from grass-fed bovine (the premium standard), and are hydrolyzed (which allows for optimal absorption in the body).
New 310 Berry Hibiscus Collagen also includes additional ingredients for a healthy appearance, including hyaluronic acid and resveratrol – which support soft, clear, youthful, and revitalized skin.
In addition, it includes additional nutrients for wellness, immunity, and skin health including vitamins C, D, and E; along with vitamin B6 for enhanced energy.
Plus, there are even more reasons to LOVE new 310 Berry Hibiscus Collagen Powder:
Special clump-free formula mixes seamlessly into drinks and foods
Includes 9g of clean protein per serving
Supports satiety and weight loss
Only 35 calories per serving
Recipe Variations
As always, I'll offer some different ways you can switch up this recipe based on what ingredients you have on hand or what you're currently craving! Here are some suggestions for creative ways you can mix it up..
Add in oats for a denser shake
Add frozen banana or avocado for a thicker, creamier texture
Replace coconut milk with almond or oat milk, or coconut water
Use Unflavored Collagen for less of a bold berry/hibiscus taste
How to Make this Recipe
Learn how to make this recipe with the full recipe card up top!
What's your favorite shake recipe using 310 Toasted Coconut or 310 Collagen? Let us know in the comments below for a chance to be featured on our blog!
Like this recipe? Check out other delicious, nutritionist-approved 310 Nutrition recipes here!
In This Recipe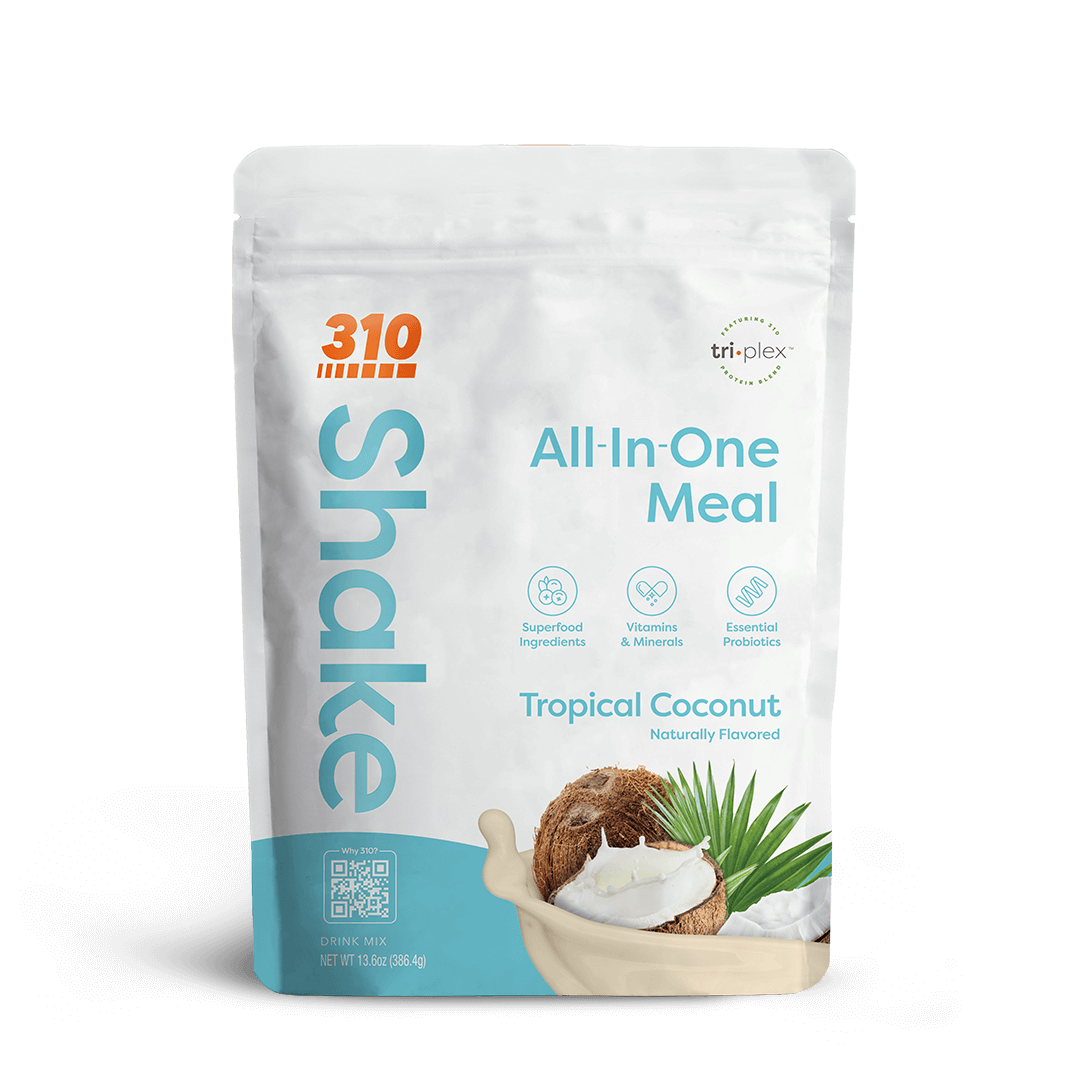 310 Tropical Coconut Shake
Indulge in an insanely delicious, complete superfood meal, providing well-balanced nutrition and targeted ingredients for total immune, digestive, and full-body health. View Shake »