Looking for a rich, creamy, and healthy chocolate and mint smoothie recipe?! We've got you covered. Not only is this decadent smoothie totally yummy, it's also low-carb and dairy-free.
This Chocolate Mint Keto Shake will satisfy your desire for a refreshing, chocolaty holiday beverage that won't disrupt your ketosis or weight loss goals.
Plus, compared to other, less healthy versions of mint and chocolate combo shakes (like infamous shamrock shakes), this one features nutritious ingredients, including lots of healthy fats. Read on for the full recipe, which you can blend up for yourself, or serve to a holiday crowd!
Plant-Based, Dairy-Free Mint Chocolate Shake
The superstar ingredient in this rich dessert-like shake is 310 Chocolate Mint meal replacement shake powder – which contains all the vital nutrients of a wholesome meal, while tasting like a decadent treat.
With 15g of plant-based protein (from nutritious peas, brown rice and hemp), 5g of dietary fiber, 20 vitamins and minerals, organic whole foods, and gut-healthy probiotics, the protein powder will energize and satisfy you for hours.
Not to mention that the shake powder is very low-carb and keto-friendly, with only 2g of net carbs. It also contains 1.5g of fat – and you can make it even higher in fat to meet your keto needs by adding in MCT Oil, which you will find in the following mint keto shake recipe!
Now that you know what makes this keto shake recipe so darn good for you, we'll show you how to make it…
Minty and Chocolaty Goodness
The best part about this refreshing, minty shake is that it tastes just as good, if not better, as less healthy versions that use ice cream, whole dairy milk, whipped cream, chocolate chips, chocolate syrup and other sugar-filled ingredients.
Instead, this keto shake recipe uses canned coconut milk and unsweetened almond milk as dairy alternatives – which are both also great for your health. In addition, MCT Oil is a fast-absorbing oil containing beneficial fats that can help increase calorie and fat-burning.
In addition, cacao powder and cacao nibs are both dairy-free alternatives to chocolate, while still providing the same taste of chocolaty satisfaction. Cacao is also super-healthy, being nutrient dense with no added sugar, while also being high in antioxidants, magnesium, potassium and iron.
Each serving of this Chocolate Mint Keto Shake has only 380 calories, 7g of net carbs, 28g of healthy fats and 18g of protein… Are you excited to make yours?!
Ingredients:
Serves 1
1 scoop 310 Chocolate Mint
1/4 cup canned coconut milk
1/2 cup unsweetened almond milk
1 tbsp MCT oil
1 tbsp cacao powder
1 tbsp cacao nibs
1 cup ice
Directions:
Combine ingredients in a blender and blend until smooth. 
Serve and enjoy! 
Nutrition: 
380 calories
14 g carbs
7 g net carbs 
28 g fat
18 g protein 
What's your favorite keto-friendly shake recipes? Let us know in the comments below to be featured on our blog! 
Like this recipe? Check out other delicious 310 Nutrition recipes here! 
In This Recipe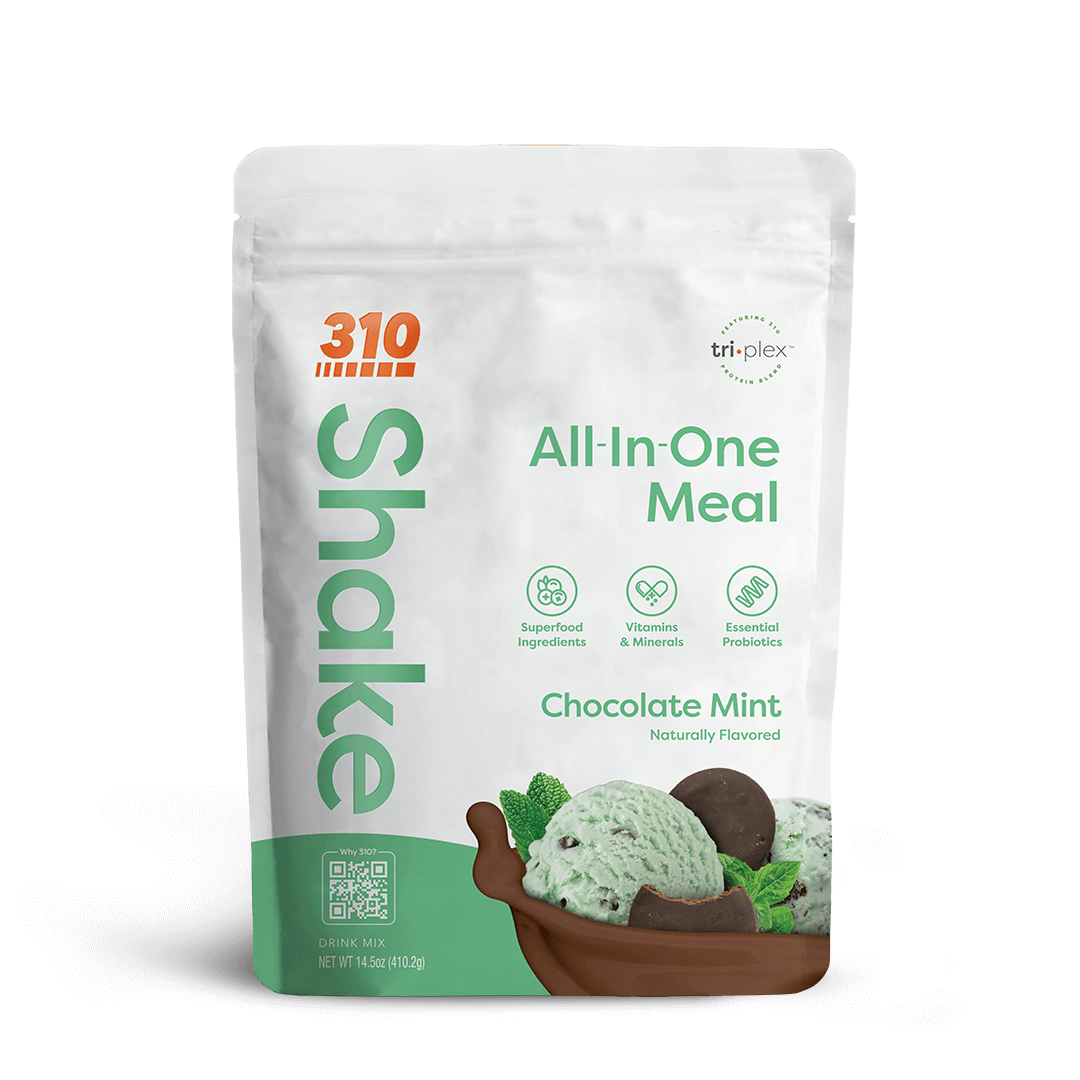 310 Chocolate Mint Shake
Indulge in an insanely delicious, complete superfood meal, providing well-balanced nutrition and targeted ingredients for total immune, digestive, and full-body health. View Shake »