Classic Chocolate Mint Shake Recipe
You can't go wrong with a Classic Chocolate Mint Shake and this healthy recipe has the indulgence of a real milkshake to satisfy your sweet tooth while balancing your health!
It's blended with our brand-new 310 All-In-One Chocolate Mint shake, plus plant-based proteins, healthy fats, and fiber. It's the perfect recipe for a satiating breakfast, snack, or pre-or-post workout shake. See below for the full recipe...
What You Need to Make This Hot Shake
You only need a few ingredients to make this shake: 310 All-In-One Chocolate Mint, unsweetened almond milk, plain yogurt, frozen banana, cacao powder, and mint leaves.
NEW 310 All-In-One Chocolate Mint
Instead of using artificial syrups and flavorings in this shake, I used 310 All-In-One Chocolate Mint. This meal replacement shake has the perfect combination of rich cocoa with a pop of subtle mint and is sweetened solely with Stevia.
It's even vegan, low-carb, keto, and paleo-friendly to suit a variety of different lifestyles. One scoop contains 15g of plant-based protein per serving to help you easily incorporate more nutrition into the day. That's not all, see below for why this shake is such a hit!
26 essential vitamins and minerals to help bolster your health, help avoid nutrient deficiencies, and support energy and vitality
100 billion CFU of probiotics to support gut health and weight loss
Digestive enzymes for proper nutrient absorption
A blend of plant-based superfoods including a fiber-blend
Even creamier texture and more mouthwatering taste
An exciting array of flavors, good enough to be dessert
Adaptogen blend featuring key mushrooms & herbs for mind & body wellness
Recipe Variations
Check your pantry for some of these alternative ingredients to "shake up" this classic recipe!
Use coconut yogurt for dairy-free version
Add cacao nibs for crunch
Mint extract instead of mint leaves
Add MCT oil for more healthy fats
How to Make This Shake
Simply combine all your ingredients into a blender and blend until completely smooth. Pour your finished drink into a shaker cup or glass, and enjoy!
Ingredients:
Serves 1
1 scoop 310 All-In-One Chocolate Mint
1 cup unsweetened almond milk
1/2 cup plain yogurt
1 frozen banana
1 tbsp cacao powder
1 tbsp mint leaves
1/2 cup ice
Directions:
Combine all ingredients in a blender and blend until smooth.
Enjoy!
What's your favorite shake recipe using 310 All-In-One Chocolate Mint? Let us know in the comments below for a chance to be featured on our blog!
Like this recipe? Check out other delicious, nutritionist-approved 310 Nutrition recipes here!
In This Recipe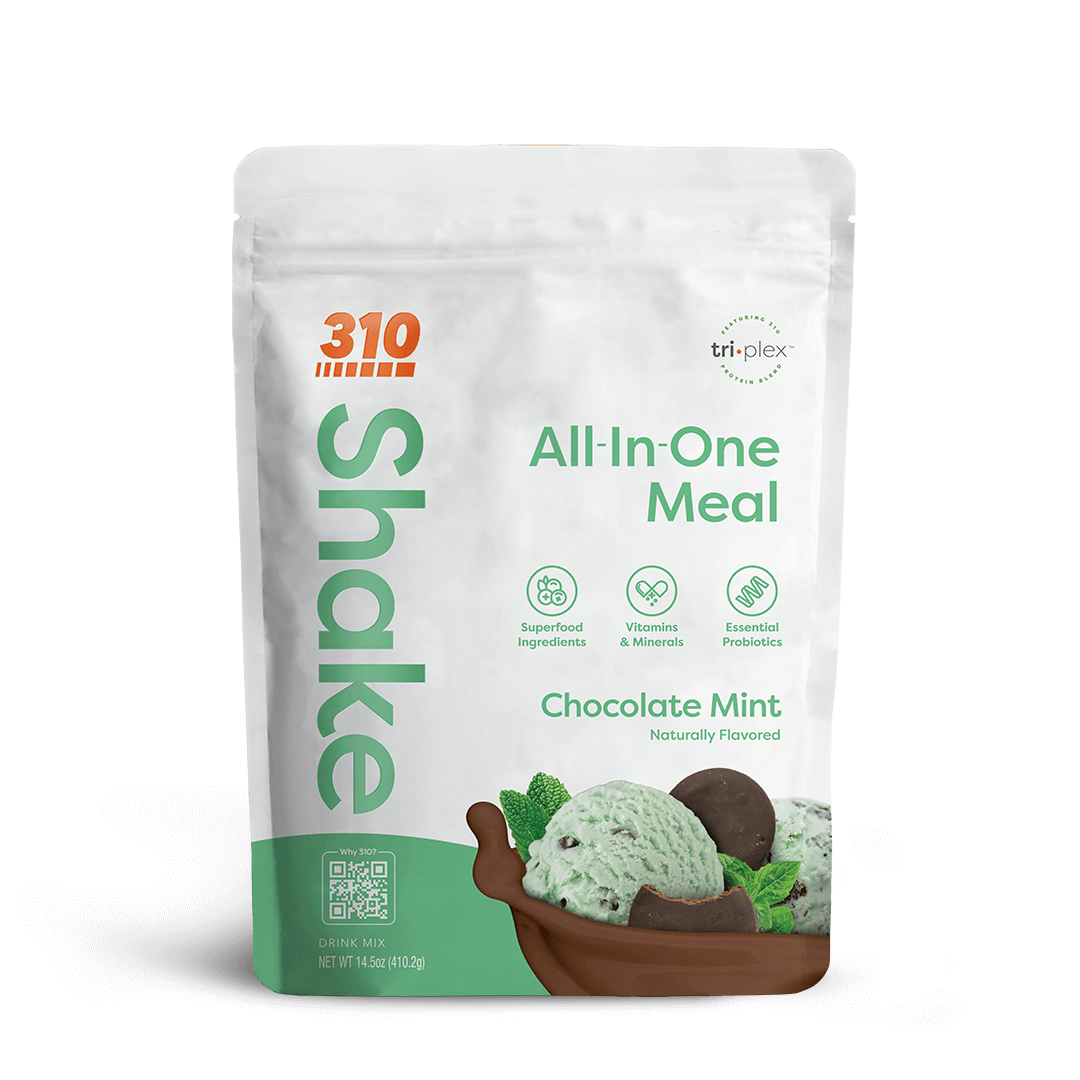 310 Chocolate Mint Shake
Indulge in an insanely delicious, complete superfood meal, providing well-balanced nutrition and targeted ingredients for total immune, digestive, and full-body health. View Shake »