Change up your regular latte routine with this tropical, truly-satisfying Coconut Latte Shake Recipe! With delicious NEW Tropical Coconut Shake, frozen banana, your choice of coffee, coconut milk, coconut flakes, vanilla extract, and a dash of sea salt, this energizing smoothie is the ideal morning beverage or afternoon pick-me-up! 
Not only is this sweet and coco-nutty java drink bursting with flavor, it's also packed with 17g of plant-based protein, 7g of healthy fats, and 37g of good carbs, all for 254 calories per serving.
Curious about what health benefits this yummy drink provides? Keep reading for all the details followed by the seriously-addicting recipe! 
Tasty Plant-Based Proteins: Tropical Coconut All-In-One
The new Tropical Coconut Shake is a must-try for all coconut lovers, and the star ingredient of this recipe. Naturally-sweetened with plant-based Stevia, this yummy protein powder is made with real, whole food ingredients to help keep you full and promote total body health.
There's 15g of protein in just this shake powder alone, from proven plant proteins brown rice, pea and hemp. This tropical-tasting meal replacement shake also contains 5g of dietary fiber for great digestion; vitamins and minerals to help promote full-body health; and probiotics to support a healthy gut, strong immune system, and positive mental state.
Essential Fiber & Antioxidants: Bananas
Next, the addition of a frozen banana in this recipe not only provides extra-creaminess and a thick texture, but also a ton of fiber and antioxidants! The fiber from the banana can help to keep you full and satisfy your appetite in between meals, to avoid snacking. Fiber also helps ensure your digestive processes are working optimally.
Bananas are also high in many nutrients and antioxidants including vitamin C, B6, manganese, and potassium – which all play a vital role in regulating blood sugar levels and supporting healthy skin, hair, and bones. In addition, vitamin C, in particular, is a powerful antioxidant that can help build up your body's defenses so you can fight off sickness and disease.
Healthy Weight Promoting Fats: Coconut
Next, let's talk about coconut! This scrumptious Coconut Latte Shake recipe wouldn't be the same without the addition of coconut milk and shredded coconut flakes – which not only makes this shake super-yummy, but also provides vital health benefits. Along with adding to this drink's blissful tropical flavor, coconut milk can help promote healthy weight due to the beneficial medium-chain triglyceride (or MCT fats) included within it.
Because your body can metabolize MCTs differently than other types of fat, they are absorbed more quickly, so they can be used more rapidly for instant energy. While you obtain some MCT benefits from coconut milk, you will get even more benefits by utilizing pure MCT Oil, a concentrated dose derived from coconut oil, and a great mind and body boost to add to smoothies and lattes! 
Ready to make this delectable, super-energizing shake? See the recipe, below!
Ingredients:
Serves 1
1 scoop 310 Tropical Coconut
1 frozen banana
1 cup coffee
1/4 cup unsweetened coconut milk
1 tbsp unsweetened coconut flakes
1 tsp vanilla extract
1 dash sea salt
optional: ice
Directions:
Combine ingredients in a blender and blend until smooth. 
Serve and enjoy! 
Nutrition:
254 calories
37 g carbs
27 g net carbs
7 g fat
17 g protein
What's your favorite recipe using 310 Tropical Coconut? Let us know in the comments below for a chance to be featured on our blog! 
Looking for more healthy shake recipes? Check out other delicious nutritionist-approved 310 Nutrition shake recipes here!
In This Recipe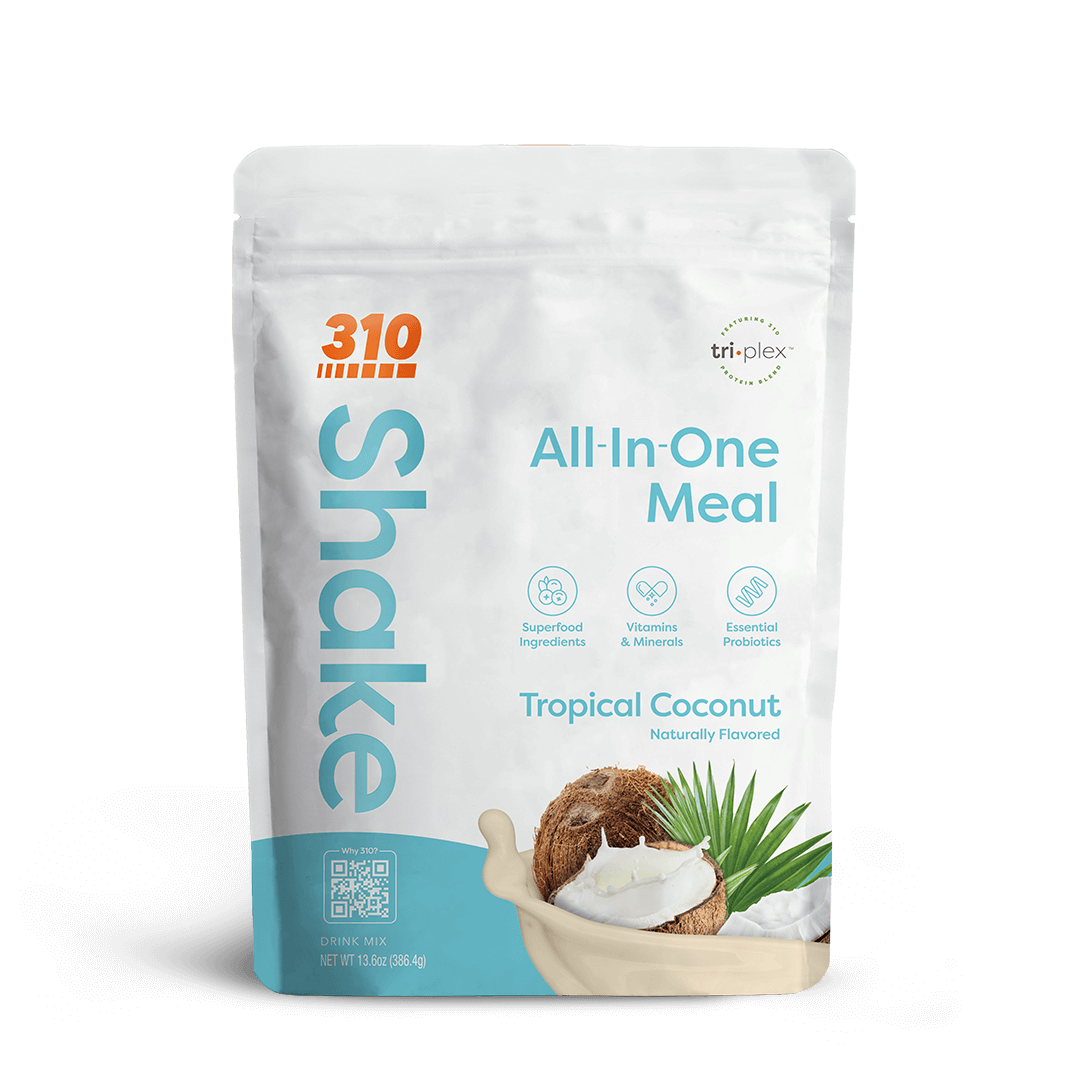 310 Tropical Coconut Shake
Indulge in an insanely delicious, complete superfood meal, providing well-balanced nutrition and targeted ingredients for total immune, digestive, and full-body health. View Shake »