Although spring brings bright, blooming flowers, warmer weather, and shorter nights, it can also bring lots of rainy and cloudy days. Plus, if staying inside for long periods of time has you dreaming of an island getaway, you aren't alone! Take a sip of this Tropical Coconut Shake and you'll be whisked away to white sandy beaches and clear, turquoise waters!
While most fruity, tropical drinks are loaded with sugar, calories, and artificial flavors, this Tropical Coconut Protein Smoothie can nourish the body with only clean ingredients. Not to mention that it can also satisfy cravings, while helping to cut back on intake of added sugar.
Blended with 310 Organic Toasted Coconut, unsweetened coconut milk, pineapple chunks, banana, chia seeds, and spinach, you can indulge in this tropical, frozen drink packed with energizing ingredients to fuel the body. With 19.5g of protein and 9g of healthy fats, all for only 315 calories, this Tropical Coconut Shake is perfect for the entire family and will be enjoyed by everyone, or you can save it as a special treat for yourself!
Continue reading for the full recipe, and for some awesome health benefits this islandy shake has to offer!
Paradise in a Glass: 310 Organic Toasted Coconut Shake
We use 310 Organic Toasted Coconut in this recipe to give it a coco-nutty taste, without all the sugar, or artificial sweeteners. Instead, this yummy meal replacement shake powder is sweetened with plant-based sugar alternative, Stevia. This gives the shake the best of both worlds: great taste while also nourishing the body!
Not to mention, 310 Shake is also loaded with nutrients, including protein, fiber, healthy fats and carbs, and essential superfoods.
Tropical Immune-Booster: Frozen Pineapple
The next ingredient in this fun and islandy shake is frozen pineapple! This naturally-sweet, tropical fruit perfectly complements 310 Toasted Coconut Shake, and the combined tastes will immediately transport you to a beach location in your mind.
Aside from incredible flavor, pineapples also offer awesome health benefits! Loaded with vitamin C and antioxidants, pineapples are an ideal fruit to assist with supporting the immune system, helping to protect the body from illness. In fact, one cup of pineapple contains almost 80% of the recommended daily intake for vitamin C - which is also the exact amount included in this shake recipe!
Fiber & Antioxidant-Packed Veggie: Spinach
Finally, spinach may be the last ingredient you'd expect in a tropical smoothie! The fruits in the recipe easily mask the subtle taste of spinach – and instead, the veggie adds a rich creaminess to the shake. By including spinach in your smoothie, you can easily increase your daily veggie intake without even having to think about it!
Spinach is high in fiber as well as iron, and contains a variety of other nutrients, including vitamins C, A, K, and more – to help support overall health and wellness.
Ready to give this Tropical Coconut Shake a try?! You won't be disappointed! See below for the full recipe!
Tropical Coconut Shake Recipe
Prep time: 3 minutes
Blend time: 1 minute
Total time: 4 minutes
Serves 1
Ingredients:
1 scoop 310 Organic Toasted Coconut

1 cup unsweetened coconut milk

1 cup frozen pineapple chunks

½ small banana

1 tbsp chia seeds

1 cup spinach
Directions:
Combine ingredients in a blender and blend until completely smooth.
Serve and enjoy!
Nutrition:
315 calories
46g carbs
33g net carbs
9g fat
19.5g protein
What's your favorite shake recipe using 310 Toasted Coconut? Let us know in the comments below for a chance to be featured on our blog! 
Like this recipe? Check out other delicious, nutritionist-approved 310 Nutrition recipes here! 
Sources:
https://310nutrition.com/products/healthy-meal-replacement-shake-toasted-coconut
https://fdc.nal.usda.gov/fdc-app.html#/food-details/786729/nutrients
https://www.healthline.com/nutrition/benefits-of-pineapple#section3
https://www.healthline.com/nutrition/foods/spinach#vitamins-and-minerals
https://www.sciencedirect.com/science/article/pii/S0570178315000561
https://www.ncbi.nlm.nih.gov/pmc/articles/PMC2892765/
In This Recipe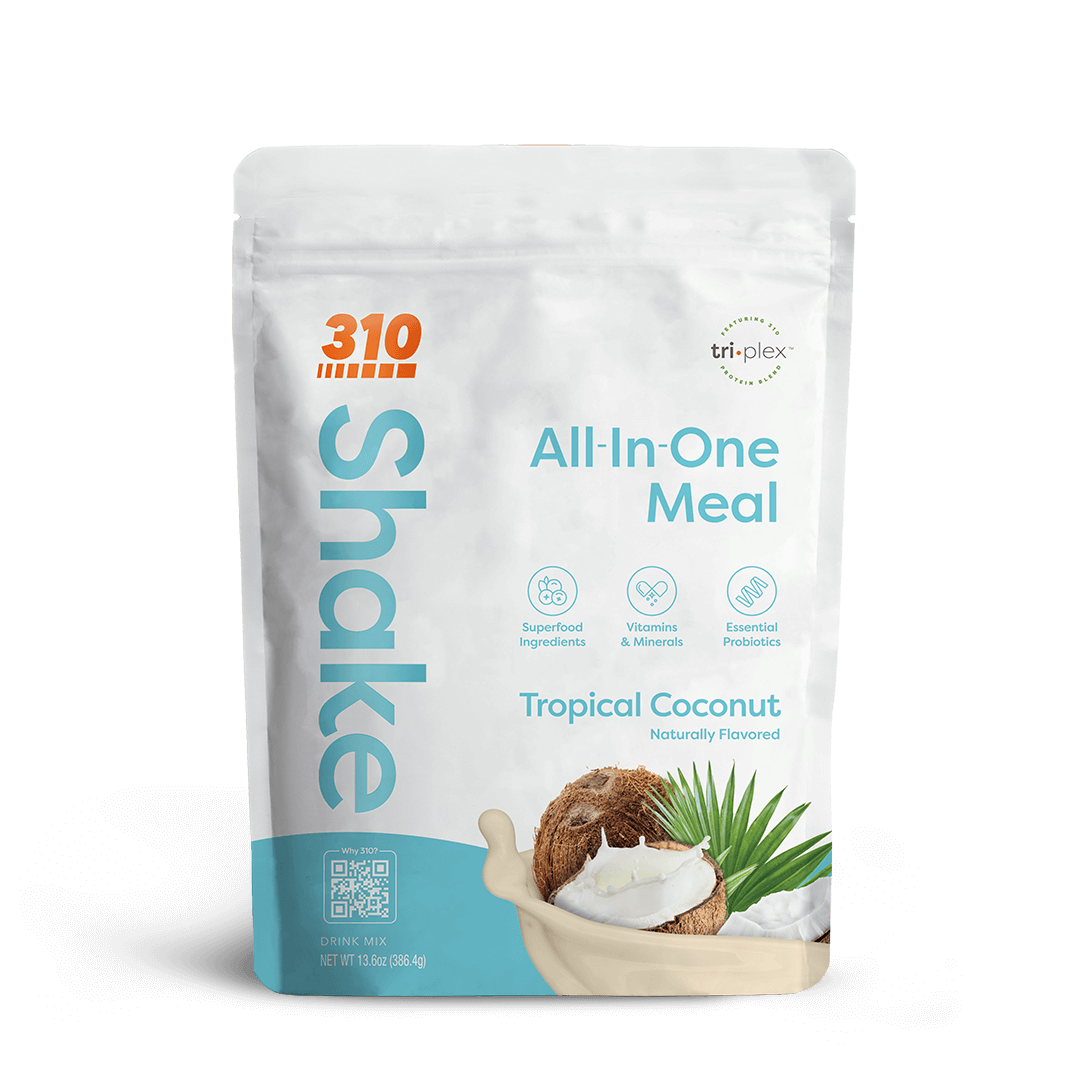 310 Tropical Coconut Shake
Indulge in an insanely delicious, complete superfood meal, providing well-balanced nutrition and targeted ingredients for total immune, digestive, and full-body health. View Shake »