When you eat in-season fruits and veggies, you open yourself up to the healthiest, most nutritional option – since you're eating them during their peak harvesting season. Plus, these produce options simply taste better, and they're healthier for you…. Since you're eating a variety of foods instead of just choosing the same ones to eat all year (regardless of when they are harvested).
In this article, we'll take a look at some of our favorite fall veggies that you should dig into right now! If you aren't already a veggie eater, try experimenting with these different recipes to open up your palate to unique tastes.
And believe it or not, there are yummy recipes out there for even the pickiest of veggie eaters. We think you'll find all of the recipes in this article totally appetite-pleasing, and we'll also let you know why you should fill your plate with these foods right now for optimal wellness!
Psst: Quick side note that if you have a hard time getting veggies into your meals, our line of 310 Juices are designed to give you 70+ superfoods in every glass, while tasting super-delicious! 
Right now, you can try our NEW 310 Reds before they're officially released for a powerful boost of impressive red superfoods!
But when you do sit down for a full meal, we suggest you try some of these yummy fall veggies on for size right now!
5 Fall Veggies to Spice Up Your Recipes
1) Sweet Potato
With a lusciously rich and creamy texture, this fall potato boasts a number of essential vitamins, minerals and antioxidants, and are great for your eyes, heart, and a strong immune system. Not to mention, they taste absolutely awesome in everything from a side casserole to your eggs at breakfast. Here are some ways we suggest you use them!
Ideas for Using Sweet Potato:
Swap out your normal white baked potato with a sweet one instead and top with grass-fed butter and cinnamon (and an optional drizzle of pure maple syrup)
Chop up baked sweet potato to add into fall salads, or even a hearty breakfast egg scramble with beans and additional veggies like kale and mushrooms
Thinly slice sweet potato and add it into your toaster in the morning for a healthier take on processed bread! Spread it with avocado or your choice of toppings
Sweet Potato Recipes We Love:
Salted Caramel Sweet Potato Pie Shake
Who says all the fun has to be on your plate?! You can take this hearty, ultra-delicious and filling root veggie and add it into a smoothie for extra satiety and fiber, plus a lusciously-smooth and naturally-sweet taste. We highly recommend this recipe for its sinful dessert-like appeal!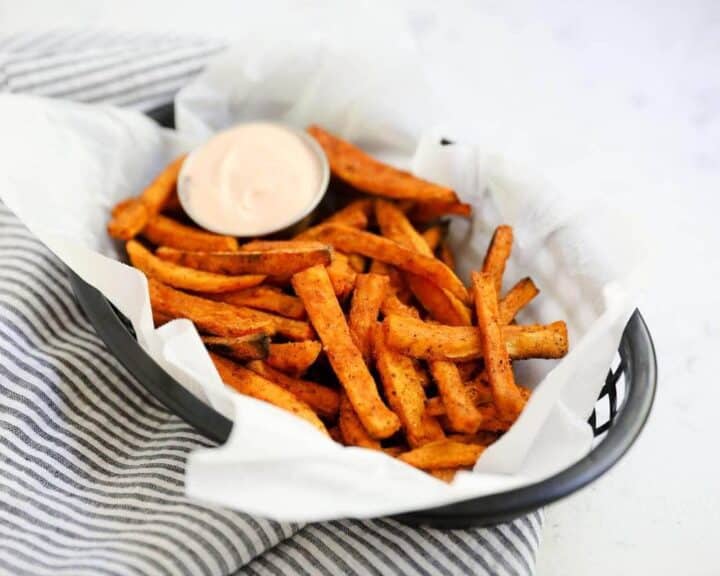 *Recipe & photo from Iheartnaptime.net
This next recipe is perfect for a simple swap any night of the week. Try these orange fries on for size instead of regular white potato fries… Not only are they incredibly yummy, but they're baked to make them much healthier than normal fries.
2) Brussel Sprouts
Next on our list is Brussel sprouts – which is a hearty green veggie you can enjoy throughout all of fall to get them at their peak. This bold and slightly bitter veggie can be toned down by adding it into a dish with sweeter fall flavors, like sweet potatoes, pumpkin, and even pomegranates.
While this cruciferous veggie can be cooked many different ways, it's truly a superfood for your health, being especially high in vitamins C and K, fiber and antioxidants. If you love this veggie, you're doing something amazing for your total health and longevity, along with your weight loss goals.
Ideas for Using Brussel Sprouts:
Steam them up using a steamer basket on your stovetop, and then add a drizzle of olive oil, and a sprinkle of salt, pepper and parmesan cheese
Cut raw Brussel sprouts in half and add them to a baking pan, then drizzle olive oil and add sea salt. Bake at 375 degrees for 35-40 minutes for super-yummy and crisp roasted Brussel sprouts
Slice raw Brussel sprouts and add them raw into salads for a pleasant, leafy crunch and tons of superfood nutrition
Brussel Sprouts Recipes We Love:
Crispy Bacon-Wrapped Parmesan Brussel Sprouts
*Recipe & photo from halfbakedharvest.com
In this next recipe, the taste of bold and crispy roasted Brussel sprouts meets salty, meaty bacon. Though we don't recommend bacon all the time since it's a processed meat, it's fine to enjoy in moderation (especially if you get a brand that is nitrate free). And it really takes the taste of these sprouts to another level, especially with the heat from the red pepper flakes and aromatic fresh thyme!
*Recipe from spendwithpennies.com
If you've never thought to include raw Brussel sprout leaves in a salad, now is the time to try it! This recipe has a fresh and fruity taste from the cranberries, Granny Smith apple, honey and apple cider vinegar – yet is also extremely filling from all the fiber in the sprouts and healthy fats in the walnuts. It's full of flavor while being a powerhouse for great digestion and fat-burning.
3) Mushrooms
Next, mushrooms are an extremely versatile and delicious veggie that go well in so many dishes. There are also many different types of mushrooms that you can enjoy, all with their own invaluable benefits for mind and body.
From your simple button mushrooms you can easily find at the grocery store, to more intricate varieties, in general, mushrooms are a great source of B vitamins including riboflavin, niacin, and pantothenic acid, protecting heart health. They are also a great source of fiber and a number of powerful antioxidants. 
Ideas for Using Mushrooms:
Chop up raw mushrooms and sauté them with olive oil to use in an omelet or another breakfast egg dish
Chop different types of raw mushrooms to add to the top of your salad, or mixed into soups
Make a side or a main dish with mushrooms for your next dinner, by heating them in a pan with a healthy oil and onions, garlic, a leafy green like kale, and a meat like chicken sausage
Mushrooms Recipes We Love:
Classic Italian Vegan Stuffed Mushrooms
*Recipe & photo from neuroticmommy.com
Whether you're looking for an amazing Thanksgiving side dish or a hearty and yummy addition to any meal, these vegan stuffed mushrooms are simply scrumptious – and can be enjoyed by both meat and plant-eaters alike since they're vegan-friendly. They are lighter than many other Thanksgiving sides, while still being incredibly filling and satisfying to your taste buds.
*Recipe & photo from aubreyskitchen.com
This quick and easy weeknight recipe tastes quite gourmet in flavor and can be made in large batches to savor throughout the week! This mushroom soup has only a handful of whole food ingredients, and it gets its creaminess from a mix of light sour cream and flour. It's indulgent while still fitting within your weight loss goals.
4) Kale
Next, kale is a truly mighty leafy green, being known as one of the most nutrient-dense foods! It's rich in a variety of essential nutrients including vitamins A, B6, C, K, calcium, potassium, iron, and copper. It's also a great source of fiber and antioxidants, and can take your meals from ordinary to plain powerful whenever you include it. Not only that, but it really shines in the fall when the taste and nutrient level are at its peak.
Ideas for Using Kale:
Pull off raw kale leaves from the tough stem to add into your favorite meal replacement shake smoothies! When you add them in with fruits like banana and your favorite 310 Shake flavor, you won't even know they're there
Sauté kale with olive oil, garlic, and a little white wine as an easy and energizing side dish
Use kale as a main ingredient in soups, or indulge in a delicious kale salad
Kale Recipes We Love:
*Recipe & photo from minimalistbaker.com
If you're in doubt that a "chip" made of kale could actually taste good, don't be! This recipe is super simple and super delicious while being great for your waistline. By adding a healthy oil of your choice to the kale and then seasoning it and baking it, you get a deliciously crispy snack that will please even picky veggie eaters. 
*Recipe & photo from cookieandkate.com
An exciting mix of fall flavors all combine in this delicious fall salad! Using kale instead of another lettuce or leafy green gives you an extra dose of powerful nutrients, and also adds a nice crunch to every bite. Flavors like Honeycrisp apple, fennel, dried cranberries, and pepitas give this salad a scrumptious and exciting fall flavor.
5) Squash
Our final fall veggie suggestion is squash! There are so many different types of squash, all with their own texture and flavor – and they add a heartiness to fall meals. Not to mention, like all of the other veggies on this list, they are highly nutritious and packed with fiber, for a low calorie cost.
Squash makes a wonderful replacement to other commonly used carb dishes like mashed potatoes and rice. You can also use spaghetti squash as a lighter replacement to pasta! Some amazing squashes to try include butternut squash, acorn squash, spaghetti squash, yellow squash, and delicata squash, though there are many more!
Ideas for Using Squash:
Chop up raw butternut squash and roast it in a pan with olive oil, salt and pepper
Swap out a normal mashed potato side dish for mashed butternut squash instead
Slice up yellow squash and steam or sauté it in a pan, then top with drizzled olive oil and parmesan cheese
Combine slices of baked acorn squash with a topping of olive oil, pure maple syrup and cayenne pepper, then sprinkle on dried cranberries and pepitas
Make a nutrient-packed macaroni and cheese by making the main ingredient butternut squash
Squash Recipes We Love:
Cinnamon Roasted Butternut Squash
*Recipe & photo from wellplated.com
This recipe is so yummy that even picky kids love it! And it's so easy, that YOU will love it for sure! All you have to do is cut the squash, add your toppings and mix it all up, then bake in the oven on a baking sheet. The mix of ingredients in this recipe has real dessert flavor yet is healthy and nourishing.
*Recipe & photo from loveandlemons.com
Next, this is a great go-to recipe for busy weeknights, but also makes a lovely meal presentation when you have guests over. This butternut squash soup cooks in 35 minutes and only takes 10 minutes to prep. It's a true healthy comfort food with vibrant flavor from the fresh herbs and ginger you'll love time and time again.
Roasted Acorn Squash with Walnuts & Cranberries   
*Recipe & photo from inspiredtaste.net 
Another recipe that tastes decadent while being packed with vitamins, minerals, and all good-for-you ingredients, this one features acorn squash instead – roasted and then topped with walnuts, cranberries, and a buttery mix. Use grass-fed butter and pure maple syrup to reap the most health benefits from this yummy side dish.
Which fall recipe ingredient are you excited to make first?! Let us know in the comments below! Stay tuned for more articles and recipes to help you make the most of your fall and winter culinary experience, while keeping your taste buds satisfied and slimming your waistline!