This Keto Coconut Pumpkin Spice Shake is perfect for anyone that's following a low-carb or keto diet but still wants to enjoy all the amazing flavors of the fall season! It's not only nutritious, but super-tasty for a totally guilt-free treat!
Keto Coconut Pumpkin Spice Shake Recipe
You don't have to miss out on pumpkin spice season just because you're following keto guidelines! This Keto Coconut Pumpkin Spice Shake has all the cozy, warm flavors of the season while staying low-carb to help you maintain or reach ketosis. If you're skeptical about the combination of pumpkin with coconut, I assure you the subtle sweetness of these two flavors are absolutely compatible, I promise!
The healthy fats from 310 MCT Oil and coconut flakes are a fantastic way to promote satiety while providing your body with the fuel it needs. Packed with 19g of protein and 24g of nutritious fats, this tasty keto shake is a great way to indulge your sweet tooth while staying aligned with your health and wellness goals.
What You Need to Make this Shake
Quick and easy to make, all you need is 310 Organic Pumpkin Spice, frozen cauliflower rice, full-fat canned coconut milk, unsweetened coconut milk, unsweetened coconut flakes, 310 MCT oil, and ice. Not only is this shake keto-friendly, but it's also completely vegan to suit a variety of lifestyles!
310 Organic Pumpkin Spice
The best way to achieve the perfect pumpkin flavor is with a scoop of 310 Organic Pumpkin Spice! It's nicely-balanced with fall spices, so you don't have to experiment with finding the right ratio of seasonings.
Using plant-based Stevia and monk fruit, 310 Organic Pumpkin Spice is naturally-sweetened to provide you with phenomenal taste with none of the sugar. It's also free from gluten, dairy, soy, and GMOs to fit a variety of different lifestyles and dietary needs. If that isn't impressive enough, below are some additional standout qualities of this delicious shake!
15g of plant-based proteins from a blend of pumpkin, brown rice, and pea
5g of dietary fiber per serving
Includes turmeric and ginger powder to support good immunity
Contains a plethora of powerful organic superfoods
Ways to "Shake Up" this Recipe
Don't have all the ingredients required for this recipe? Don't worry! Check out some of these keto-friendly alternatives and additional boosters that will work in this shake and be just as delicious!
Coconut oil instead of MCT oil
Coconut meat or coconut cream in place of canned coconut milk
Add fall spices for even more flavor (cinnamon, clove, nutmeg, or ginger)
Scoop of 310 Collagen for an additional 11g of protein
How to Make this Shake
Make this shake in under five minutes by combining all the ingredients in a blender and blending until everything is completely smooth and creamy. Once everything is thoroughly-mixed, serve your shake in a glass or shaker cup and garnish with coconut flakes or a dash of cinnamon, then enjoy!
Ingredients:
1 scoop 310 Organic Pumpkin Spice
1 cup frozen cauliflower rice
1/4 cup full-fat canned coconut milk
3/4 cup unsweetened coconut milk
1 tbsp dried unsweetened coconut flakes 
1/2 tbsp 310 MCT Oil
1/2 cup ice 
Directions:
Combine ingredients in a blender and blend until completely smooth.
Serve and enjoy!
Nutrition:
360 calories
15g total carbs
7g net carbs
8g fiber
24g fat
19g protein
What's your favorite shake recipe using 310 Organic Pumpkin Spice? Let us know in the comments below for a chance to be featured on our blog! 
Like this recipe? Check out other delicious, nutritionist-approved 310 Nutrition recipes here! 
In This Recipe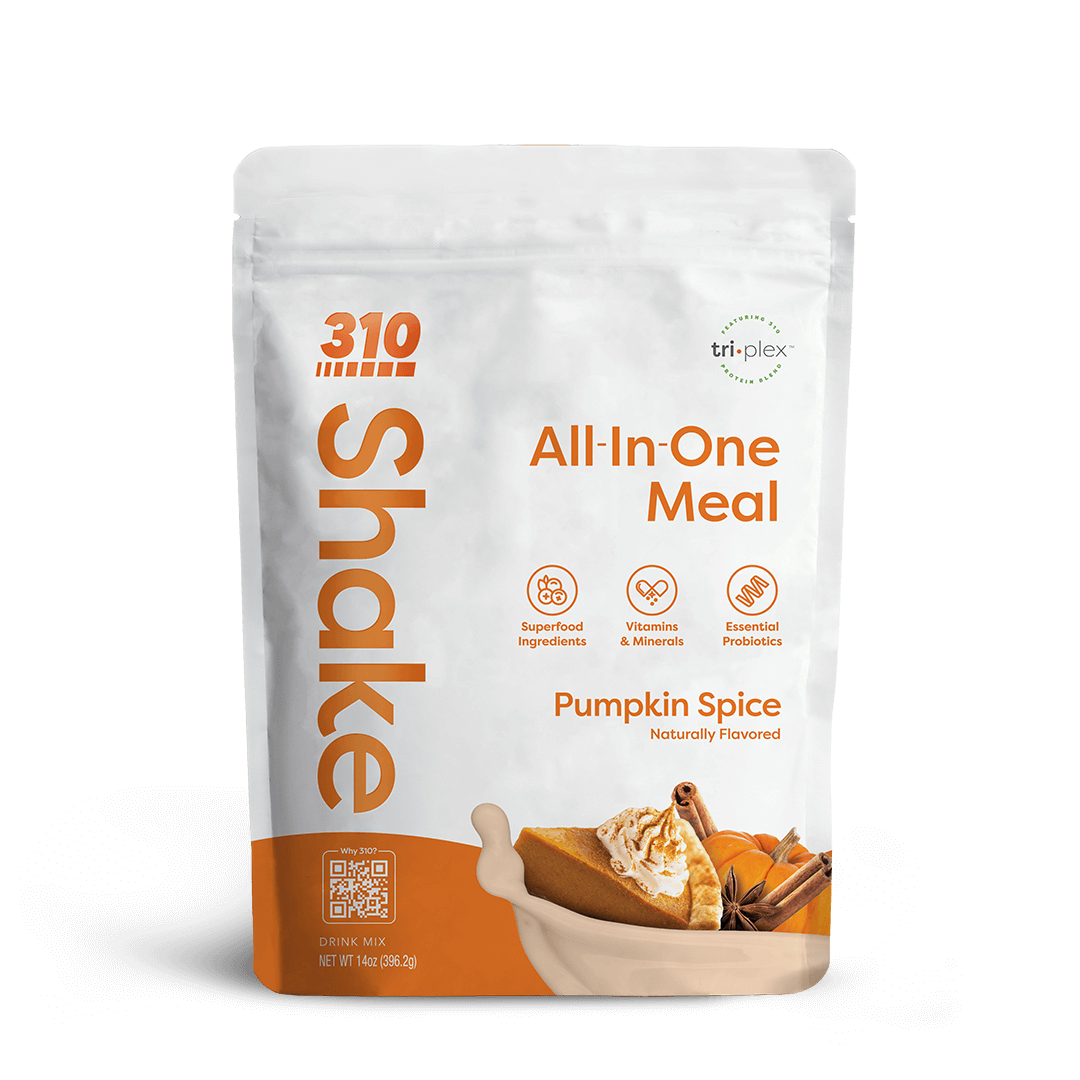 310 Pumpkin Spice Shake
Indulge in an insanely delicious, complete superfood meal, providing well-balanced nutrition and targeted ingredients for total immune, digestive, and full-body health. View Shake »