Looking for something sweet that will satisfy your cravings while keeping you on track with your low-carb goals? This Keto Coconut Vanilla Smoothie is ALL flavor and NO sugar, for a tasty, keto-friendly meal that everyone can enjoy!
Keto Coconut Vanilla Smoothie Recipe
If you've decided to embark on the keto or low-carb journey and have a major sweet tooth, staying aligned with the guidelines can be challenging. However, this Keto Coconut Vanilla Smoothie is a great way to nourish your body with whole foods while satisfying your cravings and supporting your health goals!
Although I'm not following keto guidelines, I like making this smoothie as a pick-me-up to add more healthy fats into my diet. If you love anything and everything coconut, this low-carb smoothie tastes just like a macaroon to indulge your sweet tooth!
Pre-packaged snacks may be convenient to grab, but they're often packed with added sugars, sodium, and preservatives, so give this recipe a try instead to fuel both your mind and body. This smoothie can be made in just minutes for a nutritious breakfast or snack that's loaded with good fats from 310 MCT oil and coconut flakes to increase your daily intake of this macronutrient. Keep reading for how you can make this yummy smoothie at home!
What You Need to Make this Smoothie
First, let's go over the ingredients in this smoothie. I include 310 Organic Toasted Coconut, unsweetened coconut milk, frozen cauliflower rice, vanilla extract, unsweetened coconut flakes, 310 MCT oil, and ice.
310 Organic Toasted Coconut
Add another layer of flavor to your favorite smoothies with 310 Organic Toasted Coconut! Just one scoop of this meal replacement shake adds a creamy and nutty flavor that complements both fruity and dessert-like recipes. Flavored and sweetened with plant-based ingredients, including Stevia, this shake is completely sugar-free to suit a variety of different lifestyles while offering incredible taste. It's keto-friendly, vegan, and paleo-friendly, making it easy to recommend to all my friends and family. If you're looking for a unique and delicious way to supplement your health, 310 Organic Toasted Coconut (and all 310 Shakes) are the way to go, and here's a few reasons why!
15g of plant-based proteins per serving
5g of dietary fiber
Free from sugar, soy, dairy, gluten, and GMOs
Contains a blend of powerful superfoods including kale, ginger, beet, turmeric, broccoli, and more
How to "Shake Up" this Smoothie
Although this is a keto recipe, there are still plenty of ways you can add more flavor to it! Below are some of my favorite low-carb options that you can try adding to switch it up…
1/2 scoop of Toasted Coconut and 1/2 scoop of Vanilla
Add cacao powder for a chocolate flavor
Coconut oil instead of MCT oil
Coconut cream instead of coconut flakes for creamier texture
310 Collagen for extra protein
How to Make this Smoothie
At last, let's put this smoothie together! Simply combine all the ingredients into a blender and blend on a medium-to-high setting until you reach a smooth consistency. Once everything is completely blended, pour your drink into a shaker cup, garnish with coconut flakes (if desired), and enjoy!
Ingredients:
1 scoop 310 Toasted Coconut
1 cup unsweetened coconut milk
1 cup frozen cauliflower rice
1 tsp vanilla extract
1/2 tbsp dried coconut flakes, unsweetened
1/2 tbsp 310 MCT Oil
1/2 cup ice
Directions:
Combine ingredients in a blender and blend until completely smooth.
Serve and enjoy!
Nutrition:
335 calories
14g carbs
6g net carbs
8g fiber
20g fat
18g protein
What's your favorite shake recipe using 310 Organic Toasted Coconut? Let us know in the comments below for a chance to be featured on our blog!
Like this recipe? Check out other delicious, nutritionist-approved 310 Nutrition recipes here!
In This Recipe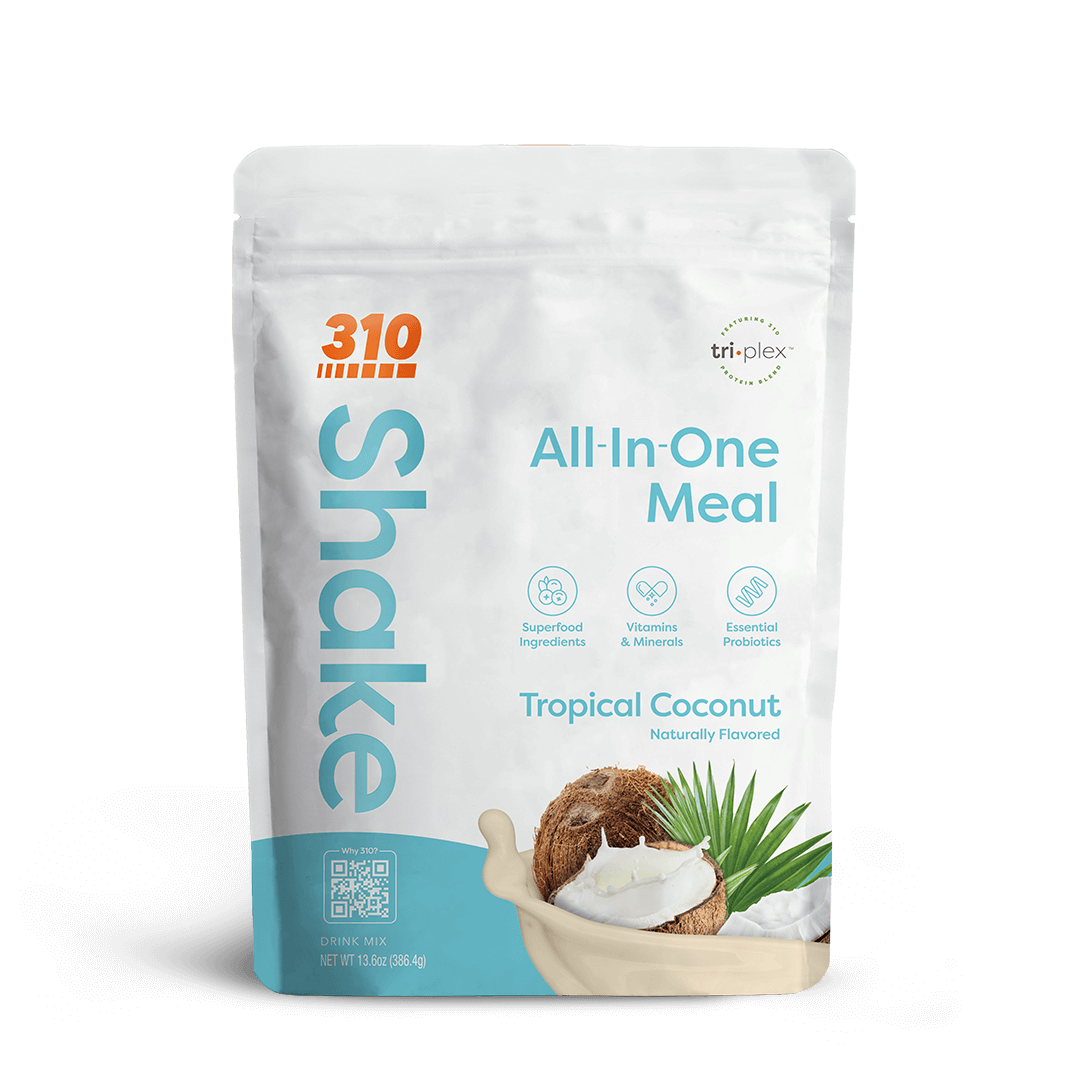 310 Tropical Coconut Shake
Indulge in an insanely delicious, complete superfood meal, providing well-balanced nutrition and targeted ingredients for total immune, digestive, and full-body health. View Shake »