Low-carb? No problem! You can still enjoy all the delicious, fun fall flavors with this Pumpkin Spice Latte Shake! It will satisfy all your cravings while keeping you on track with your health and weight loss goals.
Low-Carb Pumpkin Spice Latte Shake Recipe
Fall starts when you have your first sip of pumpkin spice latte! In celebration of our new 310 Organic Pumpkin Spice Shake, ring in the season with this Low-Carb Pumpkin Spice Latte Shake! This low-carb shake is made with completely whole food ingredients to provide you with a perfectly-flavored fall drink without artificial syrups or flavoring - for a healthy yet energizing drink! You even get 13g of fiber in this shake from pumpkin puree and frozen cauliflower rice that will help keep you full while supporting your digestion.
Replace your morning cup of coffee with this shake or quickly whip it up as an afternoon pick-me-up to power through your day when you need to uplift your mood. You can also drink this shake before exercising to maximize your workout! I even have this shake as a dessert at night sometimes and just use a decaf coffee instead of regular coffee for a caffeine-free treat.
Continue reading for how to make this indulgent shake at home…
What You Need to Make this Shake
The ingredients you need to make this shake are 310 Organic Pumpkin Spice, pumpkin puree, frozen cauliflower rice, chilled brewed coffee, unsweetened almond milk, almond butter, cinnamon, and ice. For this recipe, you want pure pumpkin puree, so just double check the label to make sure it's not a pumpkin pie mix!
310 Organic Pumpkin Spice
As you may know, regular pumpkin spice lattes are typically full of sugary artificial syrups to achieve that beloved warm, spiced flavor. For a healthier and yummier alternative, a scoop of 310 Organic Pumpkin Spice Shake will satisfy all your fall flavor cravings while helping you stay aligned with your wellness goals.
With natural sweeteners such as Stevia and monk fruit, this shake is completely sugar-free and is suitable for vegan, keto, low-carb, and even paleo diets! Like with all 310 Shakes, this Pumpkin Spice Shake is also packed with essential nutrients to help keep your health in balance! Below are just some reasons why I cannot get enough of this incredible shake!
Formulated with high-quality organic and vegan ingredients
Free from soy, dairy, gluten, sugar, and GMOs
Contains coconut creamer for a rich and creamy texture with no grittiness
15g of plant-based proteins and 5g of dietary fiber per serving
Ways to "Shake Up" this Recipe
There are several ways you can make a pumpkin spice latte shake, so dress it up however you like! This recipe simply serves as a basic guideline on how you can recreate this iconic drink at home, and there are different ways you can play around with the ingredients. Just take a look at some of the options!
Frozen banana instead of frozen cauliflower rice
Cashew butter instead of almond
Nuts (almonds, pecans, or walnuts) in place of almond butter for crunchy texture
Espresso shots instead of coffee*
Additional spices such as nutmeg, clove, and ginger
*Add 8oz of almond milk instead of 4oz if using espresso
How to Make this Shake
To make this shake, just combine all your ingredients into a blender and blend on a medium-to-high setting until you reach a creamy and smooth consistency. After all the ingredients are well-incorporated, pour your finished smoothie into a glass and garnish with an extra dash of cinnamon, if you so desire. Say hello to sweater weather and enjoy your low-carb pumpkin spice shake!
Ingredients:
1 scoop 310 Organic Pumpkin Spice
1/4 cup pumpkin puree
1 cup frozen cauliflower rice
8oz brewed coffee, chilled
4oz unsweetened almond milk
1 tbsp almond butter
1/4 tsp cinnamon
1/2 cup ice
Directions:
Combine ingredients in a blender and blend until completely smooth.
Serve and enjoy!
Nutrition:
275 calories
23g carbs
10g net carbs
13g fiber
12g fat
22g protein
What's your favorite shake recipe using 310 Organic Pumpkin Spice? Let us know in the comments below for a chance to be featured on our blog!
Like this recipe? Check out other delicious, nutritionist-approved 310 Nutrition recipes here!
In This Recipe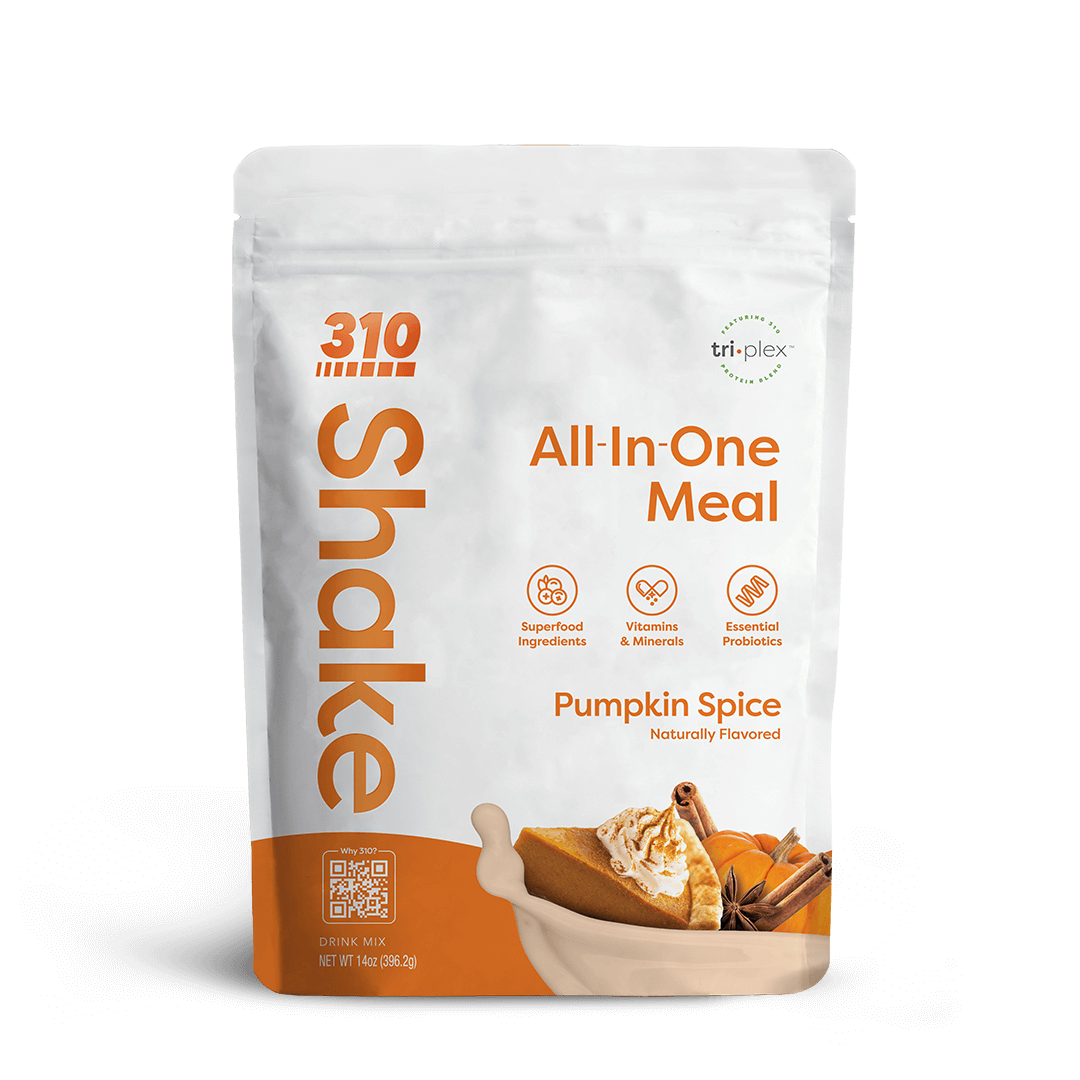 310 Pumpkin Spice Shake
Indulge in an insanely delicious, complete superfood meal, providing well-balanced nutrition and targeted ingredients for total immune, digestive, and full-body health. View Shake »