How to Make this Peppermint Swirl Cookie Shake
Do you get excited about the many tastes of the holiday season?! Now you don't have to wait until the end of the year… celebrate Christmas in July (and all summer long), with this super-yummy, indulgent Peppermint Swirl Cookie Shake. It's incredibly festive, while still being incredibly refreshing to help you beat the heat and your sweet tooth.
If you typically bake delicious cookies and other treats but want to stay within your clean eating dietary plan and cut down on the calories, this is the shake recipe for you. It features 310 Organic Peppermint Swirl Shake (which is making a quick return appearance for Christmas in July!), and complementing flavors of creamy banana, smooth cashew butter, and luscious vanilla.
Read on to learn how to make this recipe reminiscent of the most scrumptious holiday cookies (to enjoy whenever you want)…
Ingredients:
1 scoop 310 Organic Peppermint Swirl
1 cup unsweetened almond milk
1/2 frozen banana
1 tbsp rolled oats
1 tbsp cashew butter
1 tsp vanilla extract
1/2 cup ice
Directions:
Combine ingredients in a blender and blend until completely smooth.
Serve and enjoy!
Nutrition:
366 calories
33g carbs
25g net carbs
8g fiber
15g fat
22g protein
What You Need to Make this Shake
Let's look at the ingredients you need to make this super-delicious cookie shake. I used 310 Organic Peppermint Swirl, unsweetened almond milk, frozen banana, rolled oats, cashew butter, vanilla extract, and ice. For only 366 calories per serving, this shake is packed with fiber, protein, and healthy fats to satisfy your appetite, calm your cravings, and energize you in mind and body.
310 Organic Peppermint Swirl
Experience the taste of the holiday season, all year long! We brought back this very special flavor now, in the middle of the summer, so you can relish in the taste of smooth, refreshing peppermint that goes so well in many different recipes.
This very special holiday flavor tastes like a peppermint stick swirled with creamy, vanilla bean. It's super scrumptious in shake recipes, and also in healthier baked goods. You can even add it into yogurt, oatmeal, your morning coffee and more. This is the flavor that will bring back the magic of the holiday season, at any time of year.
Like all other 310 Shakes, 310 Organic Peppermint Swirl is…
Packed with organic, plant-based superfoods
Sugar, dairy, gluten, soy, and GMO-free
Only 110 calories per serving
Free from artificial ingredients
Recipe Variations
Want to switch up the ingredients in this recipe to use up items that you have in your refrigerator or cabinet? You can alter this shake in so many different ways, and it will still taste like the most amazing plate of holiday cookies in a glass.
Here are some variations I think would taste extremely yummy and cookie-licious, or feel free to create your own…
Add the frozen fruit of your choice (like peaches or berries)
Frozen cauliflower rice instead of frozen banana to lower carbs
Add ½ scoop Peppermint Swirl & ½ scoop Vanilla for a creamier, vanilla bean taste
Add chia seeds for more healthy fats and crunch
How to Make this Recipe
Learn how to make this recipe with the full recipe card up top!
What's your favorite shake recipe using 310 Organic Peppermint Swirl? Let us know in the comments below for a chance to be featured on our blog!
Like this recipe? Check out other delicious, nutritionist-approved 310 Nutrition recipes here!
In This Recipe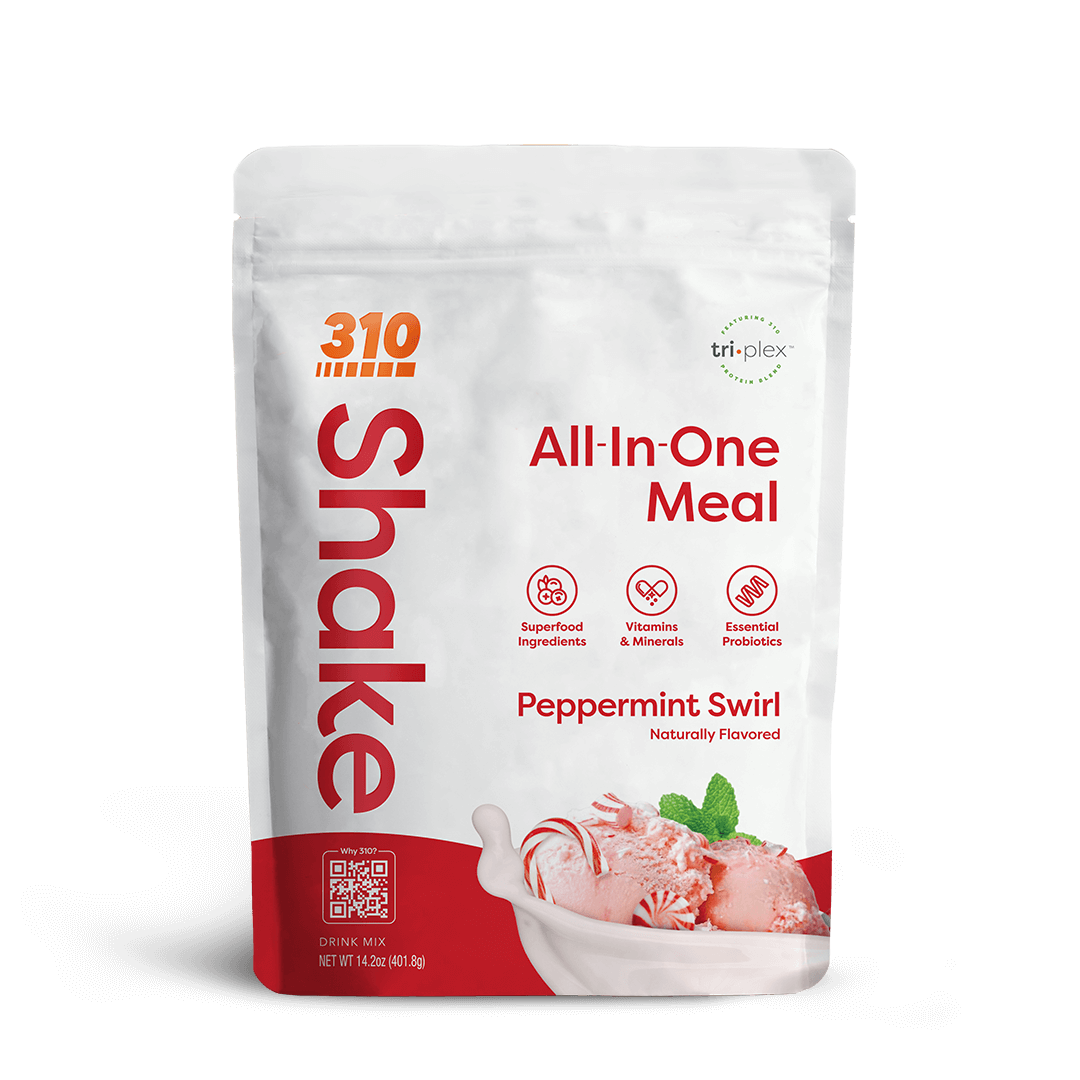 310 Peppermint Swirl Shake
Indulge in an insanely delicious, complete superfood meal, providing well-balanced nutrition and targeted ingredients for total immune, digestive, and full-body health. View Shake »