How to Make this Pink Coconut Smoothie Recipe
Five ingredients and five minutes (or less!) is all you need to make this delicious and vegan-friendly Pink Coconut Smoothie! It's full of tropical fruity flavor and is balanced with fiber, healthy fats, and protein. This smoothie not only has an incredible taste, but the strawberries offer a gorgeous pink color that looks great too!
Ingredients:
Directions:
Combine ingredients in a blender and blend until completely smooth.
Serve and enjoy!
Nutrition:
Calories: 239
Carbs: 21g
Net Carbs: 11g
Fiber: 10g
Fat: 10g
Protein: 16g
What You Need to Make this Smoothie
As mentioned, you only need five ingredients to blend this recipe: 310 Organic Toasted Coconut, unsweetened coconut milk, strawberries, unsweetened coconut flakes, and ice.
310 Organic Toasted Coconut
Transform any smoothie into a tropical treat with 310 Organic Toasted Coconut! It's a versatile meal replacement shake made with quality vegan and organic ingredients to fuel your body. Just one scoop of this shake provides 15g of plant-based proteins and 5g of dietary to help you easily incorporate clean nutrition into the day. I recommend this unique flavor to all coconut lovers, and here's why!
Vegan, keto, and paleo-friendly
Free of sugar, soy dairy, gluten, nuts, and GMOs
Use in oatmeal, protein balls, healthy baked goods, and more
Contains a blend of organic superfoods 
Recipe Variations
I rarely make the same recipe twice and typically use what I have available in my pantry. Below are some variations I've tried and loved...
Coconut water instead of coconut milk for a lighter flavor
Mixed berries instead of strawberries
Add chia seeds for extra healthy fats
Add 310 Collagen for additional protein
How to Make this Recipe
Looking forward to giving this smoothie a try? Combine all the ingredients into a blender and blend until completely smooth!
Looking for More Recipes?
Check out other delicious, nutritionist-approved 310 Nutrition recipes here! 
What's your favorite recipe using 310 Organic Toasted Coconut?! Let us know in the comments below for a chance to be featured on our blog! 
In This Recipe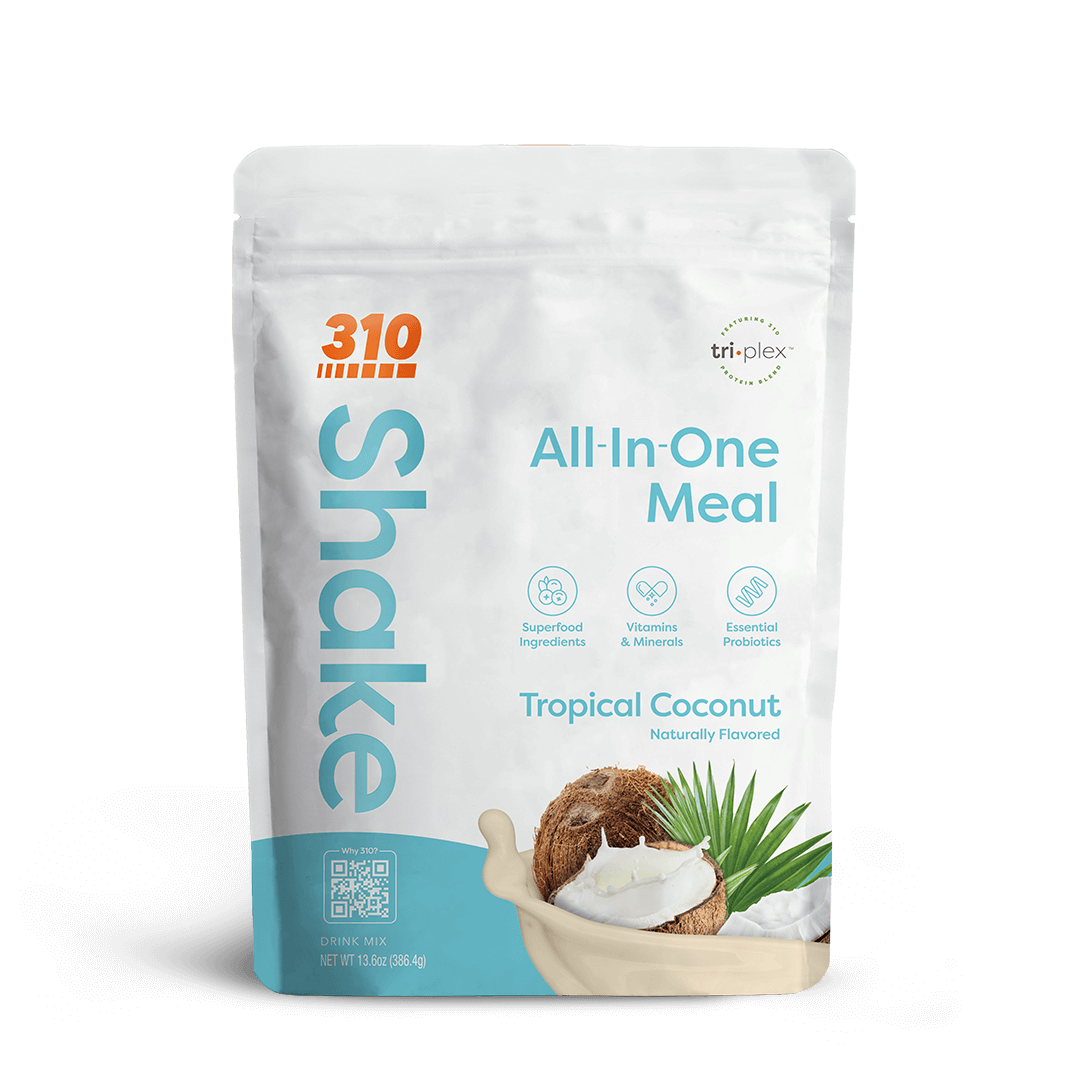 310 Tropical Coconut Shake
Indulge in an insanely delicious, complete superfood meal, providing well-balanced nutrition and targeted ingredients for total immune, digestive, and full-body health. View Shake »