Shake up how you get your daily protein with this totally delicious Chocolate Mint Protein Shake! Made with real whole foods and 38g of protein from plant-based sources, you'll be satisfied and energized from this high-nutrient meal!
Chocolate Mint Protein Shake Recipe
Protein is an essential macronutrient that your body needs to help build and maintain muscle mass, and it plays a vital role in promoting satiety. It's required in larger amounts (hence the term macronutrient vs micronutrient), which is why it's important to replenish it in the foods that you eat!
But, eating enough protein in a day from a variety of sources isn't an easy task, and it's something I struggle with during the busy work week. That's why protein shakes are a great way to incorporate more nutrition into your diet, and it simply doesn't get tastier than this Chocolate Mint Protein Shake!
In This Recipe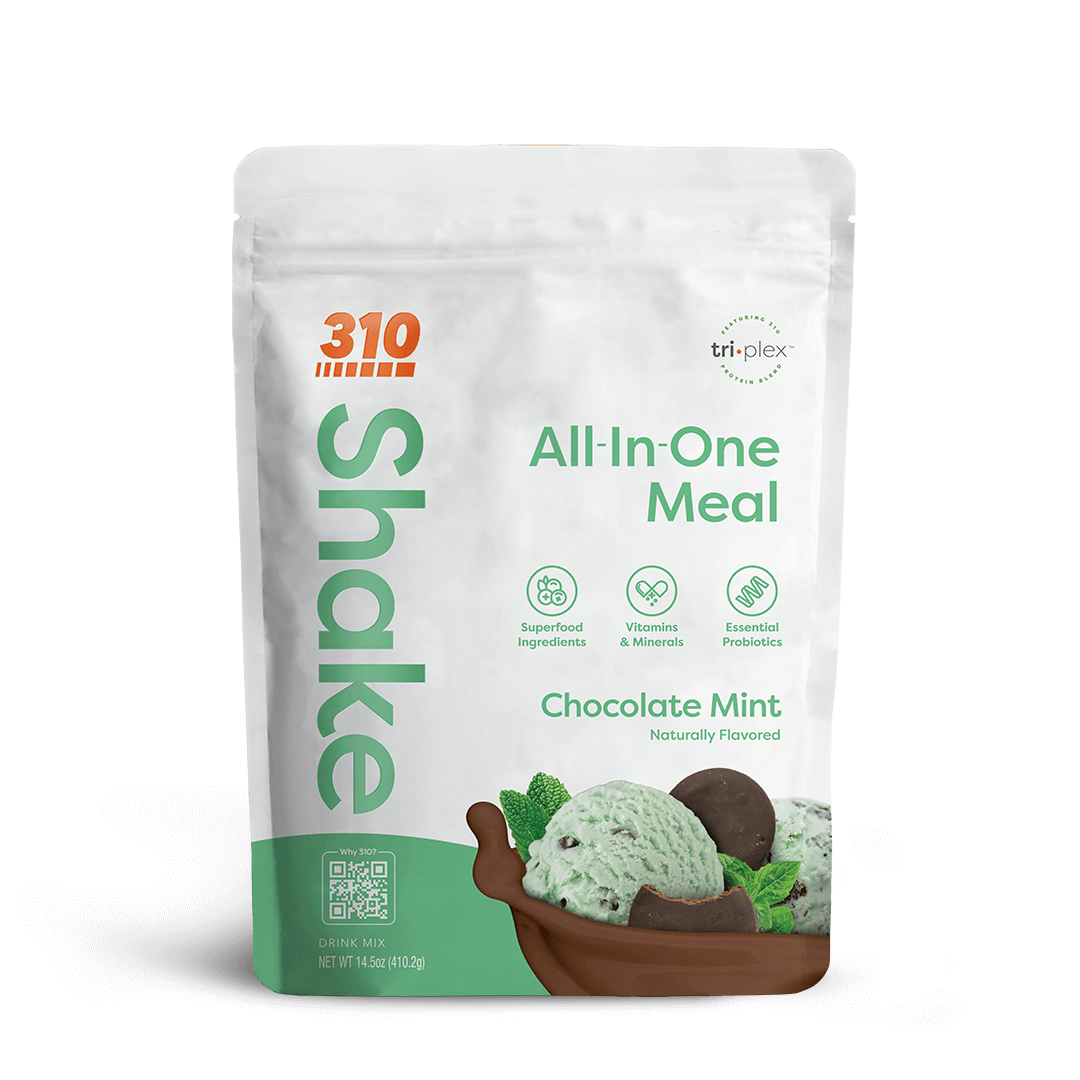 310 Chocolate Mint Shake
Indulge in an insanely delicious, complete superfood meal, providing well-balanced nutrition and targeted ingredients for total immune, digestive, and full-body health. View Shake »
To pack as much protein as I can into this drink, I use a variety of ingredients including 310 Shake and collagen. Additionally, I use pea milk to blend everything together because this milk alternative has higher amounts of protein compared to other plant-based milks.
I love having this protein shake for lunch because it contains 38g of protein and 10g of healthy fats for a balanced meal that will keep me full until dinner. If you're looking for a new and exciting way to increase your protein, keep reading for the full recipe!
What You Need to Make this Shake
Let's first review the ingredients in this shake. I used 310 Organic Chocolate Mint, unsweetened pea milk, frozen banana, frozen cauliflower rice, plain Greek yogurt, 310 Collagen, and ice. For a stronger mint flavor, add a couple drops of mint extract or a few mint leaves.
310 Organic Chocolate Mint
If you love the classic flavor combination of chocolate and mint, you're going to be obsessed with 310 Organic Chocolate Mint! It has a satisfying and rich cocoa flavor with a hint of sweet mint that can be used to transform hot chocolates, coffee, smoothie bowls, and more.
This shake is a quick and fantastic way to get more protein into your diet and is suitable for those following vegan, keto, or paleo guidelines. Healthy doesn't have to be complicated and it can be as simple as having a shake. Here's a few additional reasons why my pantry is always stocked with 310 Shakes…
Formulated with all vegan and organic ingredients
15g of plant-based proteins per serving
Sugar-free, naturally-sweetened and flavored with Stevia
Dairy, soy, gluten, nut, & GMO free
Ways to "Shake Up" this Recipe
Adjust this recipe to your own liking and take a look at the following ingredients that you can use to add more texture, flavor, and nutrition!
Cacao powder for stronger chocolate flavor
Cacao nibs for chocolate chip texture
Spinach to sneak in leafy greens
Chia seeds for more healthy fats
How to Make this Shake
Let's make this recipe! Simply combine all the ingredients into a blender and gradually blend on a medium-to-high setting until smooth. Serve your finished shake in a glass or shaker cup and fuel your body right with this healthy and indulgent drink!
Ingredients:
Directions:
Combine ingredients in a blender and blend until completely smooth.
Serve and enjoy!
Nutrition:
360 calories
31g carbs
23g net carbs
8g fiber
10g fat
38g protein
What's your favorite shake recipe using 310 Chocolate Mint? Post a picture on Instagram and tag us @310nutrition for a feature!
Like this recipe? Check out other delicious, nutritionist-approved 310 Nutrition recipes here!
In This Recipe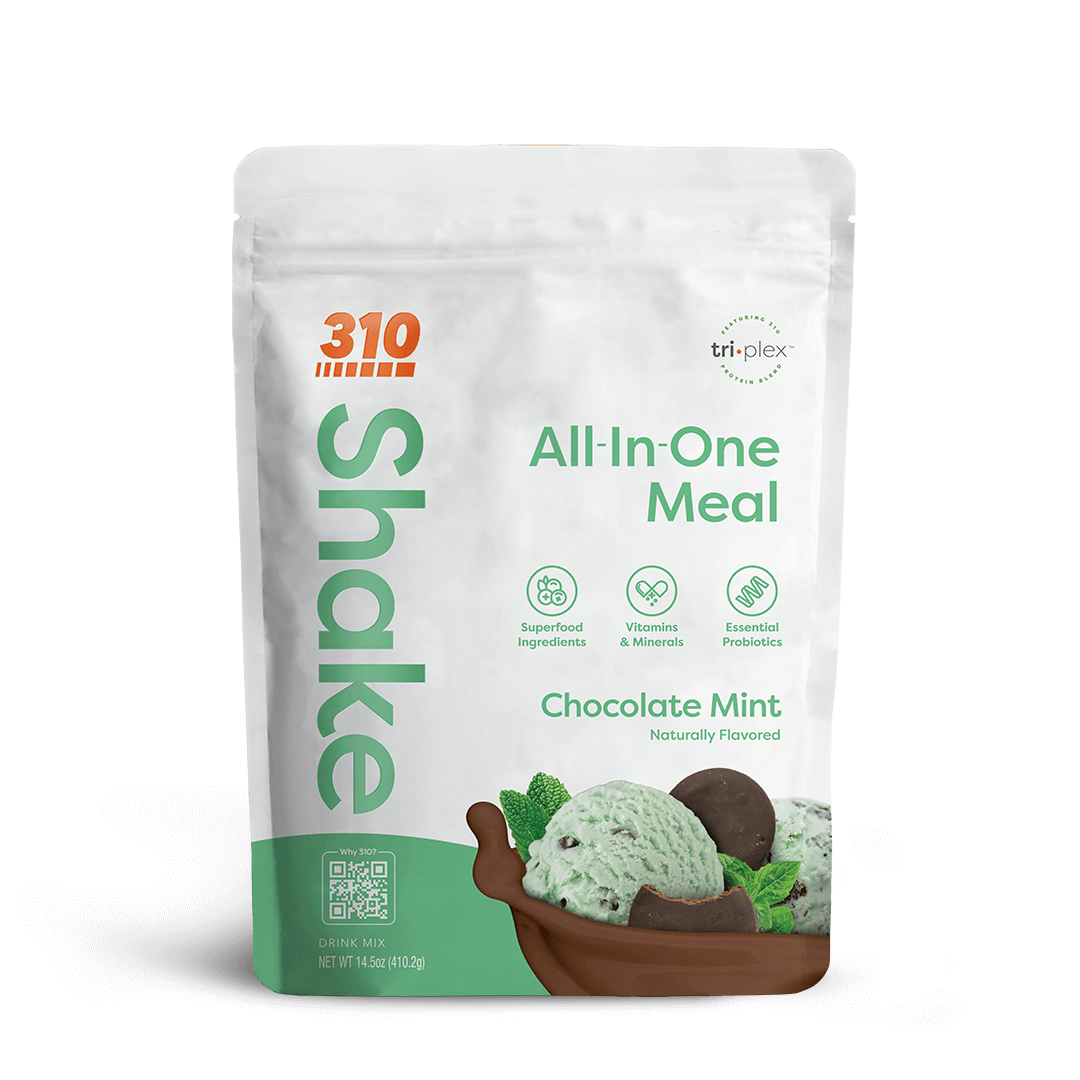 310 Chocolate Mint Shake
Indulge in an insanely delicious, complete superfood meal, providing well-balanced nutrition and targeted ingredients for total immune, digestive, and full-body health. View Shake »