Do you often find it hard to satisfy your cravings in a nutritious way? This Pumpkin Peanut Butter Protein Shake is rich, creamy, and delicious, for a completely guilt-free, low-carb treat. 
Low-Carb Pumpkin Peanut Butter Protein Shake Recipe
Searching for a flavorful and indulgent low-carb sweet treat? This Pumpkin Peanut Butter Protein Shake is here to satisfy all your fall cravings with a nutty twist! This shake offers incredible taste using quality ingredients to help you reach your health and wellness goals. I like blending up this shake in the morning for breakfast or in the afternoon as a snack, but it's also a fantastic after-dinner dessert that the whole family can enjoy!
In This Recipe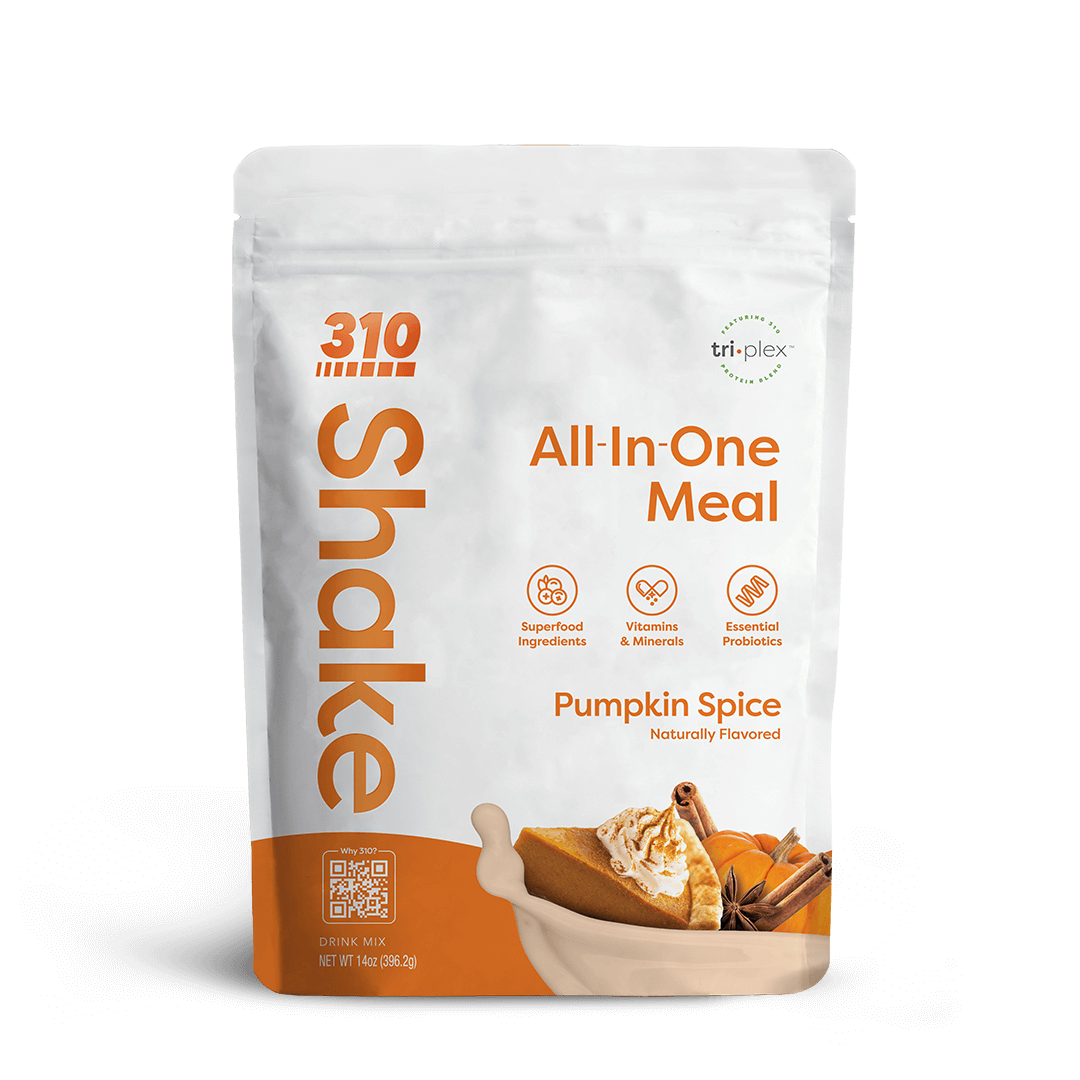 310 Pumpkin Spice Shake
Indulge in an insanely delicious, complete superfood meal, providing well-balanced nutrition and targeted ingredients for total immune, digestive, and full-body health. View Shake »
Packed with an impressive 28g of protein from peanut butter, 310 Peanut Butter Powder and 310 Organic Pumpkin Spice, this shake will surely keep you full and support muscle growth to help maximize the results of your workouts. Getting enough protein into your daily diet can be harder than it sounds, so I love adding in a yummy protein-packed shake throughout the day to add some variety to my regular lean protein sources.
Keep on reading for tips and tricks on how you can recreate this recipe at home!
What You Need to Make this Shake
This Pumpkin Peanut Butter Protein Shake may sound like a complex recipe, but I assure you it's super-simple, quick, and easy to make! You just need seven ingredients: 310 Organic Pumpkin Spice, unsweetened almond milk, frozen cauliflower rice, peanut butter, 310 Peanut Butter Powder, cinnamon, and ice.
310 Organic Pumpkin Spice
Adding a kick of fall flavor has never been easier with 310 Organic Pumpkin Spice! It's well-rounded with flavors like cinnamon, nutmeg, and allspice for a warm and comforting treat. Using solely Stevia and monk fruit for a touch of sweetness, this meal replacement shake is ideal for anyone following low-carb or keto guidelines. It's also formulated with quality ingredients and free from common allergens, which is why I recommend 310 Organic Pumpkin Spice (and all 310 Shakes) to all my friends and family!
I could go on and on, but here are just some additional reasons why I'm such a huge advocate for these fantastic shakes!
5g of dietary fiber per serving
15g of plant-based proteins from a blend of pumpkin, brown rice, and pea
Free from soy, dairy, gluten, sugar, and GMOs
Wide variety of flavors including Vanilla, Chocolate, Salted Caramel, and Unflavored
Ways to "Shake Up" this Recipe
There are multiple ingredients you can swap out or add depending on what you have readily available! I hardly ever make the same shake twice and below are some variations I've tried and thoroughly enjoyed too.
Frozen banana instead of cauliflower rice
Pumpkin puree for more flavor
Almond butter in place of peanut butter
310 Collagen for an extra 11g of protein
Cacao nibs for a chocolate chip crunch
How to Make this Shake
To whip up this shake, all you have to do is add all your ingredients into a blender and gradually blend from a medium-to-high setting for approximately 40 to 60 seconds until a creamy, smooth consistency is achieved. Next, pour your shake into a glass or shaker cup and indulge in a totally satisfying, ultra-tasty shake that will fuel your body and mind!
Ingredients:
Directions:
Combine ingredients in a blender and blend until completely smooth.
Serve and enjoy!
Nutrition:
307 calories
23g carbs
12g net carbs
11g fiber
13g fat
28g protein
What's your favorite shake recipe using 310 Organic Pumpkin Spice? Let us know in the comments below for a chance to be featured on our blog!
Like this recipe? Check out other delicious, nutritionist-approved 310 Nutrition recipes here!
In This Recipe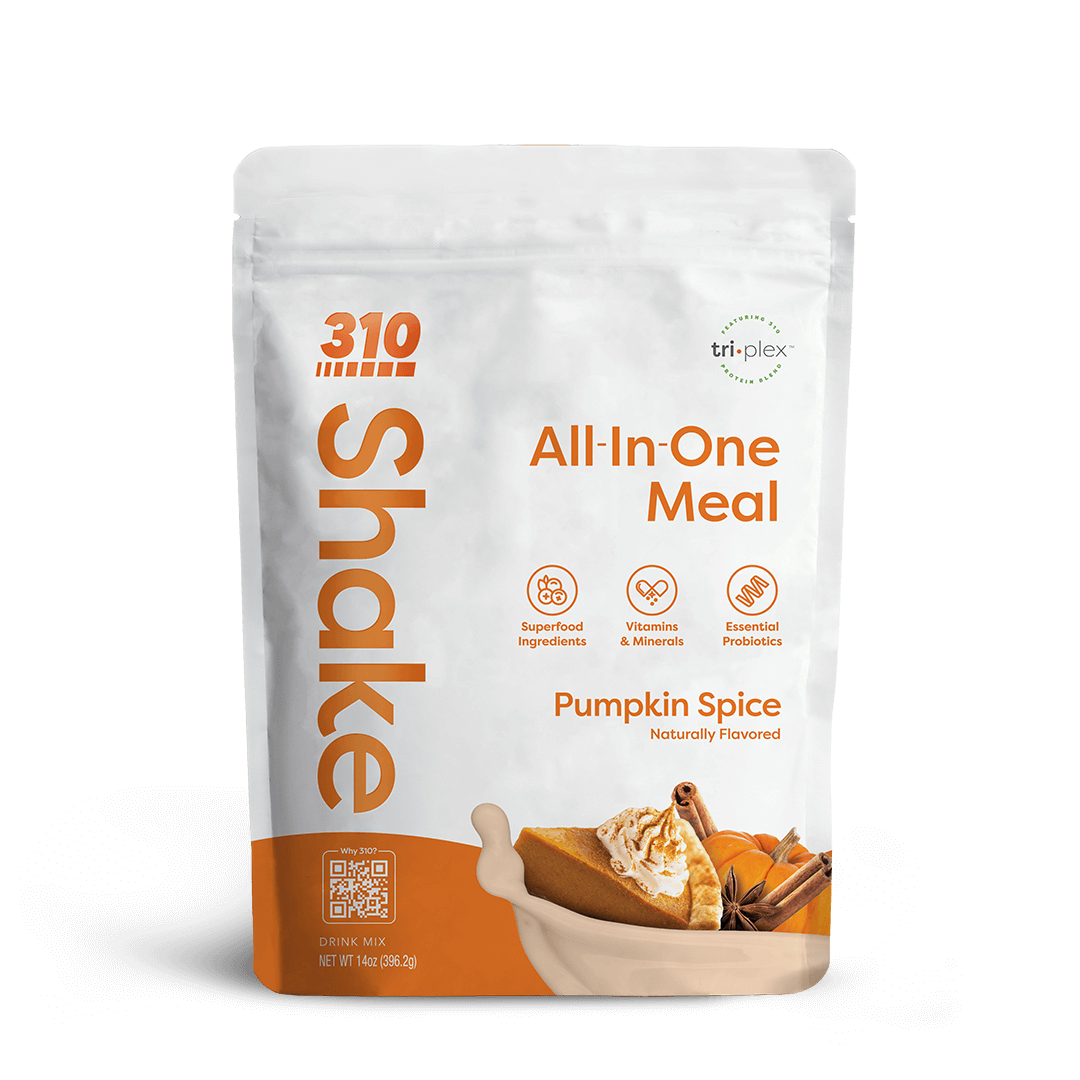 310 Pumpkin Spice Shake
Indulge in an insanely delicious, complete superfood meal, providing well-balanced nutrition and targeted ingredients for total immune, digestive, and full-body health. View Shake »